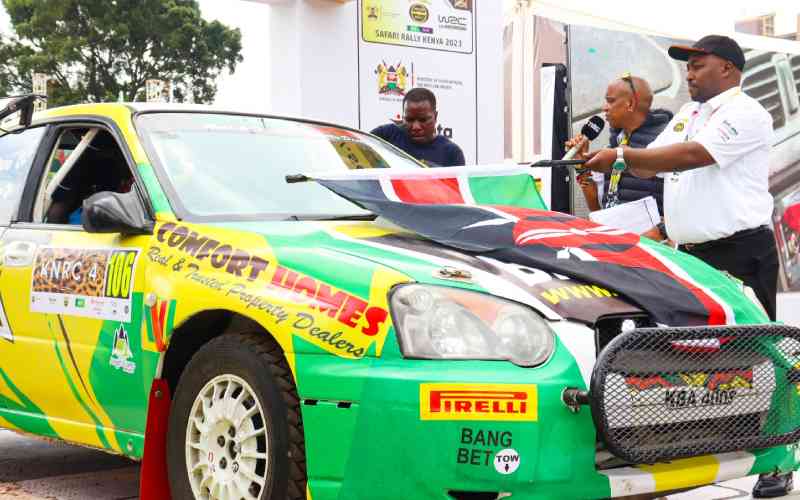 Kenya National Rally Championship (KNRC) drivers John Ngugi and Gerald Maina feels inspired after their recent stint in the just concluded WRC Safari Rally in Naivasha.
Both believe they did well in the seventh leg of the global series after bagging sixth and eighth positions respectively in the KNRC category of the world championship.
Ngugi, who was navigated by Josiah Kariuki, and Maina, whose pace notes were called out by Ken Ontere, have attributed their good run in the event to the immense support they received from Real Estate firm Comfort Homes.
"Safari Rally was thrilling but very expensive, we were able to cater for our entry fees, accommodation, spare parts, mechanics among other logistics with the support received from our sponsors," Ngugi told Standard Sports.
"The championship distance was grueling but we are happy to have made it to the finish line, which is our best ever performance in the series.
"We are also glad to have given our sponsors a run for their money through brand visibility in the rally, as many Kenyans have been calling and enquiring how they can acquire properties with Comfort Homes.
"It is on this note that I'm urging corporates to come on board to support local drivers in the series so as to improve on their brand awareness," Ngugi underlined.
Following the success of their two speedsters, Comfort Homes Manager Stephen Njau has pledged to expand their support for local drivers in the Safari Rally.
"We will sponsor more drivers in the coming editions, especially the experienced ones. We will also look for better car models that can propel them to the podium. We were using Subarus which could not match up to the prowess of the Rally 1 Hybrid cars by Toyota, Hyundai or M-Sport Ford," Njau stated.
"As a company, we also believe in prosperity, not failures so we will be all out to support the drivers to increase their chances of a respectable finish if not making it to the podium," he said.
Njau explained they were impressed with the results recorded by Ngugi and Maina owing to the fact that it was the first time the company was engaging in the Safari Rally.
"We are happy to support local talent, we believe our drivers put up a spirited fight, their performance was impressive," he stated.
In his post assessment of the rally, Njau feels there should be a cordial relationship between the event organisers and sponsors. He also feels more designated spectators' zones should be put in place to avert crowding.
"During the rally, fans were flocking in one place most of the time, like on the second day everyone was at Soysambu instead of the spectators spreading to other designated zones, I feel this was due to lack of proper communication," Njau underlined.
While urging other corporates to come on board and support local drivers in the Safari Rally, Njau stated: "As Comfort Homes, we sell land at affordable prices under the theme 'Shamba For All'. We are involved in 11 counties, including branches in Mombasa, Athi River, Bypass and Kitengela.
"We sell plots as low as Sh350 000 to Sh2 million. You only pay ten percent deposit and clear the balance in the specified period. We have a conducive payment system which doesn't exceed 12 months.
"Land investment is the best ever decision that one can ever make in their life since plots do appreciate."
The KNRC Safari Rally Kenya 2023 Results
1.Carl Tundo
2.Jasmeet Chana
3.Nikhil Sachania
4.Issa Amwari
5.Samman Vohra
6.Josia Kariuki/JohnNgugi
7.McRae Kimathi\
Natasha Tundo
9.Amman Shah
10.Tinashe Gatimu
11.Minesh Rathod
12.Andrew Muiruri
13.Pauline Shegu
Edward Maina
Related Topics