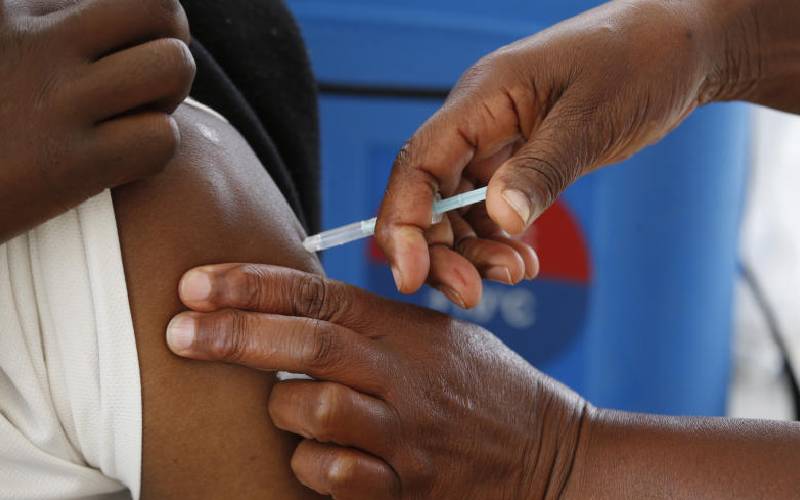 The rising positivity rate of Covid-19 has ignited talk in health cycles whether or not Kenyans should get a fourth jab.
By Saturday, the positivity rate stood at 5.6 per cent, the highest in three months. It had risen sharply from the two per cent recorded about two weeks ago.
Over 120 people out of 2,303 samples tested over the weekend returned positive results, with the Ministry of Health (MoH) singling out Nairobi and Nyeri counties as accounting for 95.3 per cent of the new infections: Nairobi reported over 50 cases while Nyeri had over 60 cases.
Some 100 of the new infections were from Kenyans and over 20 were foreigners.
There was, however, no death reported so far keeping the death toll unchanged at 5,651.
The World Health Organisation (WHO) recommends that the positivity rate should remain at five per cent or lower for 14 days for a country to be deemed to have flattened the Covid-19 curve.
The rising cases, which the UN says are fuelled by the Omicron variant amid relaxed public health and social measures, point to a possible sixth wave as predicated by experts considering some new cases are from people who had received full doses.
Several countries, including Israel, the UK and US, have started giving a fourth booster dose of Covid-19 vaccines. Israel, for instance, is administering a fourth dose of BNT62b2 vaccine to those aged 60 and above.
Dr Zipporah Gatheru, an immunologist and immunisation specialist, explains that "severe illness is lower on those who had received the fourth dose than those who have not received it."
But medical experts are cautious considering that WHO has not given an official nod for a fourth jab as there is no good evidence to warrant the move, according to WHO chief scientist Dr Soumya Swaminathan.
Dr Gatheru reckons that, if it was to be administered mostly to vulnerable groups, a fourth booster shot should only be recommended if it would benefit the wider population.
Dr Moses Mwangi, a virologist, explains that the reason for skepticism on the fourth dose is because "there is little research on how much protection, a fourth dose can offer."
But Dr Mwangi says China is suffering the vagaries of new cases and "we cannot take chances with senior citizens. A fourth dose is already proving fruitful in Israel and other countries. We must therefore recommend it here."
Despite CDC being skeptical on the need for a fourth dose for healthy adults in the absence of clearer public health strategy, the US Food and Drug Administration has authorised a fourth shot on the aged and the immuno-compromised.
Related Topics