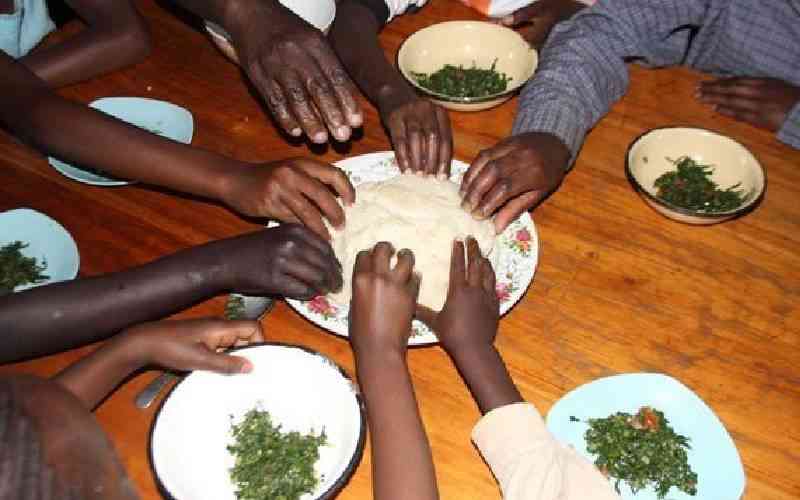 Kenyans will have to dig deeper into their pockets to purchase basic commodities as inflation edges up on high high food and fuel prices.
Data released by the Kenya National Bureau of Statistics (KNBS) on Tuesday night indicates inflation for the month of February hit 9.2 per cent, higher than the previous month's cost of living measure of 9.0 per cent.
The latest figures point to tough times ahead even as millions of Kenyans have had to squeeze their household budgets to afford basic commodities that have become more expensive compared to last year.
The rising cost of living is further burdening the already economically strained Kenyans and stoking social tensions at a time President William Ruto's government is facing mounting pressure to address the cost of living in response to his campaign promises.
"The rise in inflation was largely due to an increase in prices of commodities under food and non-alcoholic beverages (13.3 per cent), housing, water, electricity, gas and other fuels (7.6 per cent), and transport (12.9 per cent)," said KNBS Director General Macdonald Obudho.
The rise in inflation coupled with the raging drought in most parts of the country has made it difficult for more households in the country to put food on the table.
The inflation outlook looks uncertain after authorities said the country will experience depressed rainfall during the long rainy season of March to May this year, dashing farmers' hopes ahead of the planting season.
The Kenya Meteorological Department Wednesday said the phenomenon will further exacerbate the devastating drought being experienced in the country.
KNBS said prices of most vegetables increased in February compared to January with prices of cabbages and carrots going up by 11.3 per cent.
Sukuma Wiki price
The prices of Sukuma Wiki and tomatoes jumped by 11 per cent and 7.8 per cent respectively.
At the same time, cooking gas prices jumped by 4.7 per cent in the period.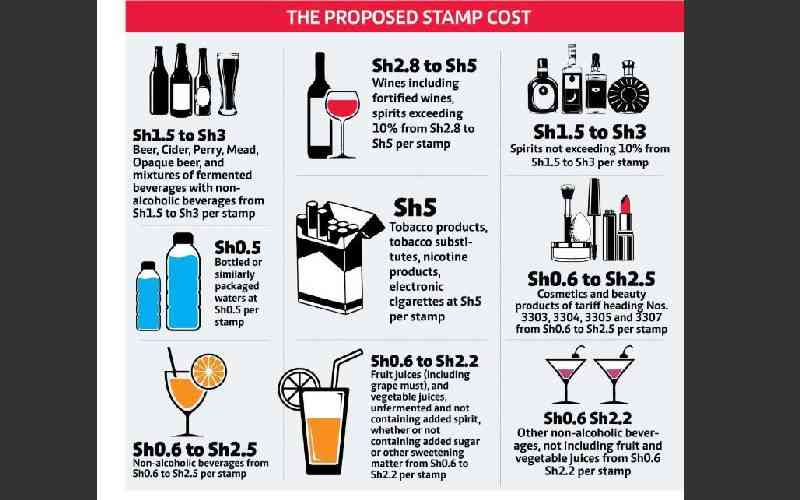 Kenyans are bracing for further pain after the High Court this week dismissed an application filed by the Law Society of Kenya (LSK) that sought to block the increase of excise duty stamp cost.
Justice Hedwig Ong'undi's ruling means that the government can now pass the cost of the stickers to consumers, resulting in a price hike for water, and soda among others.
The proposed stamp cost affects beer, Cider, Perry, Mead, Opaque beer, and mixtures of fermented beverages with non-alcoholic beverages from Sh1.5 to Sh3 per stamp.
Wines including fortified wines, and spirits exceeding 10 per cent will rise from Sh2.8 to Sh5.0 per stamp while Spirits not exceeding 10 per cent from Sh.1.5 to Sh3.0 per stamp.
On the other hand, bottled or similarly packaged water at Sh0.5 per stamp while fruit juices (including grape must), and vegetable juices, unfermented and not containing added spirit, whether or not containing added sugar or other sweetening matter will rise from Sh0.6 to Sh2.2 per stamp.
Fruit juices
Non-alcoholic beverages will also record a rise from Sh0.6 to Sh2.5 per stamp while other non-alcoholic beverages, not including fruit and vegetable juices from Sh0.6 to Sh2.2 per stamp.
At the same time cosmetics and beauty products will record a rise from Sh0.6 to Sh2.5 per stamp. Meanwhile, tobacco products, tobacco substitutes, nicotine products, and electronic cigarettes will be charged at Sh5.00 per stamp.
In its case against Kenya Revenue Authority (KRA), Parliament and Attorney General, the lawyers' lobby argued that an upward adjustment of excise duty will further hurt Kenyans who are barely surviving due to the decline of shilling purchase power, high cost of electricity, fuel among others.
According to LSK, there is no justification for why KRA should increase the price of excise stamps as they are only meant to weed out counterfeits.
"This act will destabilise the Kenyan market and erode government revenue through the imposition of excessive tax administration fees on legitimate manufactures far beyond what is imposed in the neighbouring countries and across the world," LSK lawyers led by its president Eric Theuri argued.
The lawyers' body argues that the set price is unreasonable and the highest worldwide and in the East Africa region.
"The implication of this is that manufacturers in Kenya will continue losing their grip on the domestic market through increased competition from EAC Partner States and the growth of illicit trade, fueled by the increasing tax differentials.
"Consequently, competitors, who retail products within the African region, will have an unfair advantage with respect to the specific market with the effect of creating an inequitable economic environment," LSK argues. However, the government through the KRA, Attorney General and Parliament persuaded the High Court to dismiss the case.
Related Topics