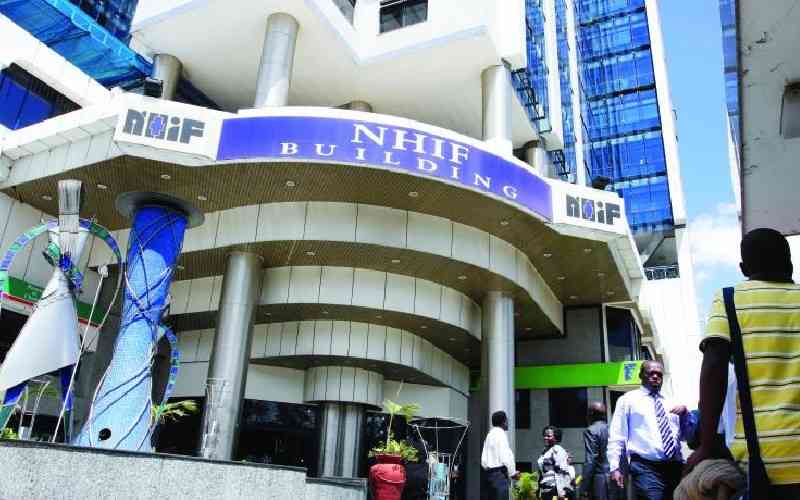 The National Assembly convenes today for a special session regarding a Bill to replace the national insurance fund.
The proposed legislation, the Social Health Insurance Bill, 2023, aims to replace the National Hospital Insurance Fund and achieve universal health care (UHC), according to President William Ruto's government.
The Bill consists of four components: the Primary Health Care Bill, 2023; Digital Health Bill, 2023; Facility Improvement Financing Bill, 2023; and Social Health Insurance Bill, 2023.
These bills primarily mandate every employee to contribute 2.75 per cent of their gross pay to fund healthcare.
These deductions will hugely impact workers' take-home pay, which has already been affected by a 1.5 per cent housing tax and increased contributions to the National Social Security Fund (NSSF).
Through pay-as-you-earn, NSSF, housing levy, and healthcare contributions, the government will deduct approximately Sh10,264 or 20.5 per cent from those earning Sh50,000 gross pay, up from the current Sh8,460.
For those earning Sh100,000, the deduction will be Sh27,389 or 27.4 per cent, with higher earners paying more.
These proposed deductions highlight the financial burden on Kenyan employees, supporting UHC, affordable housing, enhanced pension plans, and other budgetary needs.
Under the State-backed Social Health Insurance Bill, 2023, UHC will be structured around three funds: Primary Healthcare Fund, Social Health Insurance Fund, and Emergency, Chronic and Critical Illness Fund.
This new structure aims to provide a framework for improved health outcomes and financial protection for families, aligning with the government's commitment to guarantee the health and welfare of all citizens.
Health Cabinet Secretary Susan Nakhumicha has urged Parliament to pass the four essential bills to support healthcare, in line with the Kenya Kwanza administration's goal of achieving UHC as part of the government's Bottom Up Economic Transformation Agenda.
"I want to appeal to lawmakers across the political divide to put the interests of Kenya ahead and support the passage of these fundamental bills when they get to the floor of the House for debate. I agree with those who have raised concern that we should have more time for consultation but generally, it's been an all-inclusive affair with the views of a majority of stakeholders being captured. These bills have been developed from existing documentation, and the existing documentation has been worked on together with other entities like CoG (Council of Governors)," she said in Homa Bay County.
The Bill's introduction will expedite the process, allowing MPs to familiarise themselves with it. It will be a top priority when they return from their short recess next week for the second reading.
Before the Bill is tabled, public hearings will be held, followed by a report presented during the second reading. During this phase, the focus will be on potential amendments to contentious proposals before the Bill becomes law.
In addition to the healthcare bills, MPs will also consider motions related to the vetting of nominees for key positions, including Renson Ingonga for director of public prosecutions and Andrew Musangi for chairperson of the board of directors of the Central Bank.
They will also review nominees for the National Development Fund Board.
The sessions will also involve a motion on a joint report regarding the revival and commercialization of State-owned sugar companies.
The memorandum that was tabled in Parliament by National Assembly Majority Leader Kimani Ichung'wah indicates that the government wants to write off debts mounting to Sh115.8 billion it is owed, alongside the Kenya Sugar Board.
It further outlines 15 proposed strategic interventions that will revive the sector and also ensure the implementation of the sugar industry stakeholder's task force report of 2019.
The proposals include; bringing on board private capital, expertise, and modernisation of sugar mills with adequate sugar to allow them to run efficiently and operate on commercial principles, enhancing cane development in both nucleus estates and small-holder out-grower farms, addressing stakeholder and community sensitivities on permanent divestiture of land, lease model to be executed by unbundling the nucleus estate land and the factory land, and expediting the leasing of the five sugar companies to facilitate rehabilitation and expansion
If Parliament approves the Cabinet's proposal, State-owned entities will operate under a lease and operate framework.
MPs are scheduled to officially resume sitting on September 26.
Related Topics