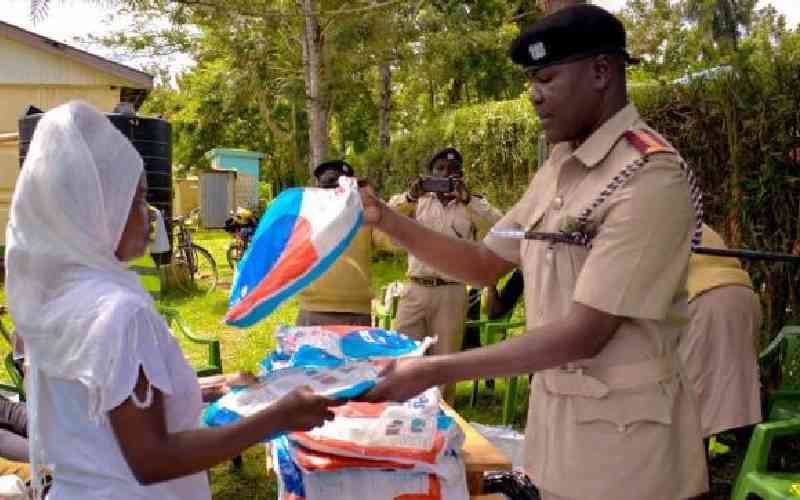 It is early on a Monday morning and Lydia Obondo is stepping out of her house to escort her children to school.
Outside her doorstep, Lydia finds a young woman lying on the ground, writhing in pain. The young woman looks frail, so Lydia guides her into the house and offers her a glass of drinking water.
Once a little settled, Lydia asks the young woman what is ailing her. She complains of fever, severe headache and sharp abdominal pain, coupled with continuous vomiting.
Acting swiftly, Lydia makes a phone call to a boda boda rider to take them to Siaya Referral Hospital. At the facility, the patient is examined, tested, diagnosed with malaria and treated.
Lydia, who locals fondly call the 'village doctor', heads back home only to find a long queue of people in dire need of her attention.
However, this does not faze her as she is on a mission to save lives from the killer disease malaria.
Lydia is a Community Health Volunteer (CHV) whose daily schedule mirrors that of at least 2,128 other CHVs leading the fight against malaria disease in endemic counties of the Western and Nyanza region.
Through the help of CHVs, patients access treatment at any time of the day, unlike dispensaries and health centres which do not operate during the night and on weekends.
"I do not handle patients with complications like continuous vomiting, convulsions and severe headache because I am not a trained doctor," Lydia says. "I examine them and when the cases appear severe, I link them to hospitals."
Apart from testing and treatment, she gives health talks to patients on malaria and other diseases.
"Malaria is a big threat here. It kills. I have seen people die after failing to be attended to," she says adding that while symptoms of malaria are well known, testing is crucial to avoid misdiagnosing a patient.
"Malaria presents with vomiting, chills, fever and severe headache, but we can only put a patient on treatment after tests," she says.
CHVs are equipped with malaria testing kits, and drugs for testing and administering to the sick, but Lydia refers pregnant women and complicated cases to the hospital for specialised care.
"I do not examine pregnant women because pregnancy comes with complications like miscarriage, preterm births, cases which are only managed by doctors and specialists," says Lydia.
Pregnant women are at an elevated risk for severe malaria in high malaria-risk regions due to their reduced immunity. She refers them to Siaya Referral Hospital.
Malaria can also cause anaemia during pregnancy, which can impede the exchange between the mother and the foetus and result in numerous negative outcomes such as low birth weight, stillbirth, premature birth, and foetal death.
Emanuel Martin Odhiambo, a community health assistant, notes that the volunteers are clustered in groups. Each volunteer visits households and documents the number of family members, pregnant women, and the sick for easier monitoring.
"We register all households to easily track patients and their records, and ensure each pregnant woman is aligned," he says.
According to data from the Department of Health in Siaya County, health volunteers treated at least 130,029 malaria patients in 2022. In 2022, the county reported a total of 622,320 cases of malaria.
Siaya County Malaria Coordinator Eunice Akinyi says the county is implementing the interventions in line with the Malaria Treatment Strategy (2019 to 2023). The strategy has six objectives, including the distribution of Long Lasting Insecticidal Nets (LLINs).
"An individual in Siaya is six times more likely to contract malaria as compared to national averages. Basically, it means everyone is exposed to malaria, the only thing saving us is nets," says Ms Akinyi.
Joel Milambo, a community health services coordinator, says behaviour is the leading challenge in the elimination of malaria in the county.
These include delay in seeking treatment, defaulting on medication and not sleeping under treated mosquito nets, which he says is mostly because of sleeping arrangements.
"In some homes, women and children sleep on the floor so they have nowhere to tie the net. We have seen scenarios where people keep mosquito nets locked in boxes, reserving them for guests," says Milambo.
In mitigation, he says CHVs conduct behaviour change communication at the household level, while engaging families to improve their knowledge of and practises in malaria control.
The Rotary Club of Siaya is among the partners working with the Ministry of Health and county government to fight malaria in the region.
Rose Waringa, an assistant Governor Rotary Club of Siaya, says emphasis has been put on vulnerable groups, including children under the age, and pregnant mothers. She said school-going children form the highest number of hospital admissions. Data shows at least three out of five admissions are children aged between three and 13 years.
"If you visit any hospital, you will get nursery and primary school children admitted with malaria. The two groups are not under the malaria programme because they are not considered vulnerable," said Waringa.
Related Topics