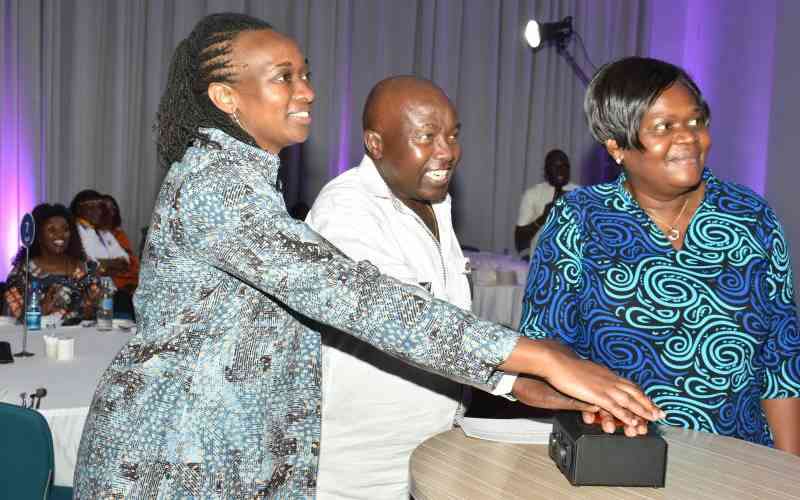 Health providers have raised a red flag on the decline of funding from the government, which makes it impossible for vulnerable people to access Universal Health Care.
They say efforts to respond to emergencies in communities have been hampered by inadequate funds.
Homa Bay County Governor Gladys Wanga said there is no way any community can achieve its strategic goal when it is unable to address the health challenges facing its population.
"As governor, healthcare has been a priority for me since I took over a county where health indicators have not been the best which we are prioritizing. Without a healthy population, you will not be in a position to achieve any meaningful goal," she said.
She was speaking on Thursday to mark Liverpool Voluntary Counselling and Testing Health's (LVCT) 20 years anniversary in Nairobi.
Wanga noted that many non-governmental organisations have tried to come up with health projects in rural which she said have improved the health of its residents by a big margin.
"Through LVCT, we have started on a journey of strengthening the health system for HIV and for community health, universal health coverage as well as a triple threat for adolescent girls. As a county, we are trying to turn around the pyramid and counted amongst the best,'' Wanga said.
The governor urged the government to continue supporting the organization saying currently, many health matters have been left to partners and donors.
''The health response should not be left to our donors and partners. The current trend has led to many groups trying to address the health challenges in our society and fold their operations from the dwindling fortunes."
"I urge the donors to continue investing in the country, and especially in the government at national and county level and in local organizations to enable us to improve our health outcomes even as the government continues putting in more resources into health."
Over the course of two decades, LVCT Health has significantly contributed to Kenya's HIV response by working with the Ministry of Health at national and county levels.
The Permanent Secretary of Public Health Dr Josephine Mburu hailed LVCT Health for its resilience over the years in addressing the HIV pandemic and other sexual reproductive health issues in the country.
"As a country, we're grappling with challenges of HIV, teenage pregnancy, gender-based violence and mental health; areas LVCT Health has demonstrated leadership through its various programs. We look forward to hearing and seeing more evidence from your interventions and working together with the government to address these challenges across the country," said Dr Mburu.
LVCT Health Executive Director, Dr Lilian Otiso, said more than 10 million Kenyans have received HIV testing services in the last two decades, LVCT has revealed.
Out of this 206,543 has been on life-saving HIV drugs (Antiretroviral therapy (ART), supported some 200,000 survivors of Gender Based Violence (GBV), and provided support relating to HIV, sexual and reproductive health, gender-based violence and mental health services through the one to one digital platform to over 4 million youth.
Said that the organization is focusing on expanding access to services on mental health amongst vulnerable groups including youths, sex workers, and survivors of sexual violence, persons living with disabilities, young girls and women.
"The last 2 decades have signalled a significant nationwide impact in working with groups that face the greatest vulnerability to HIV and TB infection and those with special service. We are proud of the work we have accomplished, especially with dealing with special groups that need access to healthcare," Dr Otiso said.
She noted that LVCT Health's new strategic choices will focus on Health Services Delivery Support, Health Systems Strengthening, Health Services Delivery Support, Monitoring, Evaluation, Research and Learning, and Institutional well-being as its strategic plan.
Related Topics