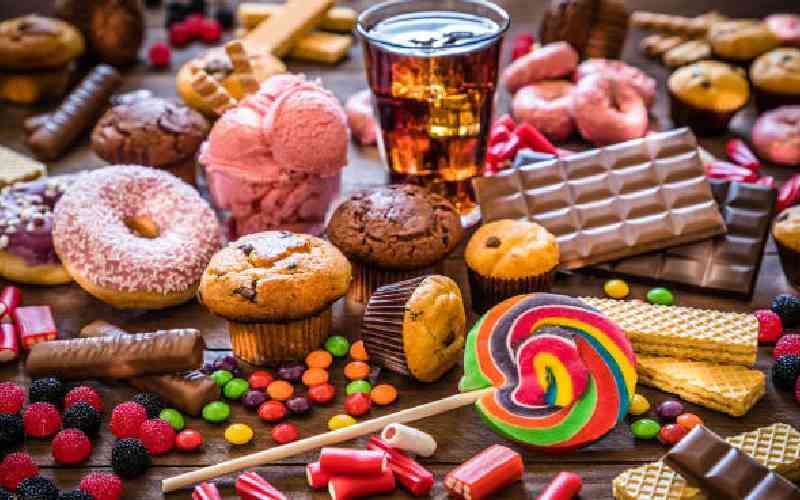 Unhealthy feeding habits have been listed among the leading contributors of weight gain in infants, while bottle-feeding is still practiced despite increased health risks.
Parents are reportedly feeding their young ones on sweetened food and beverages, which increase the risks of obesity and dental caries.
According to data by the 2022 Kenya Demographic and Health Survey (KDHS), at least 49 per cent of children aged between six and 23 months were fed on sweetened beverages.
Prior to the survey, 26 per cent of children were given unhealthy foods.
"Unhealthy infant and young child-feeding practices should be avoided because they can promote unhealthy weight gain and replace nutritious foods that provide important nutrients for children," reads a section of the report.
The data shows that more children under the age of five are overweight, which is a sign of excess nutrition.
The country has also reported substantial increase in exclusive breastfeeding, rising from 13 per cent in 2003 to 60 per cent in 2022. This follows a decline between 1989 and 2003, the report says.
According to health experts, breastfeeding supports children's growth and development. It also benefits the mother's health.
The report says that infants and young children should be fed a minimum acceptable diet, which entails a variety of foods that meet their energy and nutrient needs given at appropriate intervals.
The consumption of meals from at least five food groups out of eight - which include breast milk, grains, roots and tubers, legumes and nuts, dairy products like milk, yogurt, and cheese - is encouraged.
Other meals include foods like meat, fish, poultry, eggs and vegetables.
Breastfed children between the age of 6 to 8 months are considered to be consuming the minimum meal frequency if they receive solid, semi-solid, or soft foods at least twice a day.
In addition, minimum milk-feeding frequency is a proxy for meeting the nutrient needs of non-breastfed children.
Milk and milk products are important sources of nutrients. Non-breastfed children aged between 6–23 months are considered to meet the minimum milk feeding frequency if they receive at least two feeds of milk and/or milk products.
"Thirty-seven per cent of children ages 6–23 months had an adequately diverse diet and had been given foods from the appropriate number of food groups, while 71 per cent had been fed the minimum number of times appropriate for their age," reads the report.
Additionally, at least 52 per cent of non-breastfed children between 6 and 23 months were given at least two milk feeds.
Only 31 per cent of children ages 6–23 months were found to have a minimum acceptable diet.
Unfortunately, according to health data, a number of children die due to malnutrition that was attributed to poor feeding.
Meanwhile, the survey says there is cause for concern as bottle-feeding is still practised, despite increased health risks, including infections.
Bottle-feeding is not recommended for children below two years.
"Thirty-four per cent of children aged below 24 months were fed from a bottle with a nipple," the report says.
Ruth Nduati, a consultant paediatrician at the University of Nairobi, said mothers are encouraged to use a cup and spoon to feed their infants because it is safer.
Bottle-feeding, she said, causes nipple confusion which can make infants stop breastfeeding.
Also, bottle-feeding risks contamination due to improper cleaning of the nipple end of the bottle.
Putting a bottle in the mouth of an infant for a long period of time interferes and tampers with the developing dental formula.
"Studies show babies who are breastfed have high IQ and perform better in school. This is why the government should regulate breastfeeding," said Prof Nduati.
Kenya is governed by the Breast Milk Substitutes (Regulation and Control) Act, which requires the Health Cabinet secretary to develop regulations that would support the implementation of the Act.
Related Topics