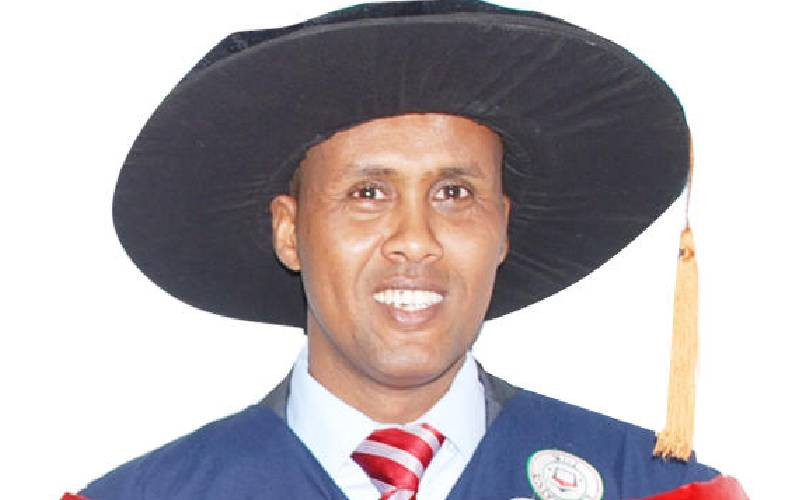 He lived on the edge, quite literally, with gunfire all over as he grew up in Wajir. Banditry attacks were the order of the day. People would be killed or maimed, and livestock was stolen. Haithar Somo, 38, witnessed many of these incidents.
Going to school was not smooth for Somo. The school and its environs were also battlegrounds between two major warring communities in the 1990s.
As he grew up, Dr Somo was well aware he could be killed at any given time. It was scary.
"Waking up to go to school was frightening. It was like walking into death," he recalls.
One of the saddest moments was when his nephew was attacked and killed by bandits. The nephew and his friends were burnt inside a vehicle in Wajir town.
"Growing up in Wajir was traumatising. I witnessed people mercilessly slashed near our school, and some shot dead. Life was unpredictable," Somo says.
But the gunfire did not define Somo's future. Today, he is a globally known child protection expert and is credited with drafting policies that positively impact the lives of children, and humanity in Kenya and across the globe.
Dr Somo is currently working at UNICEF Ethiopia as a Child Protection Manager.
The thirty-first child in a family of thirty-two siblings was born and raised up in Wajir.
His father was a herder. Life was generally difficult for Somo and his family due to socio-economic hardships. There are times he would be kept in class because of the school feeding programme. His family could hardly afford anything, even meals, as his mother struggled to raise them.
"Having both lunch and dinner was a luxury. I went to school daily, not for education, but to have an extra meal. Donors would bring food to our school," he says.
Somo enrolled for his primary education at Jogbaru Primary School in 1991 before proceeding to Wajir High School.
He then enrolled for a diploma in NGO management, and later became a bus tout, plying the Nairobi-Mandera route.
Somo also did other odd jobs. He worked in a hotel, sold timber and miraa, and also worked as a driver in his efforts to make ends meet.
"Schooling was not easy. Schools never had the infrastructure, and teachers would run away because of insecurity. However, with determination, I did not allow that to ruin my future," says Dr Somo.
One day, while in a vehicle where he worked as a tout along the Nairobi-Mandera road, Somo met a human rights activist who encouraged him to apply for an opening as a sexual and gender violence officer in Wajir and across the border in Somalia.
The activist worked for an NGO where Dr Somo would later be absorbed.
In 2009, he completed a Bachelor of Arts degree in Community Development at Ndejje University in Uganda and served the government as a children's officer in Wajir district. Having served diligently, he would be promoted to the position of head of the district in the same department.
In 2013, he secured employment at the Gender and Equality Commission as the National Youth and Children's Officer, a position he served for five months before joining UNICEF in Dadaab as a Child Protection Specialist in Emergencies.
In 2010, Somo enrolled for a Master's degree in Science and Development at Moi University. During his master's studies, he would travel from Wajir to Nairobi for classes over weekends and back on Sunday to perform his duty as a children's officer.
Later, he joined the Hebrew Immigrant Aid Society of Kenya in 2014 as a Child Protection Officer-Urban Refugee Programme. He did the job for nine months after which he joined UNICEF as a Child Protection Specialist-Prevention of Harmful Practices in 2015.
In August 2021, Somo moved to Ethiopia where he currently serves at UNICEF Ethiopia as a Child Protection Manager.
In 2014, he started his PhD in development studies to support humanity.
Somo says he was motivated to pursue education to PhD level because of his desire to change "the hijacked development trajectory of my community, region, and Kenya".
"I had a degree, and a master's degree, but I felt that was not enough. I wanted to be a philosopher, and a scholar, providing solutions to issues affecting people, not just in Wajir and Kenya, but across the globe. The impact I wanted to cause, I felt, could only be through acquiring education," says Somo.
"My mother has been a key pillar in my academic journey. When I started a business, while undertaking my degree, she told me that business can fail, but education can never fail me. She inspired me."
Dr Somo was one of the only two scholars conferred with a PhD in Development Studies during Moi University's graduation ceremony on December 22, 2022.
The scholar is now looking forward to using his knowledge to benefit children.
Female Genital Mutilation and child marriage are some of the things he hopes to tackle.
Girls, he observes, are seen as childbearing tools in some communities. This has continued to impact the quality of their lives negatively as they are forced into early marriages.
He says FGM, even in Wajir, is among the harmful practices hindering the development of girls and women.
"It pains me when I see girls not living up to their full potential because of these harmful practices. I long for days when we shall celebrate good cultures while dropping the harmful ones," he says.
Dr Somo is the brain behind the National Policy for the Eradication of FGM in Kenya, and guidelines on alternative rites of passage, among others.
The policy aims at accelerating the eradication of FGM in Kenya by 2025. It identifies key areas that need action and proposes strategies to address FGM.
Nationally, the prevalence of FGM is estimated at 21 per cent. It is worse in West Pokot with a prevalence of about 70 per cent, according to a survey done by UNICEF in 2019.
In 2018, UNICEF recognised Somo as the best researcher in 191 countries, because of his efforts to end FGM and harmful child practices. He also won the best development programme award to end FGM in Kenya.
Among the interventions in his research was cross-border engagement, where elders from respective countries at the border conduct community dialogue to end the practice. The dialogues are attended by local administrators and village elders from countries across the border.
When not doing research, Somo prefers to enjoy monologues, moments that allow him to think and reflect.
He also enjoys watching football and meeting family and friends. Dr Somo's favourite meal is githeri and roasted goat meat.
Related Topics