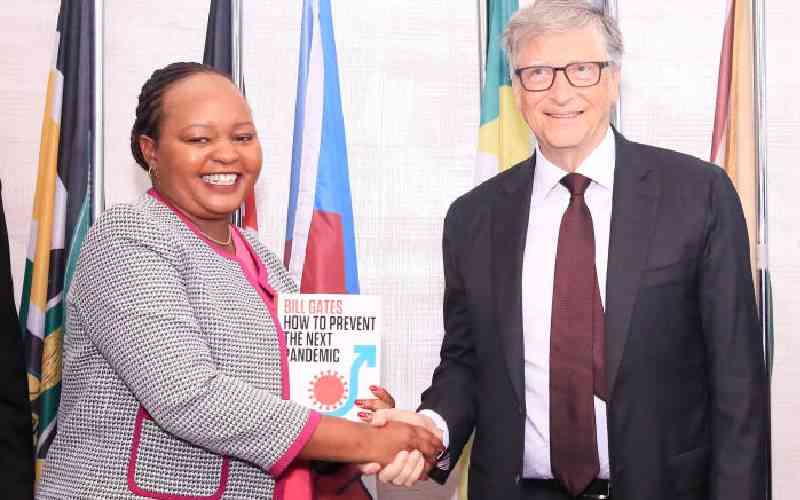 Bill Gates, supports the adaption of Genetically Modified Organisms (GMO), an issue that has brought a heated debate in Kenya where the government is importing GMO maize to curb the ongoing food crisis and looming starvation.
Trade Cabinet Secretary Moses Kuria on Thursday announced the government had finally decided to allow the duty-free importation of 10 million bags of GMO maize over the next six months.
Over four million Kenyans including1.4 million children have reduced access to nutritious food and safe drinking water, according to UNICE owing to the fifth season of failed rains in Kenya.
The hardest hit are pastoralist areas which re facing severe hunger due to persistent drought and attendant food shortage and "we have decided to allow the importation of GMO maize into the country until the food situation improves," said CS Kuria who had the backing of President William Ruto.
The President had earlier explained that the government had considered expert opinion from scientists over the suitability and safety of GMOs before lifting the ban as part of medium and long-term response to food insecurity.
Gates, who was engaging the media at the University of Nairobi said GMO is more productive and is disease resistant and "99.9 per cent of crops in West are GMO. Every piece of bread I have ever eaten is from GMO-modified wheat. Every piece of corn I have also eaten is GMO corn, products that are proven."
the software developer and philanthropist said children and women bore the brunt of erratic weather patterns and climate change which have adverse effects on food production, greatly affecting their growth.
"In Africa, over 30 per cent of children, when they grow up because of food deficit, their mental and physical capabilities is affected," said Gates.
Malnutrition also destroys the immune system, predisposing an individual to various diseases, and deaths.
As mitigation to food insecurity, Gates said the Bill and Melinda Gates Foundation is working with researchers on drought and disease-resistant seed varieties besides appropriate technology.
The Foundation, for instance, funded the Water Efficient Maize for Africa (WEMA) which was launched in 2008 to manage risk of drought, resulting into an increase of maize yields to about 24 to 35 per cent.
The maize variety is drought and insect-pest-resistant and is developed by use of conventional breeding, marker-assisted breeding and biotechnology, especially if the youth were encouraged to use technology to find solutions in agriculture.
"Wema in Africa is a successful project under drought conditions. Productivity is about 30 per cent higher. This is beneficial for farmers," said Gates.
Gates said maize productivity in Kenya is low, an issue that needs to be addressed through adaptation on technology in farming besides the government helping small-scale farmers access credit and adapt water storage technology to boost productivity.
"In Western countries, there is fertilizer, and irrigation used to boost production unlike in Kenya," said Gates who attributed low productivity to weather changes in dry areas "farmers may be encouraged to switch to maize or sorghum that stands heat."
Related Topics