Home
/
Health & Science
Covid-19 left us with bills in the millions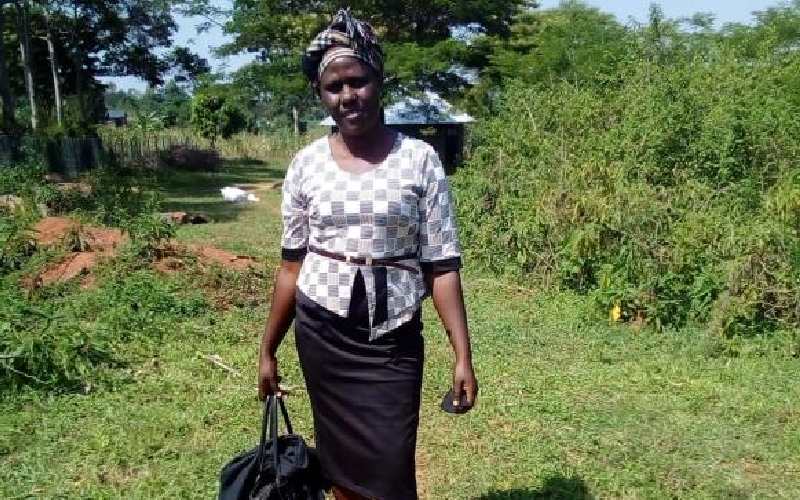 When his wife died of Covid-19 recently, Patrick Wanga from Nderema village, Busia County, was slapped with a medical bill of Sh2.3 million. The father of three could not raise the money from his meagre earnings as an artisan in Eldoret town.
Though his wife, Evelyn Odeke, was buried last weekend, her body had been detained at a private hospital in Bungoma over the pending bill. The body was only released after the family surrendered two title deeds for land valued at Sh1.7 million, the only property Wanga owns and which he now fears might be auctioned.
"The death of my wife has left me broken," says Wanga, who was given a three-month ultimatum by the hospital. "I do not know what tomorrow holds."
It is now routine for him to seek friends, relatives and well-wishers for help to raise the money, but without success.
Wanga's tribulations began with his wife suffering fever, persistent headache and chills. She was later diagnosed with malaria at a hospital in Kitale where she developed breathing difficulties. Moi Teaching and Referral Hospital was preferred for referral, but the facility did not have oxygen. That's how Odeke landed at a private facility where she was diagnosed with Covid-19. She died on October 11.
The hospital said it would only release her body for burial if the family cleared 75 per cent of the bill, forcing Wanga to surrender the two title deeds.
Her mother's title deed
Wanga's experience shows the pain, anxiety and sorrow many families are undergoing after their loved ones who died of or survived Covid-19 left hefty medical bills.
Hottensiah Wambui from Mang'u in Nakuru was also forced to hand over her mother's title deed to a private hospital after she failed to offset a Sh2.4 million bill.
Wambui, 54, suffered severe pneumonia and was taken to a hospital in Gilgil, but her condition did not improve. She was then referred to a nursing home in Nakuru in September, where she was diagnosed with Covid-19.
Wambui stayed for two weeks in the Intensive Care Unit (ICU) and due to an accumulating bill, her family requested for premature discharge. Unable to foot the Sh3.5 million bill, the family handed over a title deed to the hospital. A fundraiser managed Sh400,000, leaving an outstanding bill of Sh3.1 million, which should be cleared by January 21, 2022.
The virus also left the former ECDE teacher with damaged lungs – she is now constantly on oxygen and consumes 45kg in three days to support her breathing. Wambui can no longer work, as she also suffers general body weakness and cannot walk independently.
"My sister suffers depression," says Wambui's sister, Winnie Munyaka.
Then there is Richard Chelule from Ogilgei in Subukia, Nakuru County, whose medical bill of Sh1.4 million gives him anxieties. The 66-year-old also suffers swollen limbs but cannot access healthcare due to financial constraints.
"Contracting Covid-19 has left me in despair," he says. "The side effects of the disease and financial problems have put me in limbo as we have only managed to raise Sh720,000."
Dr Timothy Olwenyi, the Secretary-General of Private Hospitals Association, says it is unfortunate that the National Hospital Insurance Fund (NHIF) and private insurers initially did not pay Covid-19 bills, and this has left many families financially constrained.
Although insurers now cover Covid-19, previously, the disease left public hospitals overwhelmed and private ones with unpaid bills, forcing management to get into agreements with clients on how to clear the bills.
Dr Olwenyi says it is against the law to detain patients over bills and "there are a lot of people treated and freed without paying bills." He says it is time the government allocated emergency funds to cater for quality healthcare of the population.
Policy to guide on hospital bills
The doctor says public and private health facilities should also work in harmony as "all emergency services are treated free of charge at any hospital, but we need the public to be informed that when they stabilise, they can seek care in hospitals where they can afford."
In a previous interview, Kenya Medical Practitioners and Dentists Council (KMPDC) Chief Executive Officer Daniel Yumbya, warned hospitals against detaining patients and bodies over unpaid bills.
"That is unethical and against the Code of Professional Conduct and Discipline," said Yumbya, noting that hospitals can agree on mode of offsetting bills.
National Assembly Health Committee Chairperson Sabina Chege said in a recent media interview that the Ministry of Health should come up with a policy to guide on hospital bills.
"Kenyans should know that the law does not allow anyone to be detained in a hospital, for failing to clear bills," said Chege. She said the Universal Health Coverage (UHC) will enhance quality treatment to all Kenyans.
Related Topics