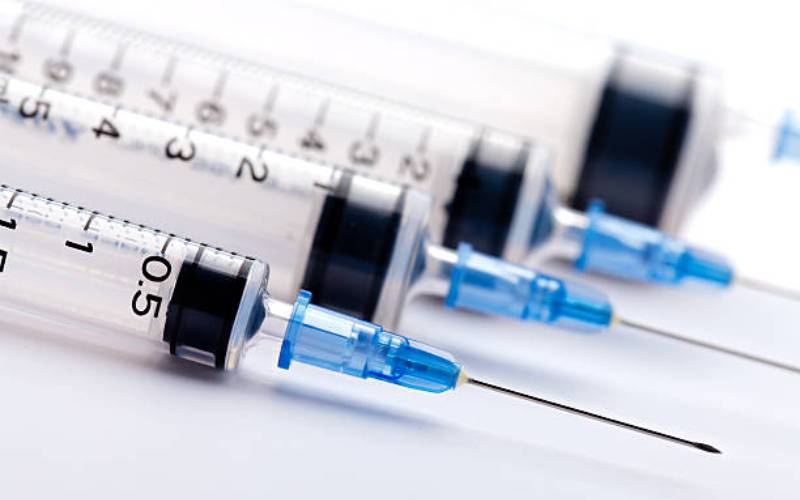 Kenya's leading medical supply manufacturer has received funds to manufacture syringes, amid looming shortfalls besides efforts to ramp up fight against the Covid-19 pandemic Revital Healthcare (EPZ) Ltd has received $4 million (Sh400 million) from Bill & Melinda Gates Foundation to expand production of auto-disable syringes from about 72 million to 265 million annually, towards the end of 2022.
Bill & Melinda Gates Foundation estimates that the supply will cover more than half of the routine immunization needs in Africa.
Acting Health Director, Dr Patrick Amoth said the funding will enhance commodity supply security in the fight against the pandemic besides spurring economic growth and job creation.
Most low and middle-income countries have been depending on supply of syringes from India and China, before the global pandemic which increased demand following roll-out of vaccination programs.
Kenya, for instance, is targeting to inoculate 27 million people by 2022, but has administered a total of 5, 427, 617 doses, of which, 3, 728, 033 are partial vaccination, with those fully vaccinated standing at 1, 699,584.
Last week, Unicef noted that there will be a shortfall of up to 2.2 billion auto-dispensable Covid-19 vaccine syringes globally by next year.
Unicef has attributed the shortage to significantly higher demand, disruptions to international freight and supply chains, an unpredictable supply of vaccines due to a significant reliance on much needed donated doses and national bans on syringe exports.
Bill & Melinda Gates Foundation notes that the shortfall of the auto-disable syringes in 2022, would acutely impact on Covid-19 vaccination and childhood immunization, including roll out of new malaria vaccines, particularly in Africa.
So far, there are more than 20 auto-disable syringe manufacturers pre-qualified by the WHO, globally, and Revital Healthcare is currently the only WHO prequalified manufacturer for vaccine syringes in Africa.
Besides the syringes which are sold at affordable prices, Revital also manufactures rapid Covid-19 antigen test kits, rapid malaria test kits, Personal Protective Equipment (PPE) kits, surgical face masks, viral transport medium kits and oxygen related products.
But expanding Revital's manufacturing capacity will geographically diversify the global supplier base of syringes, mitigate transportation costs and help stabilize supply in Africa besides creating more than 100 direct new jobs, over 5,000 indirect jobs, with women forming 50 percent of the workforce.
WHO, Gavi- the Vaccine Alliance and Unicef recommends use of auto-disable syringes to prevent infections, due to syringe re-use.
"For more than two decades, auto-disable syringes have been the mainstay of vaccination campaigns in low- and middle-income countries, as their fixed needle and locking mechanism prevent re-use, minimizing transmission of blood-borne pathogens such as hepatitis B and HIV," added the global health entity.
Rajni Vora, chair of Revital Healthcare said "with the support from organizations such as the Bill & Melinda Gates Foundation, Revital is one step closer to ensuring that we fight these deadly diseases that are killing millions of people worldwide, especially in low- and middle-income countries." S
At a glance:
2.2 billion: Shortage of auto-dispensable Covid-19 vaccine syringes globally by next year, according to UNICE
20: Number of auto-disable syringe manufacturers pre-qualified by WHO globally with Kenya's Revital Healthcare as the only prequalified from Africa
Related Topics