Home
/
Health & Science
'Sea blindness': Why we can't see billions in marine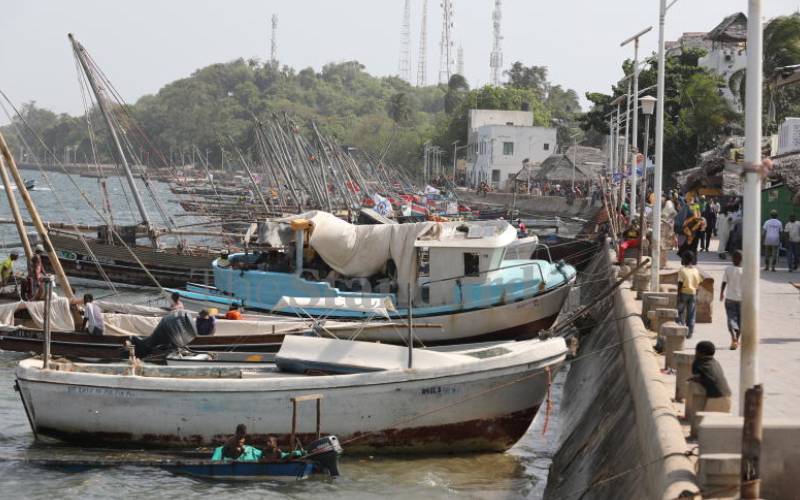 Kenya's Blue Economy has annually been losing an eye-watering Sh10 billion from illegal, unlicensed and unregulated ocean fishing, according to government estimates.
That, in a country with a perennially unemployed population, is laughable, considering Blue Economy can create environmentally-friendly jobs from waste recycling, tourism and fishing-while conserving coastal ecosystems and thus reducing pressure from pollution and the vagaries of climate change.
Seasoned maritime expert, Andrew Mwangura says that Kenya like most countries in Africa lacks a maritime culture and is "sea blind" to its enormous economic potential which sweeps across fishing, oil and gas, security, biodiversity, transport and harbours from our oceans, lakes and rivers.
"We have restricted ourselves to exploitation of marine resources only" says Mwangura, yet a strong Blue Economy can harness "renewable energy, aquaculture, seabed extractive activities given that we fall under the Mozambique belt, bunkering hub at the port of Mombasa and marine biotechnology."
But Kenya's maritime sector faces myriad challenges, including poor infrastructure, congestion, lack of ship repair equipment, inadequate human resource and training facilities resulting in lost job opportunities in areas like off-shore oil and gas drilling.
Off-shore oil and gas sector has more than 120 career opportunities in management, applied and natural sciences, health, services and sales, transport, trade and equipment operators.
But for studies, one has to go to Australia, Canada, UK, USA and South Africa, yet the US Geological Survey estimates that the coastal areas of Kenya, Madagascar, Mozambique and Tanzania are endowed with more than 250 trillion cubic feet of gas and 14.5 billion barrels of oil-which can earn us foreign exchange.
Of 32 off-shore wells drilled in the last few years in Kenya, Tanzania and Mozambique, 29 yielded discoveries. And compared to other heavily explored areas on the continent, East Africa is virgin territory with more opportunities in Exclusive Economic Zones (EEZs) and deep-water opportunities and ultra-deep plays.
Mwangura suggests that Kenya becomes a stopover for ship refuelling by establishing Mombasa port as the Transhipment and Bunkering Hub in Africa and the Indian Ocean as the country "is strategically located to handle vessels servicing the predicted increase in South American to Asia dry bulk trades as well as Asia to South America container traffic."
Increased bunkering will mean rapid business for port firms, oil producers, barging companies and international bunker trading companies.
Mwangura concludes that a successful Blue Economy would also mean combining African maritime zones to prevent pollution and piracy besides collaborating to build capacity in among others; marine defence, scientific research, tourism, maintenance and building harbours complete with a pan-African fleet.
The Blue Economy also includes the ship-building industry and Kenya now has the Kenya Shipyard Ltd domiciled in the Ministry of Defence.
Already, the Kenya Shipyard Ltd has set up base in Lake Victoria to build water vessels besides repairing watercrafts that ply the lake, a trans-boundary resource shared by Kenya, Tanzania and Uganda.
In Mombasa, the Kenya Shipyard Ltd has a new slipway nearing completion at the Kenya Navy, Mtongwe headquarters. It will repair, maintenance and building of ships both locally owned and from outsiders.
The Blue Economy also encompasses naval architecture and naval, marine and ocean engineering and Dr Nancy Karigithu, Principal Secretary, State Department for Shipping and Maritime, says "the maritime sector has been mainstreamed into national economic planning" with Bandari College being upgraded into a Maritime Academy to provided essential trained manpower to the Blue economy.
Maritime expert Andrew Mwangura pegs the current shipping industry at $700 billion (Sh70 trillion) which is projected to grow to $ 1.3 trillion (over Sh100 trillion) by 2023.
Maritime transport, via which two-thirds of global goods are moved, forms the backbone of international trade valued at more than $ 4 trillion (Sh400 trillion) annually from over 10 billion tons of goods. This translates to 1.5 tonnes per person based on the current global population.
Related Topics