Home
/
Health & Science
Kenya to receive Moderna vaccine as Pfizer jab to get full approval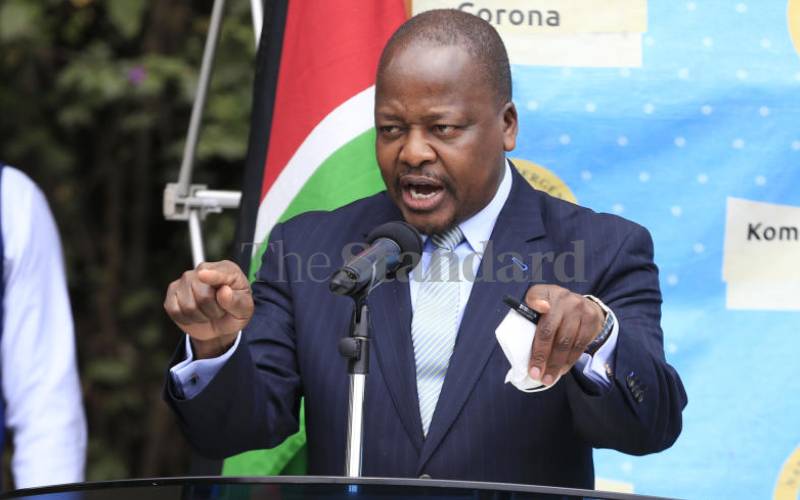 The US Food and Drug Administration (FDA) aims to fully approve the use of Pfizer/BioNTtech vaccine against Covid-19. If this happens, it will be the first vaccine to receive full approval.
This comes barely a week after the government announced plans to procure Pfizer vaccine from the US among other consignments of Moderna (880,000 doses coming in today) and Johnson & Johnson in a bid to boost Covid-19 vaccine uptake in Kenya.
Health Cabinet Secretary Mutahi Kagwe said last week that the country will also be receiving ultra-cold chain storage facilities from Japan and an American firm in order to achieve the required storage temperature for the new vaccines of less than 70 degrees Celsius.
Speaking while receiving a batch of 407,000 doses of Oxford/AstraZeneca vaccine, Kagwe said the ministry aimed at vaccinating more than 10 million Kenyans by December this year and 26 million by June 2022.
Pfizer vaccine was approved for emergency use in December and has been available for people aged 12 years and above.
"The regulators were expected to be completing the process this Friday but are said to be still working through some paperwork and negotiations with the company," NY Times reported.
This move could boost the vaccination campaign by convincing more people that the shot is effective and safe, especially in the rise of the deadly Delta variant.
Kenya has been recording an average of 14.4 per cent positivity rate for the past one week, with the highest recorded on August 21, of 15.5 per cent, where a total of 1,286 new cases were reported.
These new cases are in the wake of a new directive by the government that allowed public transport operators to carry passengers at full capacity starting on August 9.
Transport Chief Administrative Secretary (CAS) Chris Obure said the industry had agreed to self-regulate in compliance with the health protocols by implementing strict measures put in place by the government to protect their passengers against infection.
However, a spot-check by The Standard has revealed that only some of the measures are being followed.
The measures include providing a hand-washing station at every bus stop, which has not been fully enforced, especially since the vehicles can pick and drop at different stages.
"Not all vehicles have sanitisers and so when a passenger boards a matatu, you just know your safety is in your hands," a passenger said.
Machakos Health Executive Ancent Kituku started a move to vaccinate all PSV operators in the county and surrounding areas in a bid to boost their safety and that of their passengers.
"We have started this sensitisation and vaccination campaigns and I am glad the uptake has been quite positive. So far, we have managed to vaccinate over 500 matatu and boda boda operators and we urge our people to ensure they get the vaccine to protect themselves and the people around them," said Dr Kituku.
Some countries don't enforce some measures, as studies have shown they could lead to other health-related issues.
For instance, the use of plastic barriers has been disputed, with studies showing that they can impede airflow and create 'dead zones', where viral aerosol particles can build up.
Areas where these plastic barriers are being used include bars, hotels, schools or salons. According to research, they may not prevent the spread of the virus, and instead interfere with normal ventilation.
"Scientists who study aerosols, airflow and ventilation say much of the time, the barriers don't help and probably give people a false sense of security. And sometimes the barriers can make things worse," NY Times reported.
According to research, exhaled breath particles will disperse, carried by air currents and, depending on the ventilation system, are replaced by air but when the plastic barriers are erected in a room, they change the airflow, disrupt normal ventilation and the viral aerosol particles can build up and become highly concentrated and end up spreading.
Related Topics