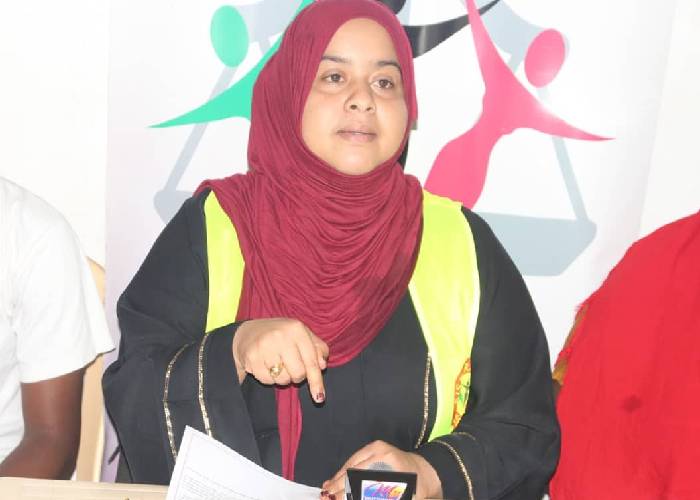 A community-based organisation has rolled out an awareness campaign to curb the rising cases of suicide in the country.
Speaking during a phone interview with The Standard on Saturday 31, Sisters for Justice is conducting several workshops in the Coast region following a recent report that indicated the rise of suicide and mental cases in the country.
S4J executive director Naila Abdallah said the campaigns will deal with myths surrounding mental health among communities so that people can seek proper solutions to mental issues.
"Most people have little to no idea what mental health is. They still blame it in the "evil eye" among others," she said.
Abdallah challenged the government to follow suit and start awareness campaigns through social media and on the mainstream media to counsel the affected people.
"We do not roll out these campaigns in the entire country, we have started but cannot reach the entire nation, but these campaigns should be nationwide, let the government come in," she said.
The executive director also decried the shortage of counsellors, therapists and psychiatrists in the country and encouraged students going to college to enrol in the courses to give back to society.
Abdallah urged both the National and county governments to train community-based counsellors to handle matters within communities where problems are.
"If we had local therapists and created awareness, we would deal with the challenges before they become suicide cases,"
The organisation also called for more budgetary allocation to agencies dealing with mental health to effectively perform their duties.
"We need to fund organisation in the awareness campaign and colleges offering courses on mental health and counselling to bridge the gap."
Abdallah has called for speedy implementation of the Mental Health Act, Counsellors and Psychologists Acts and the establishment of a council or board that will oversee the mental health issues.
She also urged county governments to constitute a mental health department in every hospital to handle mental cases.
Rising cases
At least 483 people committed suicide in the last three months with Kiambu topping the list of counties with the highest numbers, police data revealed.
During the same period—between March and June—statistics compiled by the Directorate of Criminal Investigations (DCI) indicate the country recorded 409 cases of life-threatening assaults, mostly among couples.
The statistics represent a sharp increase, considering that only 196 suicide cases were reported in 2019 according to the Kenya National Bureau of Statistics (KNBS).
Kenya National Police Service annual crime reports also show that between 2015 and 2018, 1,442 persons were reported to have attempted suicide.
Central Kenya leads with 181 suicide cases followed by Rift Valley with 68 suicide cases, Nyanza (67), Nairobi (63) while the Eastern region had 57 cases.
The western region reported 29 cases, Coast (14) while North Eastern had the least number of cases with only three people committing suicide.
Related Topics