Home
/
Health & Science
Governors seek nod to import Covid-19 vaccines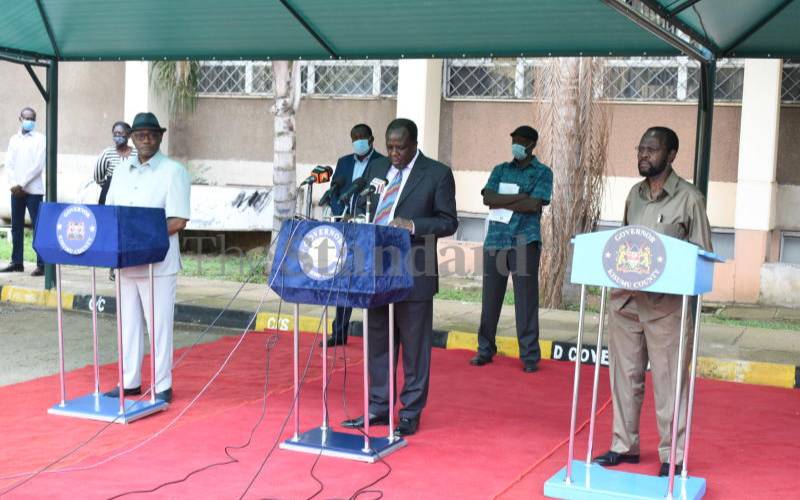 Counties within the Lake Region Economic Bloc now want the national government to give them the greenlight to directly import Covid-19 vaccines.
In a joint statement, governors Wycliffe Oparanya (Kakamega), Anyang' Nyong'o (Kisumu) and James Ongwae (Kisii), said their counties continue to bear the brunt of the pandemic, and the only way to salvage the situation is through intensified vaccination.
According to Nyong'o, the vaccine importation by the national government was way below the requirement, at a time when infections are projected to rise. Nyong'o said counties have the capacity to work with development partners in acquisition of vaccines.
"We are appealing to the national government to listen to our cry, so that we can intervene as counties and bring in the approved vaccines."
He noted that countries which have intensified vaccination have opened up their economies, and reduced the burden of the pandemic.
"It has been proven that if you vaccinate over 90 per cent of the population, then you can open up," he said.
The governors' sentiments come at a time when the national government has intensified Covid-19 containment measures in the region, with curfew hours set at 7pm, three hours ahead of the national curfew which runs from 10pm to 4am.
The new containment measures follow reports of increased infection rates in the region, especially the Indian variant which was first detected in Kisumu.
Further, the county chiefs also want the national government to allow for cheaper rapid test for the virus as a measure of early detection.
Currently, the government is using the PCR test system, which is said to be effective in detecting the virus.
But the governors argue that rapid test should be used, with the PCR test only employed to confirm the first test.
"The whole issue of rapid testing is now shrouded in mystery and the counties need to be allowed to buy the rapid testing kits.
"What the national government needs to do is to provide protocols," said Ongwae.
The Kisii governor noted that the country does not have the capacity to conduct massive tests, a situation which is reducing the speed of intervention. "Experts are warning that our numbers are going up exponentially, and we need to act fast," he added.
According to the report released by the governors, the region has registered a total of 28,866 Covid-19 positive cases since the first incident was reported in the country, with the figure representing 16.1 per cent of the national figures.
Related Topics