Home
/
Health & Science
Covid-19: Last drop of the drip left my mother cured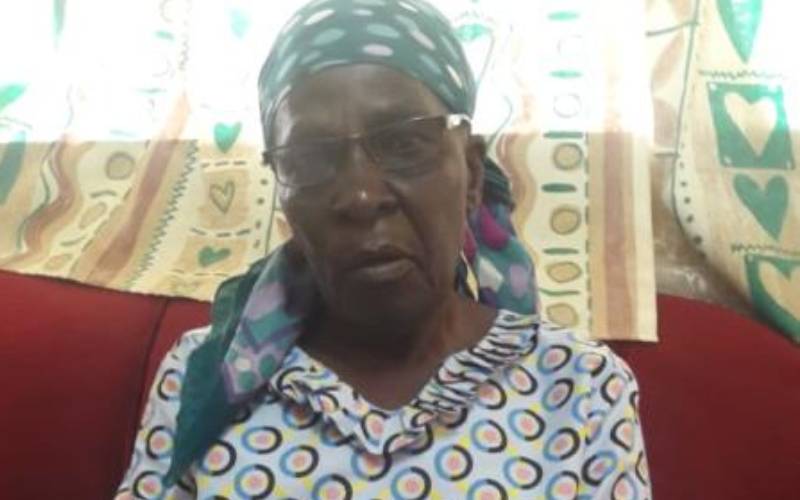 My mother Ann Arunga battled Covid-19 in the ICU ward of the Kakamega Referral Hospital, where she had worked as a clinical officer before retiring.
At 77 and hypertensive, she precariously hung onto life. Her oxygen levels that were supposed to be over 90 were dipping dangerously to between 40 and 50.
Aware of the pandemic's havoc, I bought an oximeter (a medical device that checks oxygen levels), eucalyptus for inhaling through a steam bath, and vitamin C and zinc tablets to boost immunity.
On March 28, my mother experienced persistent headaches, severe stomach pains, coupled with long spells of vomiting. An experienced clinician, she assumed it was dysentery. She requested me to travel from Nairobi to see her. I arrived in Kakamega a day before President Uhuru Kenyatta ordered a lockdown.
She then took tests for malaria, typhoid and brucellosis. They all turned negative. Dysentery, which requires a fecal laboratory test, was not taken as she could not produce a specimen. The persistent vomiting prompted Dr Steve Ouko, county's head of Covid-19 response unit, to take a coronavirus test. He also prescribed oral drugs to stop the vomiting and severe stomach pains.
Results for the test were due in three days. However, later in the afternoon, the vomiting persisted and the former clinician began experiencing memory loss. She was taken to a private hospital, where further tests revealed very low oxygen levels and the need for immediate life support. We rushed her to Kakamega County Referral Hospital.
Despite having worked there, the stigma was vivid. While Dr Ouko informed the staff of the arrival of a suspected Covid case, they were uncomfortable handling her despite it being an emergency. She was placed at a corner within the casualty department, awaiting Covid response staff to take her to the ward. The wait was over three hours.
Eventually, she was wheeled into the Covid ICU facility and placed on life support. They punctured her chest where medicine and fluids would be injected intravenously. Henceforth, she was put in isolation.
Although the Covid facility is understaffed, doctors, the few nurses and a nutritionist worked conscientiously.
Daily, the staff injected her with Clexane for any blood clots, Vitamin C, Endasetron, Zinc, and later gave her Mucosolvan syrup. They also consistently checked sugar levels, as Covid-19 sometimes lead to diabetes.
As she was already hypertensive, doctors ensured that she took her high blood pressure medicine.
A new medicine, Remdesivir, was recommended. Ouko assured us that it has 100 per cent success in Covid-19 cases, if its treatment is started early. I visited pharmacies and major hospitals in Kakamega and Kisumu without success. We learnt that this injectable medicine is only available in limited pharmacies in Nairobi.
Over the last three months, the drug's price has oscillated between Sh30,000 and Sh60,000. We bought at Sh58,500 and had it transported by courier.
It arrived on Good Friday, when all offices were closed. Fortunately, the courier company agreed to open their offices to allow us collect the medicine.
As soon as the drip was connected, within 24 hours, the severe stomach pains and headaches subsided.
And with the last drop of the drip, Covid-19 had been defeated.
Related Topics