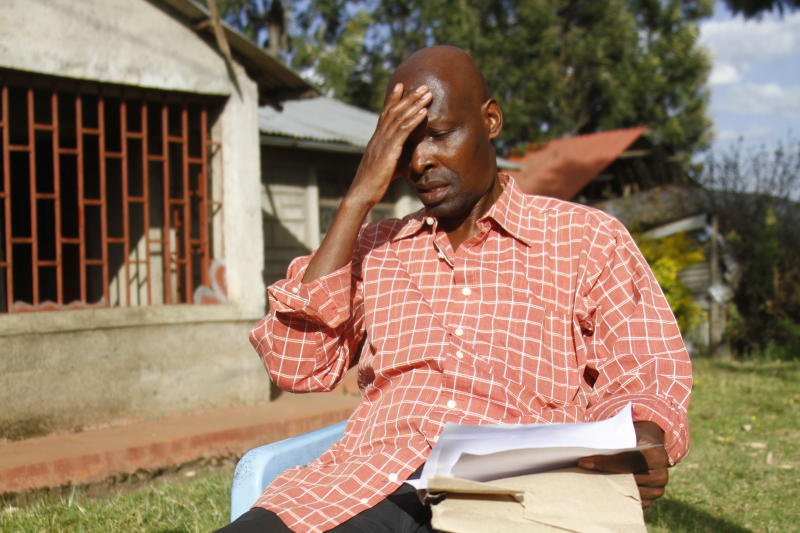 Private hospitals have often been turned into prisons for patients with pending medical bills. Most are detained in isolation rooms with 24 security surveillance. Most face hunger and other forms of mistreatment. Medical bills later escalate into millions of shillings over the time a patient is held in detention.
Take James Obonyo, 58. The father of five had medical arrears which saw him detained in a private hospital in Nakuru County where he was admitted at the Intensive Care Unit (ICU) for three days from April 12, last year. He was unable to raise the Sh492, 000 bill upon discharge on April 19.
"I was removed from normal wards and locked in an isolated room that was my home for almost a year," recalled Obonyo adding that the detention in isolation triggered depression escalating his high blood pressure.
He was not discharged even after presenting a title deed as surety. He remained locked despite pleading for a day off to attend the burial of his firstborn son John Owak who died that October.
"News of the death got me shocked and I wanted to go lay him to rest but lack of money confined me between grills at the hospital," offered Obonyo adding he was denied temporary exit to bury his aunt.
Then there was the miserable life in detention.
Meals were not standard: a cup of tea, two slices of bread at 6am. Missing lunch was the norm. Patients with pending bills are served after those in the wards. Meals were of low nutrition, says Obonypo; hot water for soup and 300ml bottled water for 24 hours.
"The earliest time I ever received lunch was 4.30pm, meals that were mostly mixed with water." Obonyo laments that "poverty is bad. It is tough being locked in a hospital because of failing to raise medical bills. It is more than being a prisoner despite undergoing the healing process."
Getting sunshine was restricted from 10am to around 2pm. The rest of the time was spent braving the cold in the rooms, a guard at the door. Patients with pending bills were often called names like monkey.
Private hospitals are now at loggerheads with the Kenya National Human Rights Commission (KNHRC) which has been forced to intervene for their release as detaining patients infringes on their basic human rights including right of movement.
KNHRC also argues that patients should be charged for medical bills only, not for accumulated bills incurred after holding them. The human rights body adds that. detaining patients is a choice private hospitals make as a business-and such bills should be shouldered by patients-most of whom were admitted in critical conditions and were thus in unconscious positions to make decisions.

A High Court judge has even ruled detention of patients over pending medical bills is unconstitutional and thus illegal.
The World Health Organisation (WHO) is also spearheading a campaign to ban detention of patients with pending medical bills.
Obonyo finally left the 'hospital prison' on January 16, 2021-after the intervention of KNHRC. His total bill came to Sh1.6 million but after negotiation, it was reduced to Sh700, 000 inclusive of medical bill and other services incurred after discharge.
"I am happy and at liberty," Obonyo finally exhaled. "At least I have peace of mind even if I am expected to pay the money" which he is raising with the help of friends.
Then there is Mercy Chebet Koech. She sat her Kenya Certificate of Primary Education (KCPE) at a private hospital but could not transit to secondary school after her family failed to raise an accumulated medical bill of Sh2.5 million.
The former pupil at Queen of the Holy Rosary-Kabarak sat her KCPE in November 2017 and garnered 232 out of 500 marks. A minor by then, she expected to join Mercy Girls high school in Eldama Ravine and later study nursing, but her dream was shut, thanks to the medical bills which got her detained.
"Every day I used to go on my knees, pray that well-wishers come my way so that I could join my peers," she recalls adding that she even tried escaping but was arrested and locked at the isolation ward. "I am happy to be freed, life at the hospital was frustrating."
Koech from Ol Rongai area, Rongai Sub County was admitted at a private hospital on July 5, 2017 after ingesting poison following a disagreement with her mother. Admission to the ICU and later normal ward left a Sh400, 000 bill. Her parents could not afford it. The bill later shot to Sh3 million after detention.
Her mother Hannah Cherotich said "I am happy for the release of my daughter and to enable her to become productive, I am looking for a school to enroll her."
There are many other cases including that of Miriam Wangari who like Koech was also admitted after attempting to poison herself on December 9, 2017. Her bill rose from Sh200, 000 to Sh4 million following detention.
The 23 year old from Lanet was in ICU for two days and was discharged on December 13 but remained in detention. "I being released is God's grace and I am happy that I can be able to relate with my siblings and mother," says Wangari.
KNHRC senior human rights officer Koome Miriti explained that "there is no law that directs anybody to be locked for failing to raise money for bills.
Miriti reiterates that KNHRC is not against non-payment of medical bills just that "detention bills are a risk hospital management decide to take because they are in business."
Miriti said the Ministry of Health should come up with emergency healthcare guidelines to address payment of bills. Miriti adds that the bulk of medical bills that pile out of hand are from patients admitted in private facilities under emergency conditions and thus are not in positions to make conscious decisions on where to receive treatment and the constitution is clear no Kenyan should be denied access to medical care.
Besides patients, corpses are also detained over pending bills. Like the family of Eutychus Mwaura from Kiamunyi on the outskirts of Nakuru town. Mwaura was admitted at the War Memorial Hospital for diabetes Type 2 and hypertension and discharged on November 30, 2017. But he did not have Sh500, 000 medical bill. He was detained, suffered depression and died on July 14, 2018. His bill had shot to Sh2.5 million.
Mildred Mumbi, one of his four unemployed children, said the family only managed to fundraise Sh120, 000. Their father's body was detained at the morgue.
"Bill for holding my dad's body keeps on increasing with Sh1, 500 and this has devastated the entire family because we have no means of raising the money," said Mumbi. The bill shot further to Sh2.5 million.
Related Topics