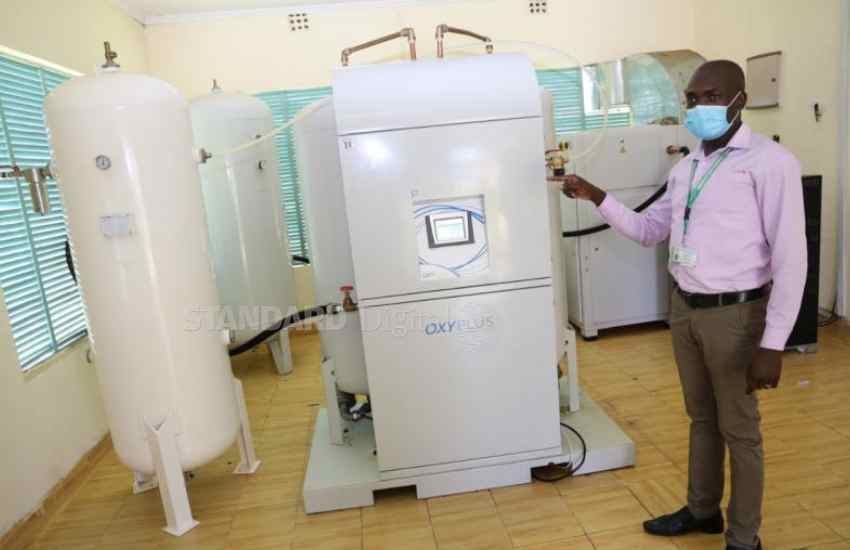 Two oxygen plants recently installed at the Kakamega County Teaching and Referral Hospital at a cost of Sh31 million are producing more than 27,000 litres of oxygen hourly.
Since the commissioning of the plants, the number of critically ill patients who used to die at the facility due to lack of medical oxygen has gone down drastically.
"We have not experienced an oxygen shortage despite a surge in the number of patients in need of oxygen because of Covid-19 victims. The surplus oxygen will be sold to other health facilities that may be in need in neighboring counties," said Collins Matemba, the county's Health executive yesterday.
Dr Matemba said oxygen was also available in all the 12 sub-county hospitals in the county.
"I want to assure the public that we are now self-sufficient. If you have patients in need of critical care and need oxygen support, there is no need of traveling long distances looking for specialised treatment," said Matemba.
There are six patients with Covid-19-related complications on oxygen support at the facility.
He said ambulances offering emergency services in the county were able to refill their tanks at the plant.
Marvin Nandwa, the biomedical engineer, said the main oxygen plant was capable of producing 300 litres of oxygen per minute, while the other one serving the Intensive Care Unit could produce 230 liters per minute.
"We are able to sustain oxygen needs for the entire county. We also have temporary storage tanks that hold up to 6,000 litres of oxygen," said Mr Nandwa.
Related Topics