Home
/
Health & Science
Risk of contracting Covid-19 from contaminated surfaces very low - CDC says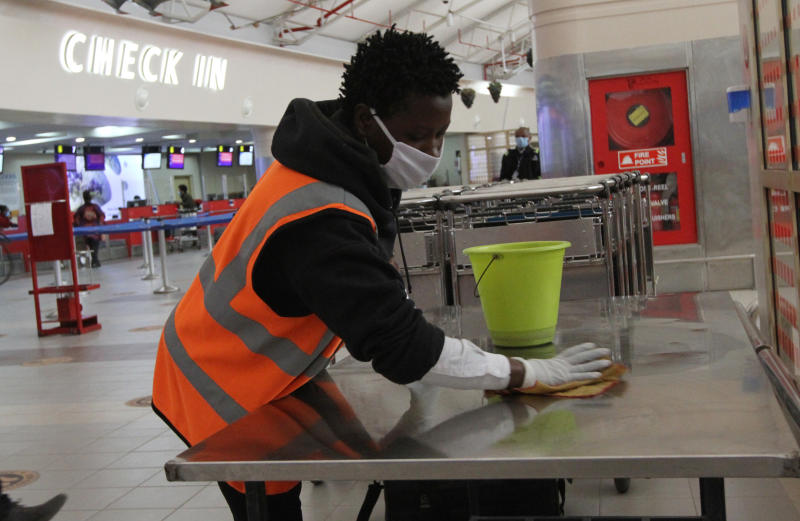 The risk of contracting Covid-19 from contaminated surfaces or objects is very low, America's Centres for Disease Control has said.
In an updated guidance on the Coronavirus, CDC says the principal mode by which people are infected with SARS-CoV-2 (the virus that causes COVID-19) is through exposure to respiratory droplets carrying the infectious virus.
The centre says it is possible for people to be infected through contact with contaminated surfaces or objects (fomites) in non-hospital indoor settings, including homes and schools, but the risk is generally considered to below.
The guidance indicates that in most situations, cleaning surfaces using soap or detergent, and not disinfecting, is enough to reduce risk.
Disinfection is recommended in indoor community settings where there has been a suspected or confirmed case of COVID-19 within the last 24 hours.
"The risk of surface transmission can be reduced by wearing masks consistently and correctly, practising hand hygiene, cleaning, and taking other measures to maintain healthy facilities," the guidance says.
Surface survival
According to CDC, numerous researchers have studied how long SARS-CoV-2 can survive on a variety of porous and non-porous surfaces.
On porous surfaces, the studies have reported an inability to detect the viable virus within minutes to hours.
On non-porous surfaces, CDC says the viable virus can be detected for days to weeks.
"The apparent, relatively faster inactivation of Coronavirus on porous compared with non-porous surfaces might be attributable to capillary action within pores and faster aerosol droplet evaporation," CDC says.
Data from surface survival studies indicate that a 99 per cent reduction in infectious SARS-CoV-2 and other coronaviruses can be expected under typical indoor environmental conditions within 3 days (72 hours) on common non-porous surfaces like stainless steel, plastic, and glass.
Findings of these studies suggest that the risk of Coronavirus infection via the surface transmission route is low, and generally less than 1 in 10,000, which means that each contact with a contaminated surface has less than a 1 in 10,000 chance of causing an infection.
However, experimental conditions on both porous and non-porous surfaces do not necessarily reflect real-world conditions, such as initial virus amount (e.g., viral load in respiratory droplets) and factors that can remove or degrade the virus, such as ventilation and changing environmental conditions, says the CDC.
"They also do not account for inefficiencies in the transfer of the virus between surfaces to hands and from hands to mouth, nose, and eyes," the centre says.
CDC says laboratory studies try to optimise the recovery of viruses from surfaces (e.g., purposefully swabbing the surface multiple times or soaking the contaminated surface in a viral transport medium before swabbing).
"When accounting for both surface survival data and real-world transmission factors, the risk of surface transmission after a person with COVID-19 has been in an indoor space is minor after 3 days (72 hours), regardless of when it was last cleaned," the guidelines state.
According to CDC, the coronavirus is an enveloped virus whose genetic material is packed inside an outer layer (envelope) of proteins and lipids.
CDC says the envelope contains structures (spike proteins) for attaching to human cells during infection.
The envelope for SARS-CoV-2, as with other enveloped respiratory viruses, adds CDC, "is labile and can degrade quickly upon contact with surfactants contained in cleaning agents and under environmental conditions."
According to CDC, the risk of fomite-mediated transmission is dependent on the infection prevalence rate in the community, the amount of virus-infected people expel (which can be substantially reduced by wearing masks) and the deposition of expelled virus particles onto surfaces (fomites), which is affected by airflow and ventilation.
Other determinants include the interaction with environmental factors (e.g., heat and evaporation) causing damage to virus particles while airborne and on fomites, the time between when a surface becomes contaminated and when a person touches the surface, the efficiency of transference of virus particles from fomite surfaces to hands and from hands to mucous membranes on the face (nose, mouth, eyes) and the dose of virus needed to cause infection through the mucous membrane route
Because of the many factors affecting the efficiency of environmental transmission, CDC says the relative risk of surface transmission of the disease is considered low compared with direct contact, droplet transmission, or airborne transmission.
"However, it is not clear what proportion of SARS-CoV-2 infections are acquired through surface transmission," the centre said.
Related Topics