Home
/
Health & Science
KNH suspends surgeries over lack of oxygen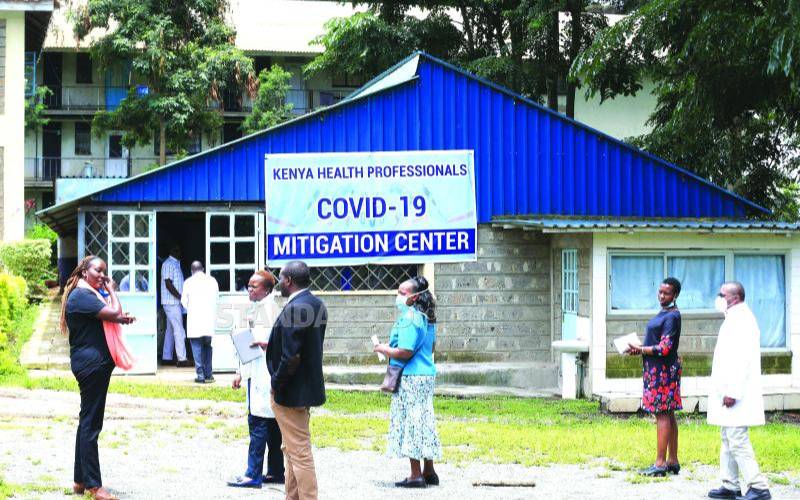 The Kenyatta National Hospital (KNH) has indefinitely suspended planned surgeries following an acute shortage of medical oxygen.
KNH has attributed the cancellation of operations to the surge of Covid-19 patients in need of medical oxygen in the third wave of the pandemic.
Tens of patients are reported to have succumbed at the facility due to lack of medical oxygen. Of the six Covid-19 patients admitted to the facility yesterday in need of critical care, three died due to lack of oxygen. Two were yesterday still fighting for their lives in the ICU, according to a doctor who sought anonymity.
"Majority of patients on admissions require oxygen, but it's inadequate, an issue contributing to deaths," said the doctor.
KNH has, however, received medical oxygen from BOC Gases to run emergency surgeries and for Covid-19 cases requiring oxygen support.
Through an internal memo, KNH however directed that all patients booked for elective surgeries "be discharged till the situation normalises."
Elective surgeries are procedures planned in advance and which patients need, but are not of life-threatening nature. They include cosmetic surgeries, cleft lip repairs, removal of tonsils, weight loss, eye surgeries, spinal fusion and sports-related surgeries. Some cancer-related surgeries are also not emergency in nature unless they are causing a life-threatening complication, for instance, intestinal obstruction.
Another notice from the Biomedical Engineering department also notes that the nationwide shortage of medical oxygen has affected "all our theatres, ICU and Mbagathi IDU", but clinicians have been notified that there is medical oxygen available for only two theatres, which will run emergencies in maternity and main theatre."
Kiambu County has also scaled down elective surgeries in all its hospitals over lack of medical oxygen.
The biggest supplier of medical oxygen, BOC Kenya, has been flooded with demand from health facilities, leading to inadequate supply.
Kireki Omanwa, the Secretary General of the Kenya Obstetrical and Gynecological Society, recalled waiting for 13 hours at KNH for his uncle to get a bed with a medical oxygen point.
"How can the biggest facility lack oxygen?" he posed. "Isn't this a joke?... This is a bad joke," said the specialist who regretted that majority of patients could not access theatre operations without oxygen, as were Covid-19 patients.
The shortage, he said, is faced by all hospitals countrywide, not just KNH.
Dr Omanwa has regretted the stoppage of some hospitals from manufacturing their own medical oxygen.
"Patients do not have beds. As a country, we should be ashamed of ourselves on where we are…how can we for sure miss oxygen in this country? It is horrible," he said, adding that the cancellation of elective surgeries might affect maternal health and gynecological cases.
Omanwa said though women in need of elective surgery like C-Section (CS) could wait, prolonged delays might jeopardise their lives and those of the unborn.
"If a woman is booked for an operation today, it should be done today to avoid fetal distress that may result into death of the mother and baby," said Omanwa, clarifying that some patients suffering gynecological cancers like that of the ovaries, needed urgent attention.
In a recent media briefing, Health Cabinet Secretary Mutahi Kagwe said public hospitals were the worst-hit, with only 16 per cent having supply of medical oxygen, and that where available, the supply was not optimal and lacked necessary distribution and delivery infrastructure.
The country has 73 oxygen processing plants and the situation, he lamented, was worsened by hoarding of oxygen cylinders.
Daniella Munene, the Pharmaceutical Society of Kenya CEO, told The Standard that oxygen was an essential supply, and that its current shortage was due to increased cases of people being hospitalised during the third wave. "Plans are under way to supply oxygen in all Level Four hospitals across the country," said Dr Munene.
Related Topics