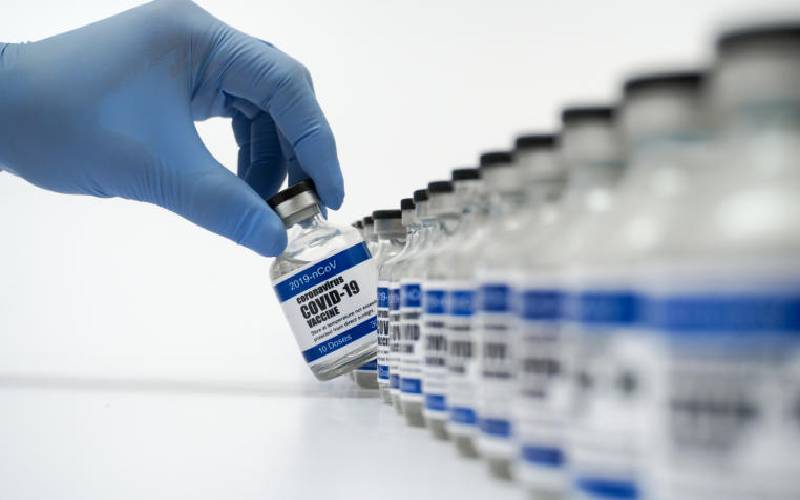 The arrival of 1.2 million doses of the AstraZeneca – Oxford Covid-19 vaccine in Kenya on March 2 marked a milestone in the wake of dealing with the ravages of the Covid-19 pandemic.
The government last week confirmed that more than 800,000 doses had been dispatched for vaccination countrywide.
Cumulatively, the country has vaccinated 238,648 persons, with 57 per cent of these being male. Whereas Nairobi county has vaccinated 74,394 people, contributing to 31 per cent of all vaccinated cases, Lamu County has registered only 182 vaccinated cases, the lowest in the country.
The trend has been witnessed in several other counties. In Marsabit, only 255 people have received the vaccine, while Tana River and Mandera account for 451 and 485 respectively. Isiolo has vaccinated 559 people, Kwale 640, Turkana 738, Makueni 745, Nyamira 855, and Taita Taveta 901.
The low numbers have been blamed on distribution in terms of facilities, with the common factor among these 10 counties being the distance between facilities. For instance, counties like Isiolo, Mandera and Marsabit rely on Garissa County for vaccination, as it hosts the regional store for the jab. Others include the low number of doses received by these counties.
The three counties mentioned have to share 21,000 doses among a population of 3,075,949 people. Since the sensitivity of the vaccines demands cold storage, the distance has hampered its distribution, especially in rural areas.
Inadequate awareness and sensitisation of the public continues to hamper the vaccine's uptake, especially in the counties said to be heavily influenced by traditional beliefs.
Misconceptions by politicians have also contributed to vaccine skepticism in the 10 counties and in other parts of the country.
In what now seems to be a move to avert a vaccine shortage in the country before the target group for this phase is vaccinated, Health Chief Administrative Secretary Rashid Aman urged Kenyans who are not listed as health workers, teachers, uniformed forces, religious leaders and those over 58 years to give way.
"There are several Kenyans who are not in this category currently receiving the jab and this has caused an increased demand for vaccines in facilities," said Dr Aman.
He assured Kenyans that the government would provide the vaccine for adults in a phased approach.
In terms of distribution, 74,698 health workers, 14,364 security officers, 24,615 teachers and another 83,210 persons who do not fall under the categories who were given the priority, have been vaccinated.
Currently, the country only has 314,000 vaccines remaining at the national level, 261,500 at the regional level and 138,000 more at the sub-county level. An additional 2.5 million doses are expected in the country in May.
"The consignment will go a long way in boosting the vaccination exercise in the second phase," said Dr Aman.
The government aims to vaccinate 26 million Kenyans by June 2022.
Related Topics