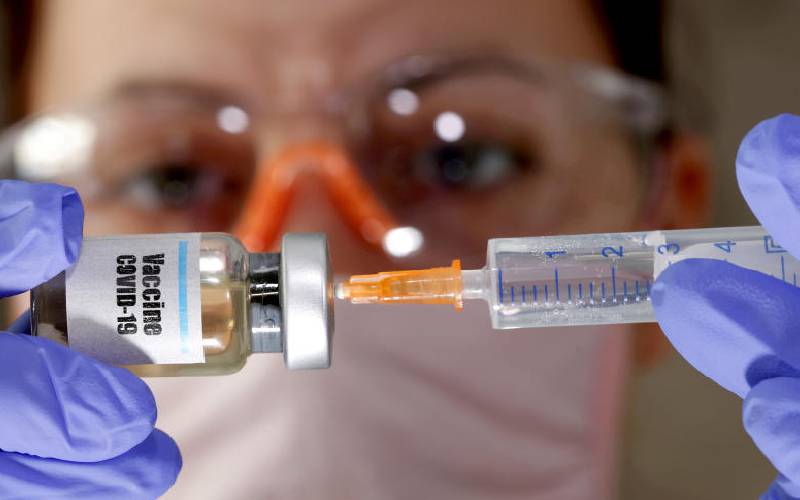 People in developing countries should receive news of a breakthrough in the search for a Covid-19 vaccine with cautious optimism if the number of doses projected versus the demand is anything to go by.
In what was hailed as a 'great day for science and humanity', news of the vaccine that offers over 90 per cent protection yesterday breathed life into the race towards eradication of the pandemic through mass vaccination globally.
Covax, led by WHO, Gavi and Cepi, the vaccines' pillar of WHO's Access to Covid-19 tools (ACT) Accelerator, recognises that governments have been under pressure to secure successful vaccines for their populations and if they compete, most countries could miss out, especially those that cannot secure supplies.
Through its Advance Market Commitment, Covax hopes to raise 2 billion dollars through donors, philanthropies and private sector by 2020 so that 92 lower-middle and low-income economies can be supported.
Kenya, like many other African countries, has been relying on such donor funding and support for its vaccination programmes through Kepi. In 2019, Kenya received more than $35 million (Sh3.5 billion) from Gavi for its vaccine and its health systems strengthening programmes.
The hopes of millions of people across the world got a boost from Pfizer and BioNTech's announcement that its vaccine candidate showed 90 per cent effectiveness.
Come gradually
Pfizer Chairman and CEO Albert Bourla said they had already started manufacturing the vaccine and they expected to have 50 million doses by end of the year and 1.3 billion by next year.
"This will be coming gradually, in the beginning a little bit less, then in the second quarter more and a significant ramp up in the second half of the year to deliver the 1.3 billion," he says.
Demand for the vaccine will definitely be higher than the supply and the manufacturers are thinking of an out-of-the-box way of meeting this demand, considering that more people are dying of the virus daily in what seems to be a second phase of the pandemic.
According to WHO, Covax, by supporting manufacturing capabilities and buying ahead of time hopes that 2 billion doses can be fairly distributed by end of 2021.
One of the major challenges facing Pfizer's vaccine is the fact that it needs to be stored in temperatures of less than - 80 degrees Celsius, which poses transport and logistical challenges in developing countries such as Kenya.
WHO Director General Tedros Ghebreyesus, while noting it was time for the world to heal from ravages of the pandemic and geopolitical divisions that "only drive us further to the chasms of unhealthier and unfairer future", reiterated his call that the only hope is science, solutions and solidarity.
"Vaccines will not fix the vulnerabilities at its roots," he says, "a vaccine cannot address the global under-investment in essential public health functions or the need for one health approach for the health of humans and animals for the planet we share."
Through Covax, the hope is that vaccines can be delivered as soon as they are available and that doses for at least 20 per cent of countries' populations are available.
According to preliminary data, Pfizer's one in a dozen vaccines candidates which has been in phase three of the clinical trial has not shown any safety concerns yet. But the scientific world is still cautious as there is no data yet to show its safety profile among different age groups or how long the protection from the vaccine will last.
Sanofi and GSK are almost at the end of their Phase II clinical trial - schedule for end of November. If successful, these companies hope to manufacture more than one billion doses of vaccines per year.
Related Topics