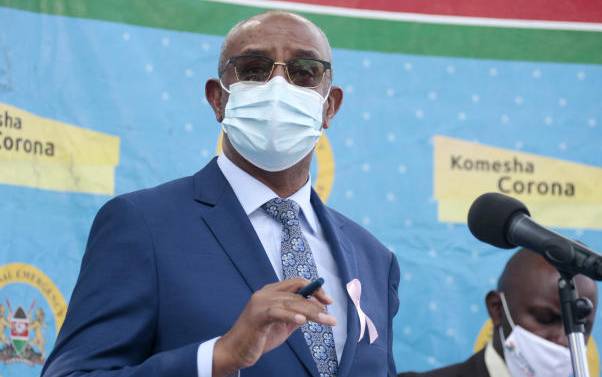 The Ministry of Health has clarified that the increase in the number of cases is not a sign the country is getting into a second wave as 602 more people tested positive for Covid-19.
The number of fatalities has also surpassed 800 after eight more people died from the virus, according to yesterday's update.
The increase in cases, explained Health Director-General Dr Patrick Amoth, is no different from what happened in other countries after containment measures were relaxed.
Amoth said returning to stricter measures is an option President Uhuru Kenyatta can consider.
"Should we witness a surge then that will be our final option for the good of the country," he said.
Amoth said following the relaxation of some of the restrictions earlier put in place, the country has witnessed a rise in cases, as witnessed elsewhere globally.
"This, however, cannot be regarded as a second phase because we have not fully flattened the curve of the first phase," said Amoth.
Remarkable gains
The DG said if the infection prevention and control measures are not adhered to as stipulated by the ministry of health, then a second wave is imminent.
"However we hope not to get there," he said. "We have had remarkable gains in combating Covid-19 because of strictly following infection prevention and control measures. Any complacency will therefore be a huge risk and a setback for the country."
To date, 43,143 people have tested positive with 805 deaths and 31,508 recoveries.
A second peak, explained Dr Githinji Gitahi, Amref Health Africa Chief Executive Officer, is pegged on the uniqueness of populations.
For example, in the first wave, which the DG said the country is still in, most affected areas were urban –namely Nairobi and Mombasa – because of a lot of movement and how close people live to each other.
However, in rural areas, there is sparsity due to ample space.
"When the virus gets there, it will not have the same force of transmission as when it is in the urban. In those areas, you may have second smaller and flatter wave because people are not moving too much so they might have another peak but not that high," he explained.