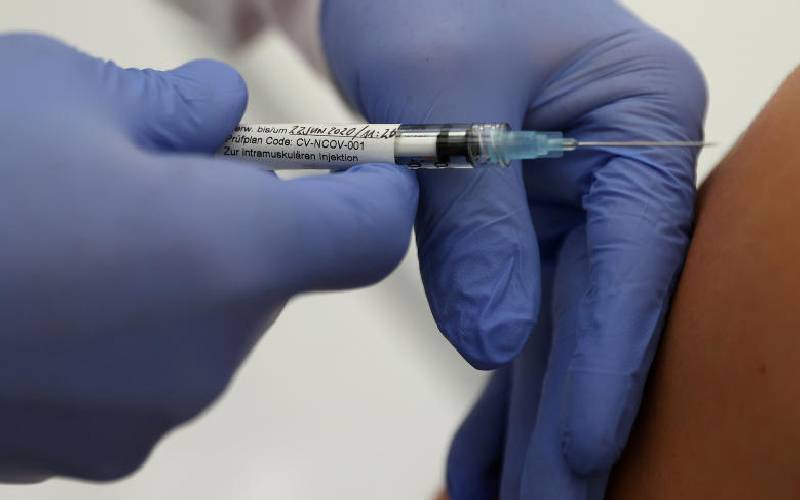 Kenya will initiate talks with Russia on the possibility of acquiring a Covid-19 vaccine developed by the country amid skepticism on whether the jab actually works.
The news follows Russia's registration of the first Covid-19 vaccine, which the country's president Vladimir Putin said is safe.
The vaccine, Sputnik V developed by Gamaleya Research Institute, is under scrutiny of the global health community including World Health Organisation (WHO), as it has been registered by the country's regulator after just two months of human clinical trials. Normally, a vaccine would take up to two years before registration and later mass production kicks off.
Health Chief Administrative Secretary Mercy Mwangangi said the ministry was aware of the vaccine, but it will follow the correct channels on acquiring it.
"It should be necessary for us here to plug into the Russia vaccine and that will be in the laid down protocol and regulations on how we can access it," said Mwangangi.
"Through the Ministry of Foreign Affairs, we shall engage to find out more on the vaccine that has been deployed and if it works."
On Tuesday just after the announcement, officials from Russia District Investment Fund said they already had an order of a billion doses from 20 countries.
While phase three of the vaccine trial is expected to kick off today with industrial production set for September, Russia has gone ahead and registered the drug in anticipation of its global success.
"It becomes important that every time you have a new vaccine, you must test it and I am sure Russia itself is going to conduct studies even as they deploy the vaccine to ensure it is effective," said Mwangangi.
At the same time, Mwangangi reported 497 new Covid-19 cases, raising the country's total to 27,425. There were 15 deaths pushing the number of fatalities to 438.
All the 47 counties have now confirmed cases of infection with the latest being Samburu. The new positive cases were drawn from 4,171 samples. Kenya has so far conducted 362,501 tests. In terms of gender, 312 of the positive cases were male and 185 were female. The youngest was a six-month-old infant while the oldest was 80.
A total of 372 people were discharged with 315 of those being under home-based care while 57 were from various health facilities. WHO said it was in close contact with Russia to have the vaccine prequalified.