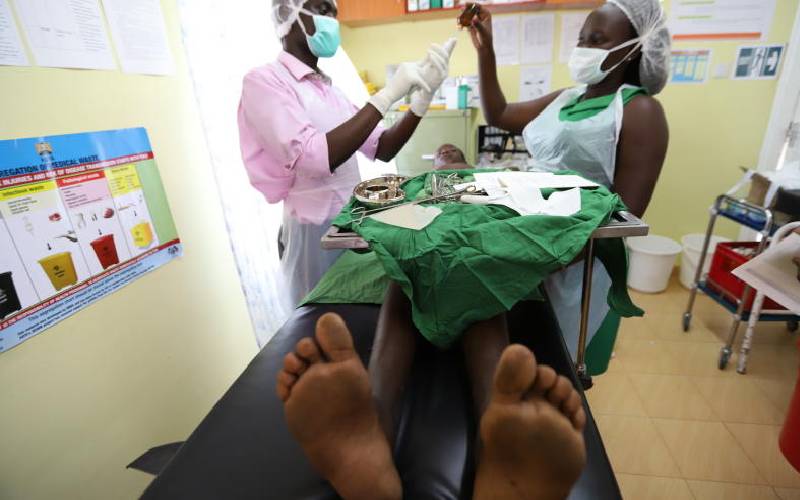 Medical experts are warning of a possible surge in HIV infection in Nyanza following a dip in voluntary medical male circumcision (VMMC) by 90 per cent.
A report by the National Aids and STIs Control Programme (Nascop) indicates that the number of those undergoing the cut in Kisumu has reduced from 900 every month in November last year, to 100.
Nationwide statistics indicate the numbers have reduced from 200,000 last year to an average of 55,000 this year, with just four months to go. According to Ambrose Juma, Nascop VMMC programmes manager, the dip is associated with withdrawal of funding for the programme by US President's Emergency Plan for AIDS Relief (Pepfar) for people aged 14 years and below, which constitutes 70 per cent of the beneficiaries.
Since November last year, Pepfar has only been funding VMMC for 15-49 years cohort which constitutes of 30 per cent clients of VMMC cases. Another blow to the programme is the coronavirus pandemic, which has seen selective surgeries put on hold as a measure towards preventing spread of the virus.
Juma said that due to Covid-19 pandemic no rapid response initiative and community mobilisations have contributed to the reduced uptake of the services to clients in communities.
Yesterday, Juma painted a grim picture of the situation, saying it could lead to a surge in HIV infections since it is one of the HIV preventive measures.
With reports indicating that circumcision reduces chances of contracting HIV by up to 60 per cent, the initiative has been a big boost in the fight against spread of the virus.
Joel Olilo, Nascop VMMC focal person in Kisumu said 30 health facilities in the region with capacity to carry out the procedure have had staff reduced to six from a maximum of 24 in each facility due to reduced numbers of clients. "We fear if the uptake continuously reduces, HIV and Aids incidences will rise," Olilo said.