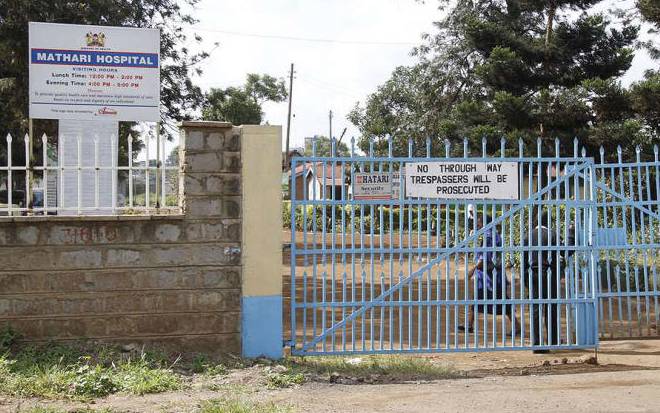 A government report on mental health has recommended the rebuilding of Mathari Hospital to improve access to services.
The report has noted that up to 75 per cent of Kenyans cannot access mental health services.
The situation has been made worse by the fact that Mathari Hospital, the country's only national referral facility for mental illness, is in a dilapidated state.
The task force report developed by a team led by Dr Frank Njenga, says that access to mental health services encompasses the ability to use good infrastructure, good services, adequate human resource, required health products, equipment and technologies.
"Currently, 75 per cent of Kenyans are not able to access mental healthcare despite the heavy burden of mental ill-health in the country," reads the report.
It notes that Mathari Hospital was built in 1910 and lacks basic infrastructure to deliver modern evidence-informed psychiatric care.
"The task force recommends that the Ministry of Health should rebuild Mathari National Teaching and Referral Hospital," the report says.
Lunatics
The report says Mathari was set up at a time when mentally ill patients were deemed to be "lunatics", hence the reason inpatient psychiatric units were termed "lunatic asylums".
The units were hence "hidden" and isolated from the rest of the hospital services, further leading to their neglect, and rendering them dangerous to both patients and service providers.
"To date, these institutions lack necessary diagnostic and treatment equipment for quality mental health service provision," the report says.
The report also wants national and county governments to implement community mental health services and ensure decentralised and integrated mental health services are accessible to communities.
The report has urged the Ministry of Health to set aside resources for training, recruitment and deployment of adequate multi-disciplinary mental health service providers.
"We further emphasise that the ministry ensures training and recruitment of mental health professionals to shift the gap in human resources per population ratio," it says.
The report notes that there are about 3,956 government-owned health facilities in Kenya of which 284 are Level 4 hospitals yet mental healthcare services are only provided in 29 of these Level 4 hospitals, representing only 0.7 per cent of the facilities.
"Psychiatric units are only available in 26 of the 47 counties in Kenya," the report reads.
Patients seeking mental healthcare in the remaining 21 counties are most often forced to travel to Mathari hospital in Nairobi.
"Even with the few mental health units that exist, the public is not fully aware where they are located as there is no existing database for reference," it adds.
In addition, patients have to pay for the treatment and sometimes have no money for emergency services and they are turned away.
The Kenya Medical Supply Authority also needs to provide the requisite range of medications for psychiatric conditions that are modern and evidence-informed, the report recommends.
The task force wants President Uhuru Kenyatta to declare mental illness a national emergency of an epidemic proportion.
Related Topics