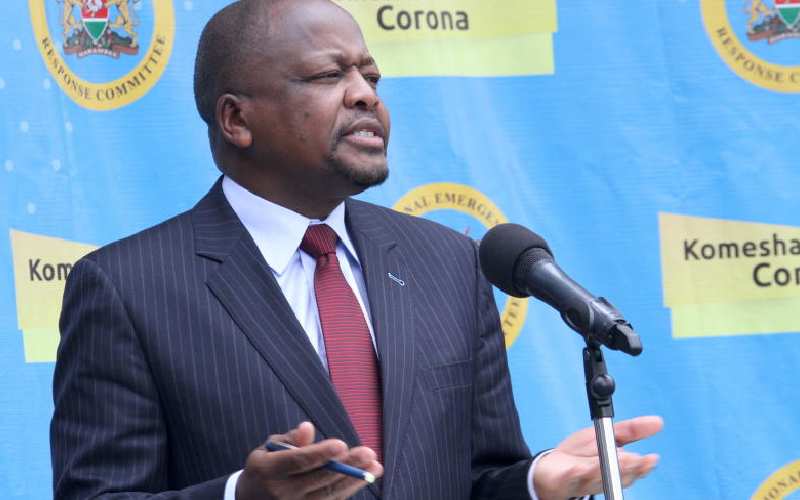 The government has said counties have no choice but to equip their health facilities to combat Covid-19 as there will be no airlifting of patients from upcountry to Nairobi for specialised care. Health Cabinet Secretary Muthai Kagwe (
pictured
) said with an expected surge in cases after partial lifting of restrictions, each county should do due diligence and ensure they are ready. The CS, while releasing the daily tally of the disease in Kenya, said there will soon be cases in every county.
SEE ALSO: Cleric: Worship is meant to be a moment of connection with God
So far, the disease has been reported in 42 out of the 47 counties, with the total tally standing at 8,250 cases. Yesterday, Mr Kagwe reported 183 new cases from a sample size of 2,061. He said county governments have, since the summit led by President Uhuru Kenyatta, made tremendous progress. He said the preparation of counties for Covid-19 is a test of devolution. "The level of preparedness is tied to the ability of the leadership of the county," he said.
SEE ALSO: Nairobi medics issue seven-day strike notice as CAS calls for calm
The CS said as the numbers surge, capacity of hospitals would be affected, making it unfeasible to transport patients to Nairobi for treatment. "There will be no lifting of patients to Nairobi from upcountry. There will be no capacity. Chances are by the time you come, there will be no space," he said, and added: "It is good to call a spade a spade. There is no way to tell if Nairobi will have enough beds." Nairobi has the highest number of critical care beds (247 out of 518 as of March 2020), courtesy of having more Level Six hospitals, among them Kenyatta University Teaching Referral and Research Hospital, Kenyatta National Hospital, Aga Khan University Hospital and Nairobi Hospital. The county also has the most Covid-19 cases at 4,354, followed by Mombasa (1,666), Kiambu (373) and Kajiado (370). It is not clear if all the counties have met the 300 isolation bed capacity requirement.
SEE ALSO: Diabetes and coronavirus, a deadly combination as Covid-19 cases approach 30,000
The 300-bed capacity was part of the minimum requirement given to counties for President Kenyatta to re-open the economy on July 6, 2020.