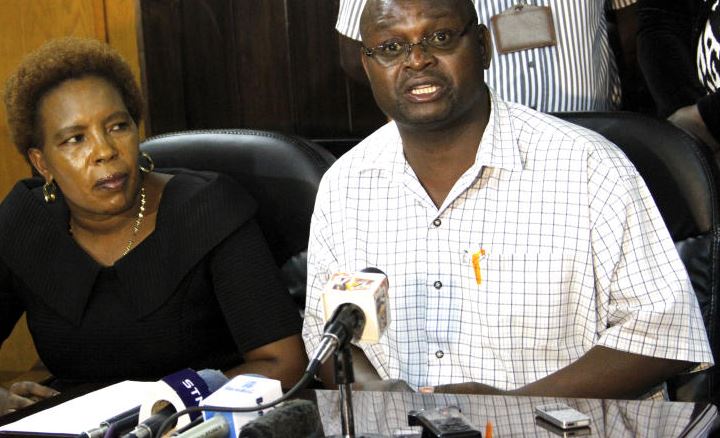 A fresh row has broken out at the Kenya National Union of Nurses (KNUN) with secretary-general Seth Panyako (pictured right) and the union's treasurer on a warpath.
Differences between Mr Panyako and union chairman John Bii, and which have threatened to split the union, have been in public domain for some time now.
This time round, it is Panyako against treasurer Agnes Munderu who he had summoned to appear before the National Executive Council over unnamed accusations on June 19.
"You are hereby invited to appear before the National Executive Council on June 19, 2020 at 9am. The venue of the meeting will be communicated to you in due course."
However, Ms Munderu, angered by Panyako's letter dated June 12, wrote back saying: "It is important to remind you that you remain the main cause of disunity and wrangles in the union and that it is time you styled up and listened to other leaders in the union."
She told off Panyako saying he offered no solution to problems that have plagued the union and said she would not attend the meeting.
Other officials have taken issue with Panyako in the latest round of conflict. They include Mr George Shiveka, the Bungoma branch secretary and Damon Kwaraa, the national deputy organising secretary.
This stand-off comes hot on the heels of a court ruling where the union was ordered to put its house in order and desist from abusing the court process even in matters that could be sorted using its constitution.
The ruling was issued by Justice Nelson Abuodha, of the High Court in Eldoret, on June 5, in Petition number 6 of 2020, where Panyako and the union had been sued over financial misappropriation, among other issues. Justice Abuodha, of the Employment and Labour Relations Court, stated, "Whereas the facts may be different but one common denominator that runs through is the issue concerning wrangles in the respondent's (KNUN) leadership and allegations of financial mismanagement."
The ruling said the stages to be followed in addressing issues around financial mismanagement had not been followed before the matter was brought before him, noting that courts cannot be used to run the affairs of the union.
The judge noted that the frequency and intensity of conflicts within KNUN were signs of a bigger underlying problem that needs to be solved.
"Mr Seth Panyako (general secretary) says he has been sued left, right and centre by officials or members. He must do soul-searching and ask himself "why me" and why all these suits? It would not be malicious and imputation of inappropriate behaviour on him but he must get down and re-assess his leadership style," wrote Abuodha.
The National Nurses Association of Kenya (NNAK) has weighed in on the matter and urged Panyako to fairly address concerns raised by members of the union's national executive council.
NNAK president Alfred Obengo said the confusion being witnessed in the union's ranks and files is hurting its ability to articulate and handle labour-related issues concerning nurses and midwives in Kenya.
"Under these circumstances, it is very difficult to pursue matters concerning the welfare of KNUN members. It means they are not getting value for their membership subscription to the union," said Obengo.