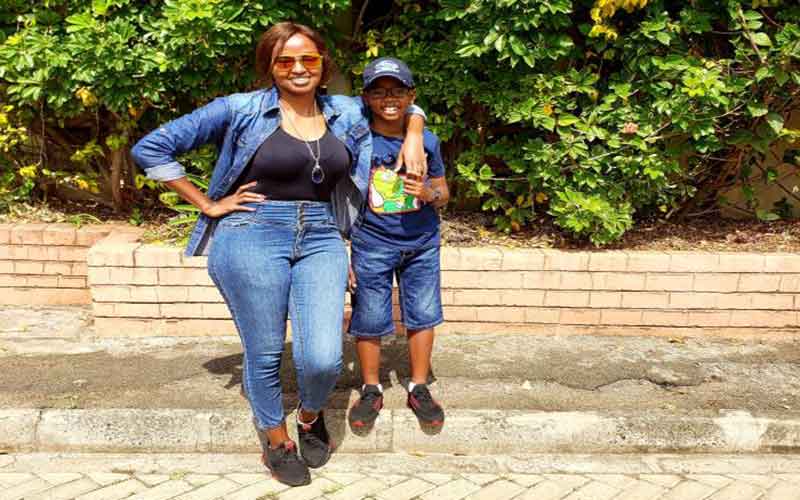 In 2010, we started noticing that my son Daniel had a bigger than normal belly. But we assumed that we were just doing a fine job of feeding him and were proud of that fact. This was until one day when my mother decided to tag along Daniel to her Bible study group meeting, and while there, one of the members, Dr Waweru, thought there was something more to the little boy's swollen belly. He asked my mother to take Daniel to his clinic and have him checked out.
At the clinic, they did an ultrasound. They found out that Daniel's spleen and liver were enlarged. They did some blood work as well, and found out he was quite anaemic with a miserable platelet count to boot.
Dr Waweru couldn't explain what was going on. And he recommended a specialist at Kenyatta National Hospital (KNH). The doctor looked at the results and said he had Gaucher disease.
"Don't go on Google to research the disease," he counselled me. "It will scare you." But of course I went ahead and did an Internet search. The doctor was right. I was freaked out. I read that life expectancy of a child with Gaucher disease is between five and 10 years and that broke me up. I sunk into denial and didn't go back to the doctor. As that happened, Daniel's abdomen was growing in size. He couldn't even sit comfortably or eat much. His appetite was gone.
We sought a second opinion at a private city hospital. I didn't tell them about the first diagnosis, hoping they would find something different. On comparing the second blood work results with the first tests, I noticed his platelets count was lower. They suspected he had cancer and we were admitted for two weeks.
They did more blood tests, and bone marrow aspirations and all turned out negative. Since they couldn't do much, we were discharged.
We went back two weeks later and they did an MRI test which came out clean. They finally decided to do a liver and a spleen biopsy. That's when they arrived at the Gaucher disease diagnosis. And we were referred back to Dr Harrison Kihara, paediatrician at KNH. The doctor, who has since died, was kind enough to take us through everything we needed to know. He explained that Gaucher, being a rare disease with no cure, could only be managed through enzyme replacement therapy.
Given the rarity of the disease, the drugs are expensive and hardly available locally. They can cost up to Sh30 million annually. The doctor explained that Daniel was born without enzymes responsible for breaking down fats in his body and thus had to take medication for the rest of his life.
At the time, Dr Kihara was seeing about eight other children with Gaucher disease. And one of the parents had arranged to get a donation of the drug for the eight children in the group. The programme, unfortunately, couldn't accommodate more childen. But for the eight years until he died, the good doctor didn't charge us consultation fees. We only paid admission fees, and charges for the drugs. For that, I remain grateful.
Since last year, I had to find an alternative means of getting the drug for Daniel. I combed through social media and on Facebook found a Gaucher support group. I read the experiences and comments of other parents. I also managed to find the International Gaucher Alliance (IGA). That is where I read about a family in Mandera that had been successful in getting the drug from the company that produces it.
I contacted the IGA and told them my son's story. I was searching and desperate to get the medicine for my son. Luckily, they got back to me. They, however, said Daniel had to have a confirmatory test. The blood was drawn locally but was tested in India. Daniel was found to have the subtype 1 of the disease and IGA received the results. Now, we ship the drug from the manufacturer and a local doctor administers it. The infusion takes about three hours, and is done fortnightly. Since Daniel has restarted his medication, his liver and spleen are fine but his blood cells are yet to go back to normal levels.
I have learnt that in developed countries, expectant mothers are scanned for the disease and given a choice to terminate the pregnancy. Having a child with a rare disease makes me nervous about having another baby.
Today, Daniel is 11. He has been on medication most of his life, but he acts just like a typical happy 11-year-old boy. But with Covid-19, we take extra precautions for him.
I wish the government would do a lot more for people dealing with rare diseases. I don't know where I would be were we unable to get the drugs. What about those who can't? The high cost of managing the disease is enough to make many parents throw in the towel. There should also be a database of doctors who are treating rare diseases. This will make it easy so that, after a diagnosis, one knows the exact door to knock on.