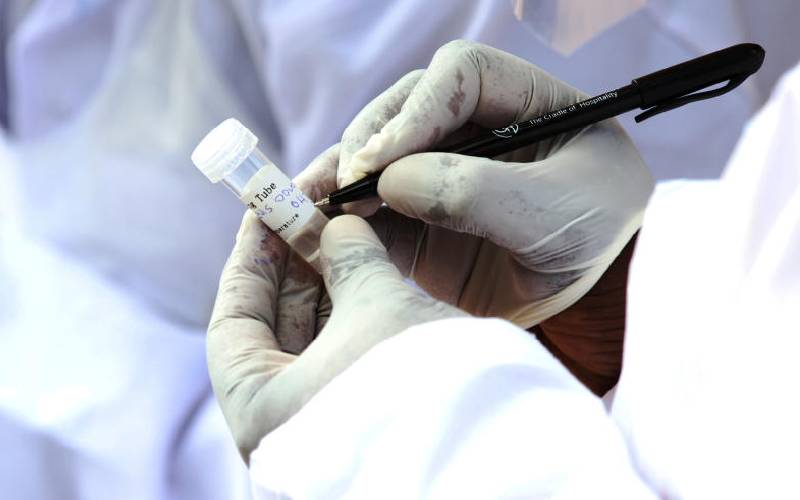 There is no clear evidence that asymptomatic people can transmit the coronavirus, a global health report has detailed.
The report by the World Health Organisation also noted little evidence that the virus is airborne.
As such, WHO revised the earlier guidelines on usage of masks, putting more emphasis on persons who are more at risk of getting infected and infecting.
This WHO report is a ray of hope in Kenya's Covid-19 context, considering that up to 80 per cent of diagnosed patients are asymptomatic; which also could explain why the country has a low case fatality rate. The case fatality rate in Kenya stands at 2.9 per cent, below the global average of six per cent.
In a document titled Advice on the use of masks in the context of Covid-19, WHO says at present, most transmission of Covid-19 occurs from symptomatic people to those in close contact and not wearing the appropriate Personal Protective Equipment (PPE).
"There is also the possibility of transmission from people who are infected and shedding virus but have not yet developed symptoms; this is called pre-symptomatic transmission," WHO says.
The global health body notes that some people who get infected with the coronavirus do not ever develop any symptoms.
However, when they do, they appear to have higher viral loads on or just prior to the day of symptom onset, relative to later on in their infection.
Among symptomatic patients, the viral molecule of the virus can be detected in samples weeks after the onset of illness. However, viable virus was not found after day eight post onset of symptoms for mild patients, though this may be longer for severely ill patients.
"Transmissibility depends on the amount of viable virus being shed by a person, whether or not they are coughing and expelling more droplets, the type of contact they have with others, and what infection prevention control measures are in place," says WHO.
WHO says in some occasions, viable virus has been isolated from specimens of pre-symptomatic and asymptomatic individuals, which suggest these individuals are able to transmit the virus to others.
Use of masks
"Comprehensive studies on transmission from asymptomatic individuals are difficult to conduct, but the available evidence from contact tracing reported by member states suggests that asymptomatically-infected individuals are much less likely to transmit the virus than those who develop symptoms," it explains.
Due to these findings on how Covid-19 is transmitted, WHO has reviewed how masks -- both medical and non-medical should be used to minimise risks of infections.
The report states that transmission intensity should be considered on how often masks are worn.
For example, health workers, including community health workers and caregivers who work in clinical areas, should continuously wear a medical mask during their routine activities throughout the entire shift.
"Staff who do not work in clinical areas (administrative staff, for instance) do not need to use a medical mask during routine activities," it reads further.
The global health body notes that when it comes to the general public, the use of fabric masks has been recommended; but still there is no supported evidence of any potential benefit.
However, taking into account the available studies evaluating pre and asymptomatic transmission, WHO has updated its guidance to advise that to prevent Covid-19 transmission effectively in areas of community transmission, governments should encourage the general public to wear masks in specific situations and settings as part of a comprehensive approach to suppressing the pandemic.
WHO however warns that wearing of masks by the public might give a false sense of security and people might lower their guard on other prevention measures like hand washing and social distancing.
Other concerns are potential headaches, difficulty in breathing especially with fabric masks, and development of skin lesions.
WHO says if governments should make wearing of masks mandatory, as Kenya has done, the decision should be made based on source control (which is preventing an infected person from spreading) or prevention control which is protecting a healthy person.
Related Topics