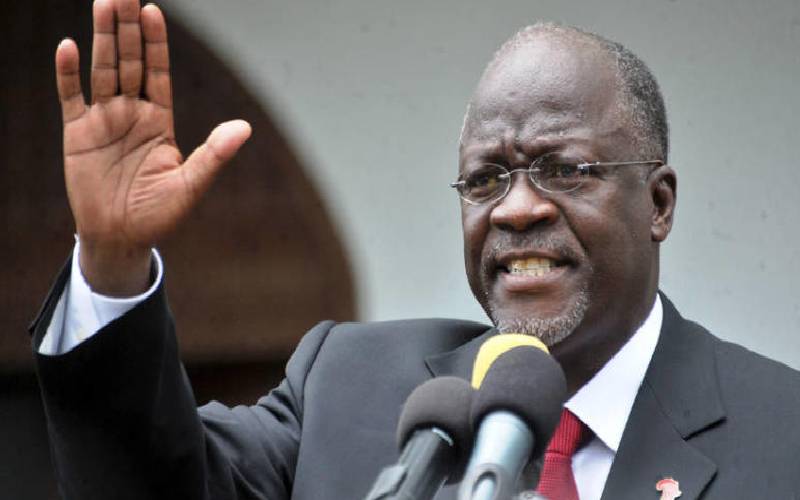 Tanzania President John Magufuli has claimed his son recovered from Covid-19 after taking lemon and ginger solution.
In a viral video that emerged online on Sunday, Magufuli said his son closed himself in the house after contracting the virus and took the solution before he recovered.
"My own son after contracting the virus closed himself in his room, took lemon and ginger solution before getting well and is now doing some exercise," he said.
He told Tanzanians to operate normally saying the disease will spread yes, but will at long last disappear.
Magufuli (pictured) also urged Tanzanians who might contract the disease to use the solution to cure it just like his son did.
Faulty kits
Early this month, Magufuli claimed that some of the Covid-19 testing kits were faulty after samples from fruits and animals tested positive for the virus.
He claimed he had secretly had some non-human samples tested at the country's national laboratory and they returned positive for the virus.
The President says the samples were from the paw-paw fruit, a quail bird and a goat.
Magufuli also fired National Health Laboratory Quality Assurance and Training Centre director Nyambura Moremi, saying he was responsible for the many numbers of positive cases due to mishandling of reagents used for testing the virus.
"Some of these officials are mishandling samples, exaggerating and the number of positive tests," he said.
He said there is no proof that some people were testing positive for the disease without actually being infected.
Magufuli also questioned the kits and equipment imported from abroad, saying they could be fake.
The Centers for Disease Control and Prevention report, however, indicates that fruits cannot contract Covid-19 contrary to Magufuli's claims, although a variety of animals have recently been diagnosed with the disease, including cats, a dog and tigers.
Magufuli is also reported to have imported COVID-Organics, the Malagasy preventive /curative, a potion for coronavirus.
Closed border
Just a day after President Uhuru Kenyatta closed Kenya's border with Tanzania and Somali to reduce the cross-border spread of coronavirus, Tanzania's Ministry of Health on has announced new directives targeting cargo trucks and goods from Kenya and other East African Community (EAC) member states.
Minister of Health Ummy Mwalimu announced that trucks from Kenya and other countries transporting goods would not be allowed past the Tanzanian border check-points, with all business to be completed at the border.
"All trucks with goods owned by a Tanzanian, and need to enter Tanzania, or they belong to someone else but the order was made by a Tanzanian to find another truck to take the goods to the final destination. Vehicles from any other countries will not be allowed," said Mwalimu.
President Uhuru closed the country's borders with Tanzania and Somalia, however, did not affect cargo vehicles.