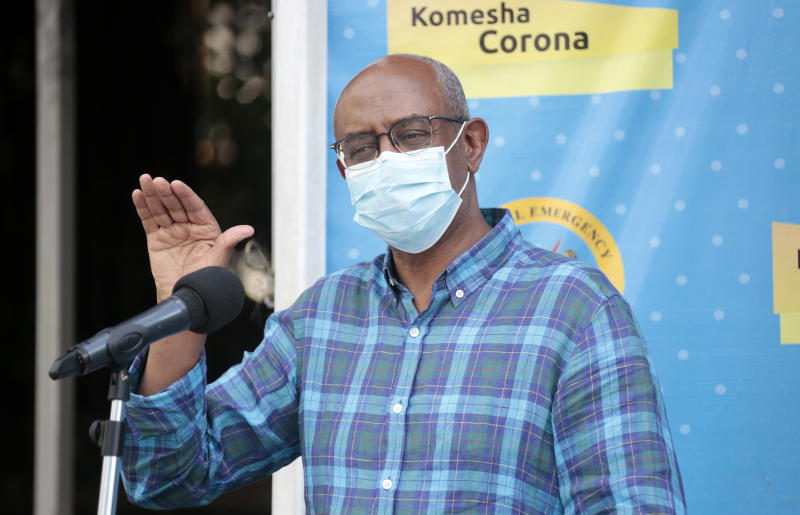 Migori and Kajiado counties face lockdowns over increasing number of coronavirus cases.
This came as the Government introduced new curbs in Eastleigh and Old Town, which have been locked down, as 28 more cases of Covid-19 were reported yesterday.
Health Chief Administrative Secretary Rashid Aman said Kajiado and Migori are witnessing an increase in the number of new cases, most of which he linked to the neighbouring Tanzania which borders these counties.
In the ministry's update yesterday, Dr Aman said there were four cases of the disease in Migori and two in Kajiado.
The four in Migori are foreigners, from Tanzania while the rest of the cases reported yesterday, 24, are Kenyans.
"It is a concern that we are beginning to see the number of cases rise in counties along our borders, like Migori," said Aman.
He added: "Ministry of Health will work closely with the border counties to support them in the pandemic by building capacity to enable them to do tests."
Part of this capacity building plan will involve putting up a testing centre in Namanga, which borders Tanzania and Kajiado County to test truck drivers among others.
By yesterday, Kenya's coronavirus tally stood at 649.
The additional measures targeting Eastleigh and Old Town require all restaurants and eateries in these areas to remain closed to minimise contact among residents..
The Government had said that these establishments would re-open, but under new and strict guidelines. However, Eastleigh and Old Town in Mombasa will now miss out of this relief as per the latest government order.
The number of cases in Eastleigh rose to 79 after two more people tested positive. A total of nine new cases were reported in Nairobi yesterday.
Though Mombasa reported 10 new cases, none of them are from the locked down Old Town.
"There will be no hawking, whether street hawking or any form of hawking in the two areas. Gatherings of whatever nature are also prohibited," said Dr Aman.
It is not clear how infected foreigners and people with history of recent travels, as per yesterday's briefing, are crossing into the country even after Kenya closed her border on March 25.
"We do have families that spread out across the borders where you find one part of the family lives here and the other on the other side of the border. But remember, we do also have cargo trucks that come with fresh produce," he said.
If the trend continues, then Kajiado and Migori may be locked down. The CAS said the measures that have so far been imposed on some regions to curb the spread of the disease will be imposed be applied on any other region that shows the same trend.
Dr Aman noted that the Government is in constant communication with Tanzania, through the East African Community forum, that encompasses health ministers, to find the best way to deal with the pandemic.
"We have a forum under which we work together and we will continue to strengthen communities in our countries because people have to move and cargo has to move around as well," said Aman.
The CAS further lamented that in most of metropolitan areas in the country, traffic has resumed to normal yet Kenya is still battling the pandemic which has killed 30 people so far.
The number of recoveries has gone up by five to 207.
"This behaviour is dangerous. I want to warn facilities such as malls that do not adhere to the guidelines, that they face closure," he warned.
Related Topics