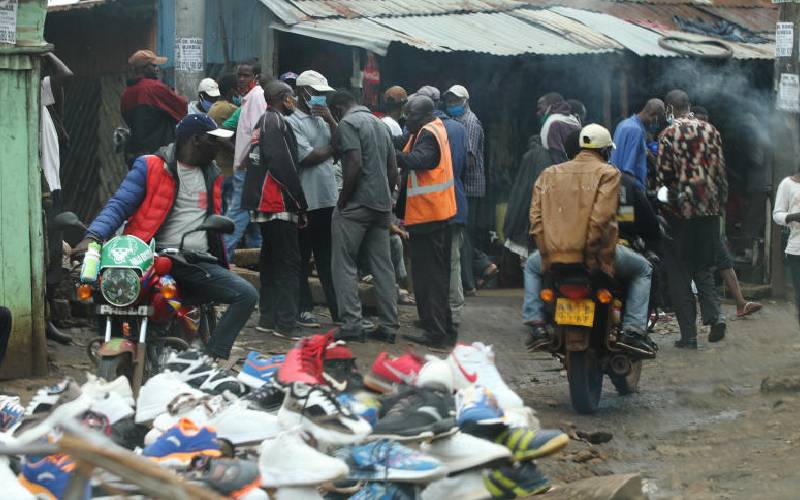 You could be the weakest link in the fight against the novel coronavirus if you fail to maintain proven social distancing rules and regulations. You could spread the disease to your parent, child, spouse, house help, putting in place a chain of infections that might be impossible to stop. A government document seen by The Standard shows just how quickly the virus spreads, linking different pockets of infection in Nairobi, Kilifi and Mombasa to single sources. Among those at high risk of contracting and transmitting the disease are healthcare workers, individuals working within the healthcare ecosystem such as security guards as well as blue collar employees like drivers and house helps whose jobs entail crossing from one side of their county to another on a daily basis. The transmission chain study from the Ministry of Health shows how, for instance, a single exposure can lead to an almost unstoppable transmission chain that can reach as many as 37 people, each of whom starts their own transmission chains wherever they are. This informs the recent jump in the number of positive cases of the highly contagious virus. In Kilifi, one positive Covid-19 case, christened Case 14, transmitted the disease to six people. But at the end of the infection cycle, some 31 more had got infected from this chain, three of whom died.
SEE ALSO: Town grows money from trees during pandemic downturn
Eight positive cases could be traced back to an earlier infection case at the Kenya Ports Authority (KPA) of a patient named Case 40 who unfortunately died. The second death, recorded in Siaya as Case 193, also had direct contact with the KPA individual. The third death in this chain of transmission is also linked to Case 40. Ministry documents show that before sadly passing away, eight positive cases could be traced back to the Siaya case, and five Covid-19 cases could be traced back to the third death, named Case 166. With these cases of contact tracing, the number of community transmissions of the novel coronavirus could be higher than initially thought, with those already contacted by tracing teams appearing unwilling to cooperate or present themselves to government sanctioned quarantine facilities.
Areas of concern
Eastleigh remains one of the areas of concern, with response teams unable to work backwards to retrace the number of contacts from patients who turned positive.
SEE ALSO: Wall Street's Big Tech enthusiasm getting stronger
In Ruaka, on the outskirts of Nairobi City, a Bangladeshi national, identified by health personnel as Case 267 became symptomatic of the Covid-19 disease. The Bangladeshi who lived in an apartment complex succumbed to the disease during hospitalisation. But before this, the patient had 33 contacts who were all identified and listed. Four households of relatives who had come into contact with him turned positive for Covid-19. These were recorded as Cases 278, 279, 280 and 281. In Dandora, another case referred to as Case 296 by the Rapid Response team, passed on the virus to four other people. This included the patient's sister, two daughters and a nephew. These were referred to as Cases 332, 330, 328 and 329. All of them were contacted and quarantined. In Kawangware, which is fast becoming a hotspot for transmission, one case, referred to as Case 189 directly passed on the virus to five people, each of whom had their own contacts. By the end of contact tracing, 14 infections could be traced to this single source. Case 189, who was already symptomatic of the disease, passed it on to the homestead's house help, two friends and two children. After testing, the house help transitioned to becoming Case 258, the friends became Case 245 and 225 while the two children became Cases 222 and 223 respectively.
SEE ALSO: Panama hospitals on verge of collapse as virus cases surge
The house help, Case 258, in turn passed on the virus to her husband, their two sons and a sister. After testing positive, the husband transitioned to becoming Case 380, while the sons became Cases 371 and 372. The sister became Case 370. One of Case 189's friends, 245, passed the virus on to a daughter, Case 243, a neighbour who became Case 282 and a niece who became Case 244. The neighbour, 282, in turn passed it on to her two children. A son who is identified as Case 269 and a daughter now known as Case 270. Of interest though is that Patient 189, whose infection spread to another 14 people, is a frontline responder working at a public health emergency operations centre. Before being tested, she had had a total of 29 contacts. Five of these were household relatives. One of her friends who turned positive had spent a weekend in the health worker's household. The other of her friends infected her daughter and niece, with whom they live in the same house, as well as a neighbour. The house help who turned positive was a day scholar and in the course of her work and after coming into contact with the health worker infected her husband as well as her two three-year-old sons as well as her 21-year-old sister.
Potential hotspot
The other neighbour, who was infected from contact with the healthcare worker passed on the disease to her children – a son and a daughter. On the other side of the city, Eastleigh has also been named as a potential hotspot for Covid-19. Part of those infected can be traced back to an initial infection in Westlands. The transmission chain report talks of a Case 335 who lives in Parklands. Before getting tested and knowing her status, patient 335 infected six people. This included her two sisters, subsequently named as Cases 336 and 341. She also infected her two daughters, a driver and her day schooling house help. These became known as Cases 331, 342, 327 and 373, respectively. The house help used to report to work every morning and leave just before dusk. Unfortunately, in her daily commutes to and from work, she one day sought refuge at her sister's house. Her sister also lives in Eastleigh and her daily hustle involves selling tea to informal sector workers. To date, it remains unclear on how the chain of infection moved from patient 374, the tea lady, to part of the Eastleigh population over what healthcare workers have termed as a lack of cooperation by other established cases. However, tests in Eastleigh revealed that a different Covid-19 positive individual, Patient 221, transmitted the disease to four other individuals. This particular transmission chain also went cold after this, attributed again to lack of cooperation from residents. The intricacies of transmission, however, cannot be more complicated than that of Case 312. Case 312, who lives in Kibra, had been feeling unwell for around two weeks before she sought medical help at a health facility identified as Chemi Chemi Mission Hospital. Here, the patient was initially diagnosed with amoeba. But when the illness persisted, she sought a second opinion and visited a recommended doctor listed in the Ministry of Health records as Dr Chaldri. Although the doctor runs a clinic in Westlands, Patient 312 visited him at his upmarket Lavington Estate for the second medical opinion on April 19. She was diagnosed on April 22 but only after transmitting the virus to her husband and sister. Patient 312's sister passed on the disease to her two children, but she remains uncooperative to the tracing team in revealing her other possible close contacts. The doctor who saw patient 312 has not been traced to date. Social distancing remains the only viable solution to containing the highly contagious disease. But stigma and what is turning out to be a high cost of quarantine passed on to the patient is forcing many individuals, who probably exist within clusters of outbreaks, to keep off testing. To prevent cases such as that of patient 189, Ministry of Health Director General Patrick Amoth said health workers would be given suitable accommodation. "We identified suitable accommodation for healthcare workers. A team at KPMDU council chaired by Dr Eva Njenga are working extra hard to get extra facilities so that healthcare workers who get into contact with patients don't go home to prevent contamination with their families," Dr Amoth said on April 7 during the regular press briefings.? To date, 70 per cent of positive cases in the country remain asymptomatic, meaning the patients are exhibiting none of the symptoms associated with the disease as they go on with their daily business. These could easily become super spreaders; asymptomatic and unknowingly passing the virus to those that come into contact with them. As of yesterday, 25,869 cumulative tests had been conducted, less than half of what the Ministry of Health hoped to have tested in its first week of mass testing. By Sunday, seven transmission chains had been established, six in Nairobi and one in Kilifi.