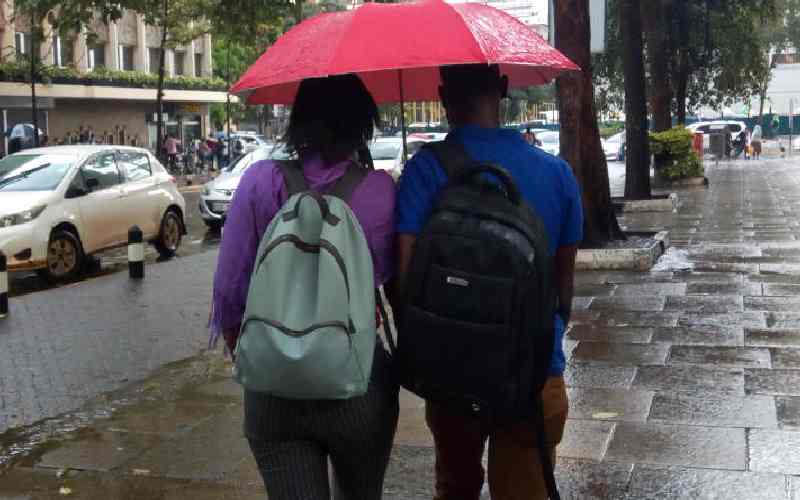 Kenyans should brace themselves for heavy rains this week, the Kenya Meteorological Department has warned.
The rains are expect to further put to test the country's public health sector and disaster preparedness.
Already, mudslides have been reported in some parts of the country.
The cold weather is usually associated with influenza, which comes with symptoms similar to those exhibited by Covid-19 patients.
In its five-day forecast, the department has predicted that counties west of the Rift Valley will experience showers and thunderstorm, especially in the afternoons this week.
Counties east of the Rift Valley, which are Nairobi, Laikipia, Nyeri, Kiambu, Nyandarua, Kirinyaga, Murang'a, Kiambu, Meru, Embu and Tharaka Nithi will experience showers most parts of the day during the forecast period, with heavy rains mainly in the afternoons.
Coast region will have rains in several places while the usually dry Eastern and North-Eastern regions will also experience some rain in a few places. Samburu, Turkana and West Pokot counties will experience thunderstorms.
Covid-19 and weather
There has been no conclusive study yet to ascertain whether the coronavirus spreads faster in certain weather.
Omu Anzala, a virologist at the University of Nairobi, says the behaviour of coronavirus in Africa could go either way, bearing in mind it is a new virus.
"There is influenza, but we do not see seasonality in Kenya, unlike in Europe and North America where cases spike during winter. So if we follow that pattern, then we can say that coronavirus may not be influenced much by the weather patterns," said Prof Anzala.
Anzala, however, called for sustained surveillance to understand what trends Covid-19 will take in the new weather.
"All we can do is critically enhance our surveillance and begin to test upper and lower respiratory tract infections among the population. We must not be restricted to case definition but cast our net wide," he said.
Last February a study in China found no significant link between cold weather and the spread of the virus.
Another research published in BMJ Yale suggested that the virus could spread faster in warm weather. The researchers noted that the role of absolute humidity in transmission of Covid-19 had not been established.