Home
/
Health & Science
Counties roll out measures to cushion locals from Covid-19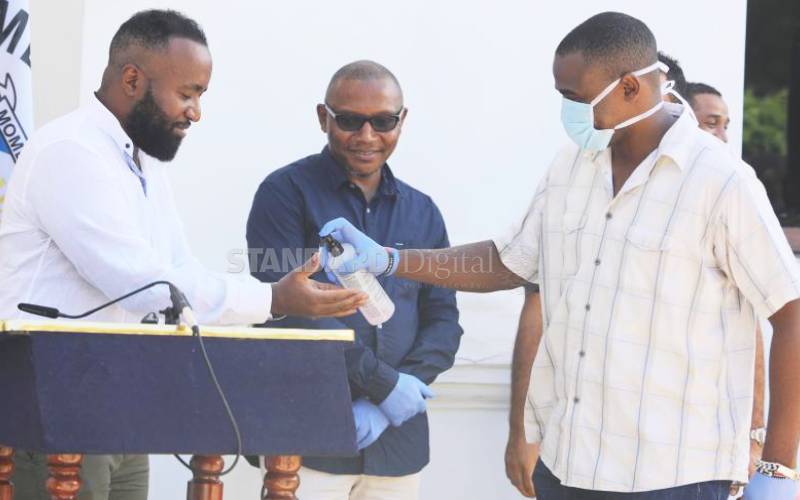 Some county governments have announced measures geared towards cushioning local residents from economic impact of Covid-19.
Mombasa County Government yesterday unveiled a Sh700 million feeding programme for vulnerable families.
Governor Hassan Ali Joho said the country was running out of time in the war to contain the spread of the virus, noting "a lockdown of the country should have begun yesterday."
Joho said 227,404 vulnerable households in Mombasa will require food aid in the event of a total lockdown of the country.
He said the County Assembly will pass the supplementary budget to support the 'emergency household relief and nutrition support project' as part of the Mombasa Economic stimulus programme.
The programme will be spearheaded by the private sector led by Mombasa businessman Abdul Sanji while Joho and Mombasa County Commissioner Gilbert Kitiyo will be members.
"As a county, we will set aside Sh200 million for the project while the rest of the fund will come from the private sector players in cash and in kind," said Joho, adding that he will donate 80 per cent of his salary to the kitty while his deputy will donate 50 per cent of his salary.
Collection centre
Tom Mboya Primary School in Mvita Mombasa was yesterday established as the collection centre for foodstuff which will be packaged and distributed to the needy.
In Kilifi, governor Amason Kingi said his administration was also in the process of identifying the most vulnerable families to cushion them from the effects of Covid-19.
"We have already been allocated storage space in the county by the National Cereals and Produce Board to store foodstuff for vulnerable families," said Mr Kingi.
The Council of Governors yesterday remained undecided on whether to put in place some tax measures to cushion locals as some individual counties announced a raft of measures.
A second emergency virtual meeting by the county governors called for donor support to the 47 devolved units.
In Laikipia, the county government has started negotiations with traders with the aim of reducing taxes.
The county government also extended the period required for traders to pay licences from March to June as the process to reduce taxes kicked off.
Governor Ndiritu Muriithi said his administration was mulling over providing relief food and other direct support to residents in the event of a total lockdown.
He said there were also plans by the county to offer incentives to the business community as part of his administration's effort to cushion them from the effects of the viral disease.
"In the next two days or so, we will make public some of the measures we want to put in place to cushion the business community. The broader point is to cushion the business community by supporting online sales and home deliveries so that businesses continue operating," said Mr Muriithi.
The governor said the country should consider a lockdown as that was the only sure way to contain the spread of Covid-19.
"The sooner we consider a lockdown, the better so that we can flatten the curve," he said.
In Kiambu, governor James Nyoro announced a waiver of interest on land rates.
He said a cabinet meeting will propose a raft of other measures, including possible salary cuts of senior county government officials.
Monitoring spread
Speaking in Ruiru yesterday, Mr Nyoro said the county is in talks with stakeholders to ease the suffering of residents as well as monitoring spread of the deadly virus in the county.
In Murang'a, governor Mwangi wa Iria said there are no immediate measures to waive charges on traders.
Iria said his administration has provided the locals with enough water to help stop of coronavirus.
"Other intervention programmes will be announced later, as we are implementing on what was started to curb the disease," said the governor.
He added that there are concerted efforts with stakeholders to fumigate markets centres.
Mandera Governor Ali Roba announced a raft of measures, including tax breaks, aimed at cushioning residents from the economic effects of the virus.
Mr Roba announced that his administration would offer food relief for the next three months, starting April 1.
He also announced that he would take a 30 per cent pay cut, his deputy would take a 20 per cent cut while county ministers would take 20 per cent cut of their salaries to respond for the emergency needs.
Roba said staff in job group T would also take a 20 per cent pay cut while those in job group S and R would have 15 per cent and 10 per cent pay cut respectively.
"I appeal to Mandera County Assembly and private sector within the county to implement the same in the spirit of collective approach to challenges at hand," said Roba.
In Machakos, Governor Alfred Mutua said his administration has already put in place certain tax measures to cushion the locals.
Dr Mutua announced tax waiver for boda boda riders for one year as well as tax relief for those trading in groceries.
In Siaya, governor Cornel Rasanga said his administration was yet to "consult" over the matter.
Traders in Kisumu will also not get any tax favours from the county government any time soon.
County Director of Communication Aloice Ager yesterday said the county administration had no plans to waive any taxes as the devolved unit has also been hit by impacts of the virus.
"We have closed the markets, and the 'Stay Home' order by the governor (Anyang' Nyongó) is still on, meaning we have not been collecting revenues," said Ager.
In Kericho, the county government has waived penalties on traders who had defaulted in paying loans and business permits.
Kericho Governor Paul Chepkwony said the measures are meant to ease impact of coronavirus.
Prof Chepkwony said those with single business who had not paid for their permits have up to June 30, 2020, to do so, extending the deadline from March 31.
"Any penalty that would have been slapped on single business operators who had not paid for their licences has been waived," said Chepkwony.
Land rates
Chepkwony said the county had targeted to collect over 800 million in land rates but will now collect around Sh120 million.
The governor those who had acquired loan from the County Enterprise Fund will, however, repay the principal amount.
And Nakuru county government is still mulling whether to lift various taxes.
Speaking to the press yesterday, governor Lee Kinyanjui said the county government is planning to follow in the footsteps of the national government.
"As a county, we are also considering areas where we can offer relief to our people just like the national government. This is, however, a decision that needs to be well thought before we can announce," said Mr Kinyanjui.
Narok Governor Samuel Tunai announced a waiver on all water bills in all urban centres in the county to ensure locals get access to clean water for hand washing as well as for domestic use.
"Due to this Covid-19 incidences, I hereby direct that water be free to all the densely populated areas in the county to enable them battle this disease," said governor Tunai.
[Reports by Bernard Sanga, Moses Nyamori,Jacinta Mutura, Fidelis Kabunyi, Kevine Omollo, Julius Chepkwony, Kennedy Gachuhi, Robert Kiplagat]
Related Topics