Home
/
Health & Science
Virus: State says students in China better off there
Health & ScienceBy Jeckonia Otieno | Sat,Feb 08 2020 00:00:00 UTC | 2 min read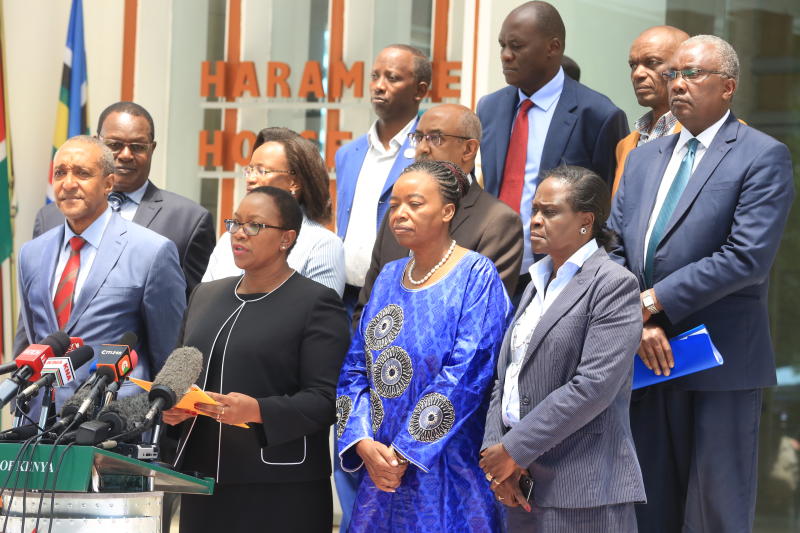 The government says the 91 Kenyan students stuck in China after the outbreak of coronavirus a few weeks ago are better off there.
Speaking during an address by a multi-agency team yesterday, Foreign Affairs PS Macharia Kamau said only a few countries have evacuated their citizens and the move has led to some Coronavirus cases in those countries.
"This is meant to prevent challenges that might arise in the process of evacuation," said Kamau. He, however, said the government is weighing all options.
Health CS Sicily Kariuki said doctors who had been taken out of the country for training to handle the virus will arrive on Saturday together with test kits and reagents. She said Mbagathi District Hospital has set aside a 120-bed isolation ward.
"Healthcare workers continue to be sensitised and those who have been trained will be coming back while additional health workers will be deployed," said Kariuki.
However, the CS could not answer to questions regarding the number of doctors who have been out on training, where they were being trained as well as what reagents have been in use on the suspected cases.
The government's conflicting position comes at a time when students stuck in China accused the government of neglecting them as the World Health Organisation (WHO) put the number of those infected globally at 31,431, with 638 reported deaths. Kenya has seven suspected cases which have all turned negative.
In light of the government's stand on the students, questions now arise on Kenya's capacity to handle an outbreak. The recently launched Kenya Harmonised Health Facility Assessment 2018/2019 report concluded that only one out of 25 health facilities in Kenya is prepared for disease outbreaks. Most of these are secondary and tertiary health facilities.
"The survey findings on outbreak preparedness plans as well as by facility type and by managing authority show overall dismal performance," states the report.
WHO also reports that most African countries lack capacity with only two laboratories having the ability to conclusively test specimen for the virus - South Africa and Senegal. It states that an outbreak could overwhelm fragile health systems found in most of Africa.
Related Topics