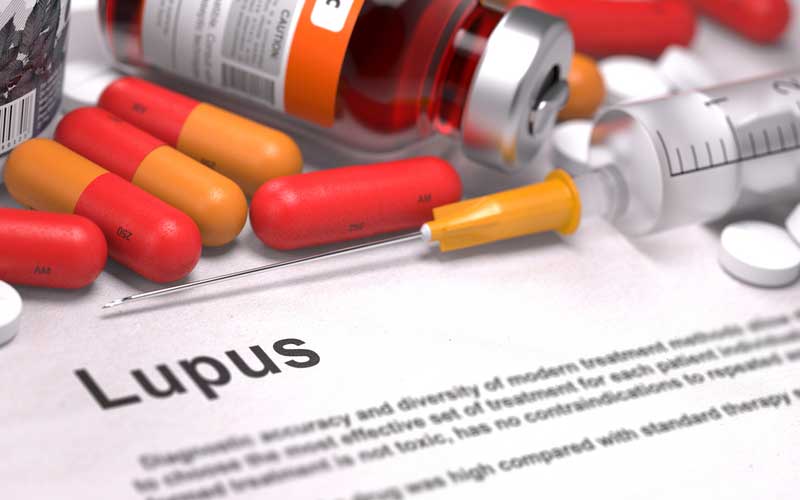 The saying: "Lightning does not strike the same place twice" does not apply to 23-year-old Michelle Irara. She was recovering from surgery to remove swelling from her spinal cord that left her paralysed when she started getting strange symptoms. "I was always nauseous, my skin was flaking, and no doctor could explain why I was sickly," she says.
She got referrals to neurosurgeons, dermatologists and psychologists but all of them were unable to find what ails her. It took several tests, countless visits to hospitals and almost giving up before she got a lupus diagnosis.
"Having lupus is scary. The symptoms are unpredictable, and you are always worried about having kidney failure. You are always worried about the next minute," she says.
Her long journey in search of a lupus diagnosis and treatment is one that most patients, not only in Kenya but all over the world, have to walk. One of the treatments used in management of lupus is oral steroids. The side effects can be crippling, ranging from weak bones, rapid weight gain and higher chances of getting cardiovascular diseases and stroke.
"The medication I am given for lupus makes me ill. I get migraines for two days after doing the 16-hour intravenous treatment," says Anne Lillian Njeri who was diagnosed with lupus in 2013.
Last month, when news that a new treatment for lupus had been found, there was a sigh of relief from many lupus patients. For decades, researchers have done many trials in an attempt to find a drug that effectively manages all symptoms the disease. For at least 60 years, they have only come up with one drug that is specifically for lupus patients. Even then, the drug was not available in all countries and it was too expensive for most lupus patients.
Late last year, scientists in Europe came up with a drug called anifrolumab that was reported to completely banish symptoms that are associated with lupus, including joint pains, rashes on the body and fatigue. The researchers also said the patients could get off steroids completely when using the drug.
"Between 60 per cent and 80 per cent of adults with systemic lupus erythematosus (SLE) show increased interferon-induced genes, which reflect overproduction of the immune protein Type 1 interferon. While previous attempts to block this protein in lupus have failed, the potential new treatment, anifrolumab, works by blocking the receptor on all cells in the body, aiming to reverse the triggering of lupus symptoms," reads part of the report.
The researchers added that interferon is associated with other auto-immune diseases such as scleroderma and sjogren's disease, and the new treatment has the potential of managing them too. Dr George Oyoo, a rheumatologist who has specialised in lupus management says the new drug beams hope to a disease that is rarely highlighted.
"The announcement means that lupus has not been forgotten. It gives hope to the patients, knowing that someone understands their pain and is working to make things better," Dr Oyoo says.
He however cautions lupus patients against celebrating too early, saying the drug is still in the trial stage, and that it will only manage the symptoms when approved, and not cure lupus as most patients believe.
"Many patients think the drug will cure lupus. It will not. Lupus is an autoimmune condition that can only be managed, not cured," Dr Oyoo says.
For Njeri, even the small milestone gives her hope. Every night, she has to take 22 pills to manage her condition. Ever since she was young, she struggled with kidney condition and frailty. Despite visiting many doctors, she could not get a diagnosis. Even after she relocated to the US, doctors had a hard time figuring out what was wrong with her. "It is only after I fainted at work that doctors did a thorough test and found that I had lupus," she says, adding that the pain of getting lupus treatment is universal.
Dr Oyoo says management of lupus in Kenya is even more difficult because there are only 10 rheumatologists in the country. "We have one in Eldoret, Mombasa and Kisumu. The rest are in Nairobi, so you can imagine the pain of someone in the village who presents with the symptoms but cannot get a diagnosis."
Mikeson Mugo, who belongs to the scleroderma, Lupus and other Autoimmune Diseases says he joined the group after losing a friend to lupus.
He says the social network gives them a platform to discuss issues such as where to get medication, how to raise funds for a patient, and coordinate activities such as lupus walk that they do annually.