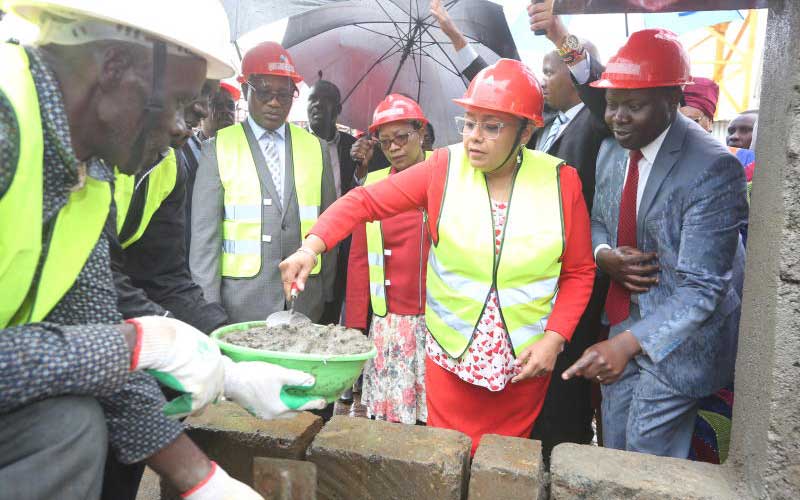 First Lady Margaret Kenyatta has said Kenya has made tremendous strides in prevention of HIV/Aids transmission in the last three decades. Speaking at the Gusii Stadium during the marking of this year's World Aids Day yesterday, Mrs Kenyatta said efforts to eliminate HIV/Aids was central in the government's target for universal health coverage. Mrs Kenyatta said although mother-to-child transmission of HIV in Kenya has been reduced to five per cent, more effort is needed to ensure mothers are counselled, tested and assisted to deliver safely. "I urge for stronger collaboration between community health workers and religious leaders in the fight against the spread of HIV in various parts of the country in order to achieve our national and global target for Aids-free society," she said.
SEE ALSO: Boost for HIV patients in Covid fight
She promised to continue being a strong advocate in all efforts by the government and other partners to ensure the spread of HIV is reduced and those infected are able to access quality medical care.
Promote services
The First Lady lauded efforts by Kisii Governor James Ongwae to promote health services by constructing a mother and child health centre within the Kisii Teaching and Referral Hospital. Mrs Kenyatta said she was encouraged by the Kisii County government's efforts to offer quality health care and promised to ensure that the national government gives more support to the health sector in the region. Health Cabinet Secretary Sicily Kariuki said national Aids prevalence rates have reduced from 13 per cent in the 1990s to the current 4.9 per cent, terming it a major milestone in the management of the Aids in the last 31 years since it was declared a national disaster. The health CS said more women were now delivering in hospitals, making it easier for those infected with Aids to deliver HIV-free babies and also be enrolled for ARV drugs to prolong their lives. "The ministry will work with counties in efforts to ensure universal health coverage is achieved as we have received an increase of funding by 50 per cent in the past two years as the government has listed health among the Big Four Agenda," said Mrs Kariuki.
Big Four Agenda
Governor Ongwae said Kisii County had embraced the Big Four Agenda with almost 50 per cent of the county budget directed to health sector to ensure facilities are equipped. Ongwae also said construction of the Kisii Cancer Centre at the cost of Sh2.5 billion will commence early next year.