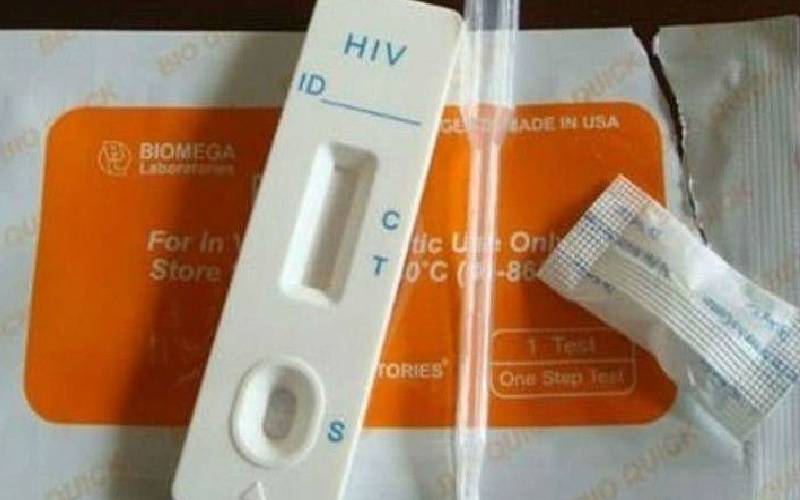 Thousands of unused HIV rapid test kits in county laboratories will go to waste next month when the consumption window comes to an end.
The kits supplied to the 47 county referral hospitals last year are set to expire on November 6.
Kenya Medical Supplies Authority (Kemsa) CEO Jonah Manjari directed the affected counties to fill and send to the parastatal forms indicating the number of kits to be collected for safe disposal.
Kemsa is said to have supplied batch number 92247K100 kits to counties as per each one's requisition, a last year and were to use their supplies as per "first expiry" date.
"We at Kemsa have a policy not to supply any drugs or test kits remaining with six months shelf life. The counties make requisition depending on the projection of the number of people to be tested," he said.
County governments are to check which of their facilities consume the biggest number of kits to beat the November 6 deadline by moving the kits from some of the sub-county hospitals and dispensaries.
He said the challenge has been occasioned by over-qquoting of the supplies by the facilities instead of making ordering what can be exhausted within one to three months to avoid being caught up with the expiry date.
The kits were sourced through counterpart funds from the Government and Global Fund.
In Lamu County, CEC Health Anne Gathoni confirmed there were such kits in some of the facilities, adding that they were still safe for use.
"We will withdraw when they expire and use our recalling mechanisms from the sub-counties. The county has already received kits that are fit for use in the next one year," she added.
According to the Health ministry's HIV testing services and guidelines, it is mandatory for laboratories to ensure quality assurance for HIV testing, timely reporting for commodities consumption and accurate projection, store testing equipment in a proper manner and observes proficiency testing.
More funding
Yesterday, President Uhuru Kenyatta hailed the progress being made by the country in the fight against the HIV/Aids pandemic.
He called on African countries to allocate more local resources to the fight to bridge the financing gap occasioned by the dwindling external support.
"I want to reaffirm my commitment to this particular agenda," President Kenyatta said at State House, Nairobi when he hosted Champions of an HIV/Aids-Free Generation in Africa.
The group, led by the former Botswana President Festus Mogae, are a distinguished group of former presidents and influential African leaders committed to an HIV/Aids-free generation.
The leaders who included former Malawi former President Joyce Banda and Professor Miriam Were urged President Kenyatta, to rally other Heads of States to show more political goodwill in the fight against HIV/Aids on the continent.
"External assistance is declining and even where it is available it is in decline and it is covering fewer population on our continent. That means we have to do something about it including allocating more local resources," said Mogae.
Related Topics