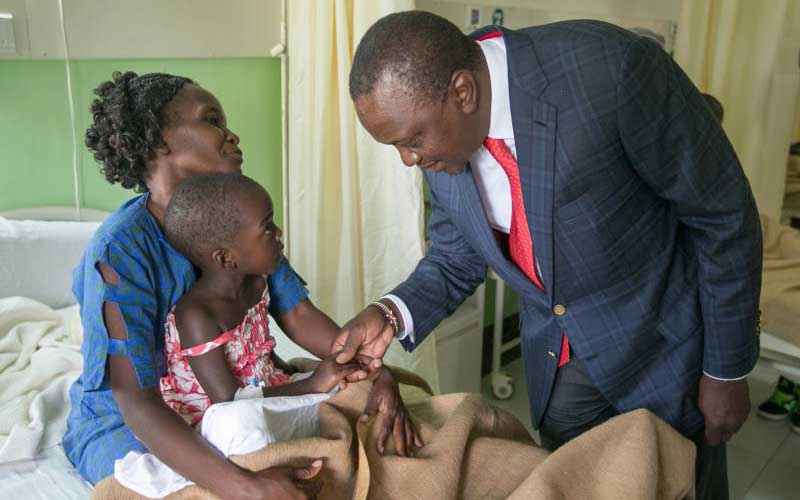 Health & Science
Facility made Sh37 million in past two months but nurses quit after two months without pay.
A health facility owned by the National Council of Churches of Kenya (NCCK) is on the spot for failing to pay its workers for three months. Over a dozen medics at the Jumuia Friends Hospital in Kaimosi have since resigned, citing harassment and sacking threat from the management after they demanded their monthly dues. Investigations by
The Standard
have established that last Monday, the hospital management discharged all patients. Those who were too sick to go home were referred to other health facilities in the county. The 80-bed hospital with state-of-the-art equipment was launched by President Uhuru Kenyatta two years ago.
SEE ALSO: Students roam in markets, as schools defy Ministry's directives
The facility was intended to boost health care in the larger western Kenya region, but especially in Vihiga County that lacked a reliable and affordable modern hospital. A former nursing officer confided that most critical functions touching on daily operations, recruitment of health workers and management of revenue were being conducted at NCCK headquarters in Nairobi.
False promises
When
The Standard
visited, John*, 25, (not his real name) was seated outside his single room in Hamisi pondering his next move after quitting his job. "The hospital administration has been very good at making false promises to nurses. Every time they assure us that the money will be paid in a week but it has been over two months now," Mr Otinde said.
SEE ALSO: Pro-governor MCAs kicked out of committees
The visibly frustrated medic said months of going without pay had disrupted their daily lives. "We have families that depend on us. The money may be little to the management but it goes a long way in catering for our basic needs." A long-serving nurse revealed that the hospital was making healthy profits. "We have been more than patient. It's not as if the hospital is broke. Jumuia in Kakamega is functioning properly. The head office in Nairobi is being lied to and they should come and see the sorry state of affairs in the hospital." According to financial documents made available to
The Standard
, the hospital made Sh23 million and Sh14 million in July and August respectively. Another nurse said their woes began when they were compelled by the hospital management to withdraw their membership from the Kenya National Union of Nurses (Knun). "We joined Knun to express our complaints. However, we received an order from the hospital asking us to quit the union with immediate effect," the nurse said, adding that they believed the move was a calculated ploy to prevent them from airing their grievances. When we sought for a comment from the administration, we were directed to one Friedrich Philip who refused to state the position he holds in the hospital. "I do not speak for the hospital; there is a group that does that. There are no issues in the hospital and I advise you to call the communication office in Nairobi. On Friday, outgoing NCCK General Secretary Canon Peter Karanja told The Standard on phone that he had been told all was well, adding that he was unaware of the challenges staff were facing. The communication office in Nairobi made subsequent calls, saying that they would investigate the matter.