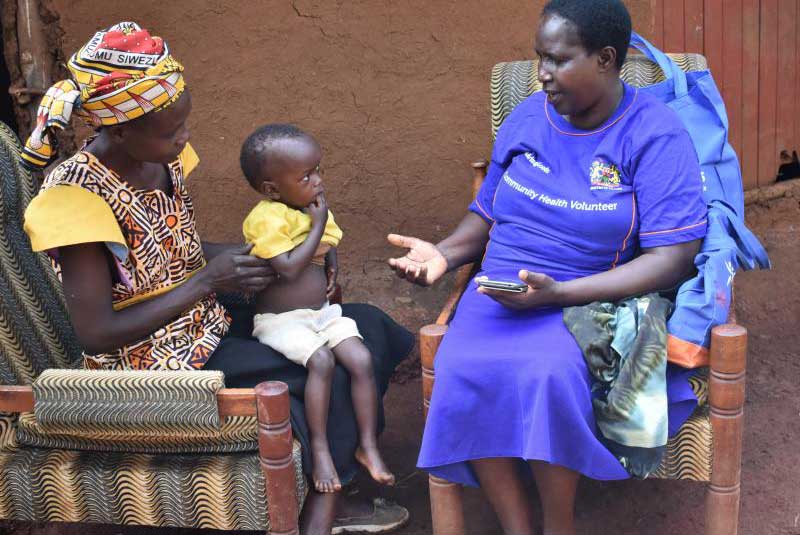 Mary Rabera strolls into the homestead of Damaris Moraa at around noon. Rabera is a Community Health Volunteer (CHV) and she has come to check on Moraa who is expecting a baby.
After exchanging greetings, the two women sit under a shade before getting down to business.
Rabera fishes out a smartphone and starts searching for Moraa's name.
"Yes, here it is," says Rabera after a few seconds.
She starts asking questions which Moraa responds to as she enters the information in her host's portal on her smartphone.
"How far along is your pregnancy?" she asks.
"Six months," Moraa responds.
The health worker also seeks to find out if her host is experiencing any pains.
"Yes. At times, I feel pain in the lower abdomen, especially after working on the farm," Moraa says.
Mosquito net
Rabera advises Moraa to stick to light duties. "Also ensure you sleep under a treated mosquito net," she says.
She further inquires whether Moraa gets headaches or has been bleeding. Moraa is also encouraged to eat a balanced died for her sake and the baby's.
Throughout the conversation, Rabera keeps referring to a flip-book, which has basic information about pregnancy, baby care, balanced diet, family planning and signs that a pregnancy is in danger.
"I think you are okay," says Rabera as she leaves, promising to be back after a fortnight.
Rabera says Moraa's home in Bogitaa village, Bonchari sub-county, Kisii, is among the many she had planned to visit on this day.
She is one of the 1,750 CHVs who visit homes to ensure expectant women and children under five years get the required healthcare.
Each of them visit an average of eight households. They have been trained to effectively diagnose and occasionally prescribe medication. They also link patients to hospitals.
The role of CHVs cannot be overemphasised. Even the World Health Organisation (WHO) has identified them as a key strategy to address growing shortage of health workers, particularly in low-income countries.
In Kisii, intervention of CHVs is saving lives from killer diseases such as respiratory tract infections, diarrhoea, injuries, trauma and malaria.
County Director of Health Geoffrey Otomu says CHVs play an important role in the delivery of health services by bridging the gap between the technical staff and patients.
"Access to health services in the county has greatly improved in the last three years, thanks to CHVs. Child mortality rate has gone down by a massive 27 per cent, thanks to their intervention," said Dr Otomu.
He said CHV have been able to reach those who never paid much attention to health insurance cover and convinced them otherwise.
"Initially, many residents said enrolling in the National Hospital Insurance Fund (NHIF) cover and not getting sick is a waste of money. Today, there is increase in the number of those covered," said Otomu.
And the work of CHVs has been made easy through a partnership between the county government and Living Goods, an NGO.
The CHVs are using an application developed by Living Goods and installed in their smartphones to register their patients as well store information about them. They are able to capture details, including their names, age, number of children and general information about their pregnancies.
"The application automatically prompts, reminding me to visit my clients. I advise them to visit a clinic for antenatal care," says Rabera.
The NGO's country director Thomas Onyango says the partnership is aimed at delivering specific health interventions that are cost-effective.
"We have empowered CHVs, who are now helping to prevent diseases by sensitising locals on proper hygiene, public health initiatives, immunisation, counselling, medical check-ups and ante-natal services, to reduce the maternal mortality rates in the region," Onyango says.
Greatly improved
Health Executive Sarah Omache lauded CHVs, saying their efforts have greatly improved the health of residents.
"With the shortage of doctors and nurses, community health volunteers have become such an integral part of healthcare delivery. This has forced the county assembly to come up with a Bill to institutionalise their services," she says.
At Iyabe sub-county hospital, medical officer in charge Okinyi David, says unlike before when women delivered at home, many are now delivering in hospital.
"We record over 90 births in a month. Before the intervention, we only had between 40-50 births. When you educate the community, uptake of health services goes higher," said Dr Okinyi.
He says they have been able to address cultural issues that hinder provision health services thanks to CHVs.
"Initially, up to 30 per cent of residents never sought treatment in hospital. This has since gone down to less than 10 per cent," said Okinyi.
Margaret Nyangarisa, another beneficiary of intervention by CHVs, recalls how she almost lost her baby.
"I took to drinking while pregnant. I later gave birth to an underweight," says Nyangarisa, from Egesuguri village.
She adds: "It took the intervention of Martha Ratemo who referred me to Iyabe hospital where the baby was put on special diet and is now two years old."
However, despite CHVs' successes, challenges abound. Due to ignorance and poverty, some people wait until last minute to visit the hospital. Sometimes they wait until they are in dire need of help.
Others are not free discussing some topics such as family planning.
Related Topics