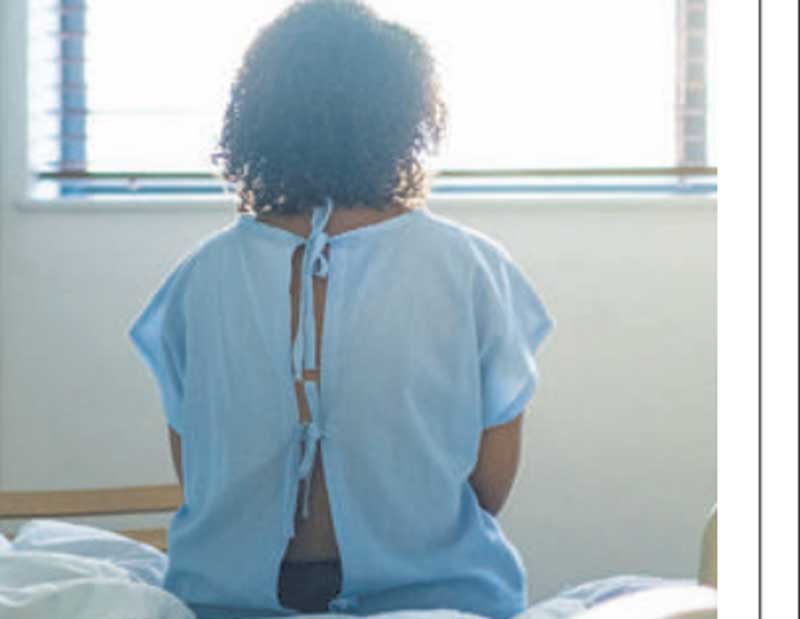 Inside the quiet intensive care unit at a top private hospital in Nairobi, Awino Okech held her mother's hand, weeping silently.
It was about 4pm and Ms Awino, a lecturer at the London School of Oriental and African Studies, had only a few minutes to see her mother, Dolphine.
From the hospital bed, Dolphine, wearing a sky-blue hospital gown, an oxygen mask strapped to her face, struggled to speak.
"I am not feeling well," she whispered, trying to pull off the mask.
That was December 15, 2010.
The 64-year-old patient had been admitted at the hospital three days before for a three-hour operation to remove her uterus to stop further spread of cervical cancer.
Dolphine's symptoms had appeared eight months earlier in Kisumu County. She had a series of medical tests done that confirmed that she had the early stages of cervical cancer.
She then travelled to Nairobi where doctors confirmed the cancer and recommended that she should seek immediate treatment.
"Since she was in her sixties, we agreed that an operation to remove her uterus would be best for her," said Awino.
On December 11, 2010, a day before the scheduled surgery, Awino and her siblings drove their mother to a private hospital in Nairobi for admission.
On December 12, Dolphine was wheeled into theatre for the surgery. Her family waited outside the theatre for hours.
At 11 o'clock, she was wheeled out and transferred to the surgical ward. On the third day, she was allowed to eat.
Developed complications
Then everything started to go south. That night, shortly after she had been allowed to eat, Dolphine developed complications. She had trouble breathing and her blood pressure plummeted.
But it wasn't until the afternoon, when her breathing became more laboured, that she was transferred to the intensive care unit.
A day later, at around 11pm, when other patients were drifting away to sleep, Dolphine breathed her last.
Doctors at the hospital told the family she died of a bacterial infection. But Awino and her siblings were not satisfied with this explanation and demanded an autopsy with an independent pathologist present.
The outcome showed that Dolphine did indeed die of a bacterial infection. But that was not all.
The autopsy also found out that the infection had been caused by tiny holes in the intestines - they were punctured during the surgery.
This meant that the contents of her intestines had started leaking into her bloodstream, effectively poisoning her.
On further review of Dolphine's medical records, the family discovered that there was a close to six-hour window in which she could have have been taken back to theatre to save her life.
"There was every sign that my mother's death could have been prevented if the doctors responded swiftly when she began complaining of discomfort on the night of December 13," said Awino.
The family filed a complaint at the Kenya's Medical Practitioners and Dentists Board (KMPDB). The process of filing was far from easy.
First, the patient or his or her kin is required to lodge a medical negligence complaint, which is recorded by a medical officer.
The officer then presents the matter to a preliminary inquiry committee, which determines if the complaint is strong enough to merit an inquiry.
The case then proceeds to a professional conduct committee - a board of three medical professionals - that investigates the merits of the case.
If the case has merit, it moves to a tribunal of the main board.
The 15-member board has the powers to discipline errant doctors and medical institutions by sending warning letters, placing them on probation and suspending licenses.
Still, lack of information on how to report cases of negligence and the tedious process of addressing them means that many go unreported.
According to KMPDB data, only 998 medical cases have been reported since 1997. The board has determined 917 and 81 are pending.
Topped list
Misconduct in gynaecology topped the list, with 243 cases reported. This was followed by 159 cases of misdiagnosis. Awino's mother was among 141 cases of malpractice during surgery.
Even after reporting, there is very little to show that the board has been effective in meting out punishment to errant medics and health facilities.
Over the last 20 years, the board has deregistered only one doctor from the reported cases. Four medical workers had their licences cancelled and six were suspended for between six and 12 months.
The board referred 141 doctors found guilty to "an alternative dispute resolution" and directed 106 to "undergo continuous professional development" while 105 received warning letters.
For affected patients and their families, it is usually a long wait for justice.
Awino filed a complaint on behalf of her mother in August 2011. The board held its first hearing on the matter on April 11, 2014 - three years later. The case remains unresolved eight years later.
Experts have called for a more simplified and accessible medical malpractice complaints handling process and an overhaul of the KMPD.
Review evidence
"You have a team of professional doctors sitting on a board to review evidence and make judgements. This means they will be there to protect their own interests hence the low number of punished medics," said Edward Miano, the managing director of Health Rights Forum, a non-profit organisation that advocates for the rights of patients.
"A change mainly in the board's constitution must be done to make make it simpler for people to report cases. We need to have a simplified process that is accessible to all Kenyans who feel neglected by medical professionals. The whole system must be changed to make it citizen-friendly," he said.
But the board has defended itself, saying it conducts its mandate professionally and always ensures that Kenyans get justice.
"The idea is not to deregister or cancel licences. Many cases lodged with the board are dismissed due to lack of evidence," said David Yumbya, the board's chief executive officer.
A proposal to expand the board's membership is still awaiting Parliament's approval.
"There will be more public representation on the board, meaning it will not be a doctors' club," said Dr Yumbya
Related Topics