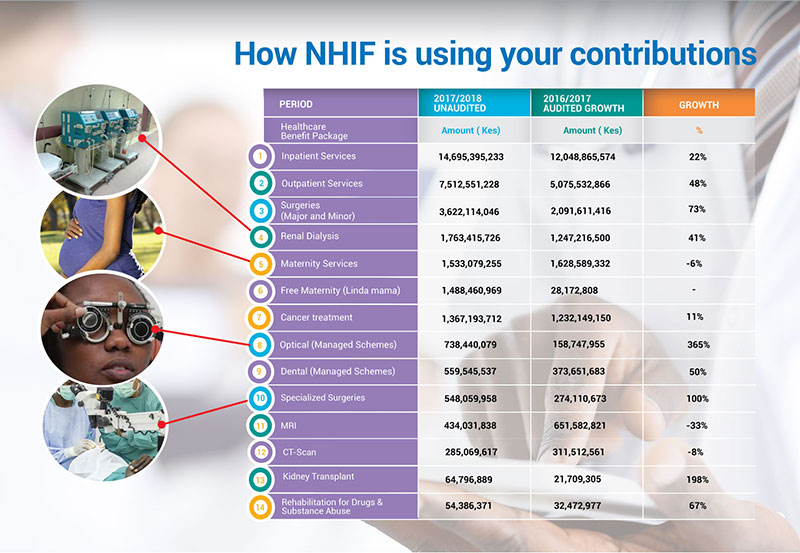 With over five decades in the market, Kenya's largest health insurance fund (NHIF) has given a ray of hope to thousands of needy patients.
NHIF boasts of a Supa cover that is inclusive of all round healthcare benefit packages among them; outpatient services, inpatient Services, maternity services, free maternity services via the Linda Mama initiative, renal dialysis, kidney transplant, cancer treatment, specialized surgeries and several others.
NHIF CEO Geoffrey Mwangi attributes the success of the Fund's mandate to the constant reminder of the need to improve the Kenyan healthcare system. "As an institution, we remain extremely dedicated to walk the Nation towards Universal Health Coverage. To this end, a number of initiatives were undertaken in the 2017/2018 financial year," said Mwangi.
However, despite all the hullabaloo of the 2017 electioneering period, NHIF was still able to register impressive progress during the 2016/2017 financial year broken down as follows;
Outpatient services
An estimated Sh5 billion was spent on outpatient services during the 2016/2017 financial year. This amount has been drawn from patients paying for consultation fees, laboratory examinations, drugs dispensation, health education, wellness and counseling, physiotherapy services, and immunisation.
Inpatient Services
Inpatient services including bed charges, nursing care, consultation, medication, laboratory services, surgery, physiotherapy, specialist consultation and treatment took up at least Sh12 billion. In high cost private hospitals however, the inpatient services are up to a maximum of Sh4, 000 per day.
Maternity Services
In public hospitals, a normal child delivery inclusive of prenatal care costs Sh10, 000 while a caesarean section costs Sh30, 000. During the 2016/2017 financial year, NHIF spent Sh1.6 million on maternal healthcare.
Imaging Services
Basic X-rays and ultrasound are covered under the general outpatient and inpatient care while MRI and CT scans are available in designated contracted facilities under a referral system with a preauthorization from NHIF under policy terms and conditions.
Renal Dialysis
Sh1.2 billion was spent on renal dialysis during the 2016/2017 financial year. NHIF covers this particular dialysis per family, which is applicable for both inpatient and outpatient care for pre-dialysis, intra dialysis and dialysis care. It is offered at a maximum of Sh9, 500 per session two times weekly.
Kidney transplant
Kidney transplant is not a very common practice in Kenya mainly for the fact that not many hospitals are bequeathed with State-of-the-art theater equipment to perform this delicate procedure. However, at least Sh21, 709,305 was used by NHIF in this treatment during the 2016/2017 financial year. The Sh21 million applicable for both local and overseas treatment.
Surgeries
Major, minor and specialised surgeries package total to an average Sh500, 000 per person but limited to the level of hospital and the procedure being conducted. In this case, an estimated Sh274 million went to these surgeries during the 2016/2017 financial year.
Cancer Treatment
Cancer cases have been on the rise in the country and that is why at least Sh1.2 billion went into the cancer treatment processes. Under the Supa cover, NHIF pays up to Sh18, 000 for radiotherapy on a patient per week.
Chemotherapy at basic level costs Sh25, 000 per family with NHIF cover in a financial year while multifaceted level cost up to Sh150,000 per cycle on the same terms.
Related Topics