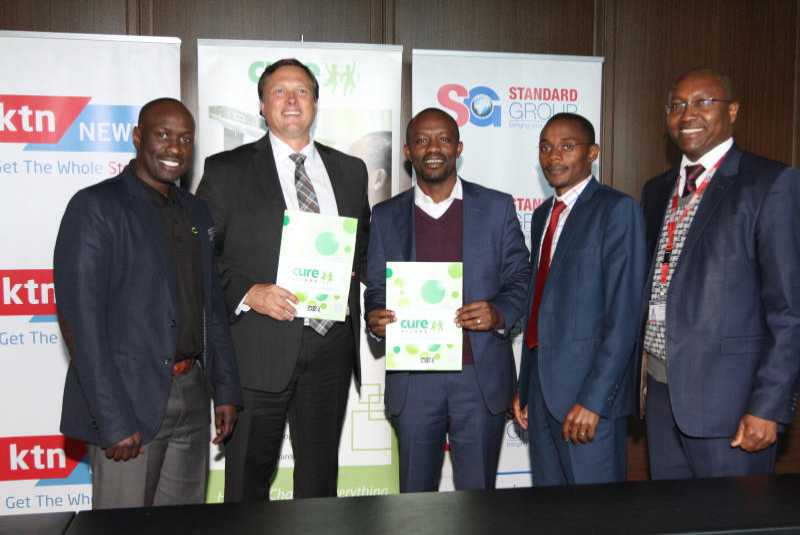 The Standard Group has partnered with Cure International on a nationwide campaign to assist children with disabilities.
The campaign is aimed at sensitising Kenyans on corrective surgery and other mechanisms that the Non-Governmental Organisation provides disabled children with.
Surgeries conducted
Since its inception 20 years ago, the organisation has conducted more than 40,000 surgeries, including conditions such as clubfoot, curvatures of the spine, bowed legs and knocked knees.
Children with cerebral palsy, burn contracture, congenital abnormalities and defects from accidents have also been assisted by the faith-based entity to enable them to continue with education and live a purposeful life.
Speaking during the signing of the agreement at Standard Group's headquarters in Nairobi, yesterday, Cure International Chief Operations Officer Brian Hall said he was optimistic the campaign would inspire hope in children living with disability.
"We want the message to reach every home and communicate to Kenyans to contribute to the universal healthcare coverage by bringing out children with disabilities for medical attention," said Mr Hall.
Standard Group's Chief Executive Officer Orlando Lyomu said the deal would bring change to the society.
200,000 children
The partnership is expected to reach more than 200,000 children countrywide, with a call on willing corporate organisations and individuals to contribute to the cause.
According to the National Special Needs Survey, around the world, disability is linked to poverty, with higher rates (60 per cent) of the conditions being dominant in rural areas, as compared to urban places' (40 per cent).
Related Topics