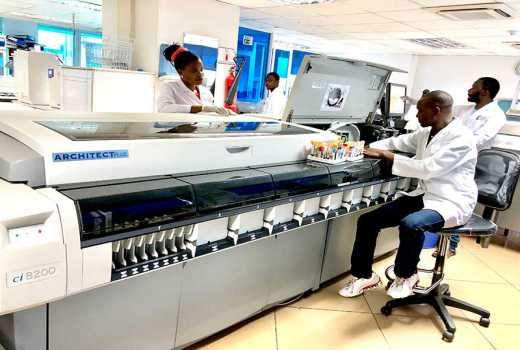 Medical laboratory service provider Lancet Group of Labs has unveiled an advanced multi-million shilling lab equipment that cuts waiting time and costs of processing crucial lab tests for patients and their doctors.
The equipment, called Abbott Architect CI 8200, has the capacity of processing 1400 specialised and routine lab tests in an hour and scales up Lancet's capacity to handle rising demand for quick, accurate and affordable lab tests from doctors, clinics and hospitals.
The platform, manufactured by US multinational Abbott Laboratories, is the first of its size and model in Kenya and the region and integrates two automated diagnostic machines by the same firm.
Lancet's Consultant Pathologist and Group Managing Director Dr Ahmed Kalebi says the investment in the specialised equipment is part of Lancet's strategy to support the country's healthcare ecosystem more effectively.
Dr Kalebi indicated the machine will help reduce the overall cost of healthcare in Kenya and the region since economies of scale will allow Lancet to lower pricing of lab tests for referring hospitals and clinics.
"With this platform we are able to significantly enhance our service delivery as a core referral lab to other hospitals and clinics that need support for referral tests at lower costs with quality and fast turnaround time," he says.
He adds: "Previously, we had capacity to run about 1200 tests an hour on 3 separate platforms but this single integrated platform more than doubles our capacity in terms of volumes."
Dr. Kalebi says that the machine will also save Kenyans the cost of sending samples abroad for specialised testing since it has expanded the menu of tests that can performed in Kenya by Lancet. Currently Lancet offers more than 4000 types of specialised and routine tests.
"Doctors need accurate and quick lab tests for proper and evidence-based diagnosis and management of patients and to minimise fatal and costly misdiagnosis and inappropriate treatments that have been reported in various parts of the country," he says.
The equipment automatically processes many samples quickly and churns out results to attached computers manned by lab personnel. Urgent lab tests needed to manage patients in critical conditions are processed faster in separate priority compartments.
Once samples have been loaded, the machine takes over the work with little intervention from lab professionals, thus enhancing work flow efficiency in processing lab tests. The machine is placed in its Nairobi Referral lab and is meant serve the entire East Africa region.
Lancet is the largest independent referral lab in the region with its regional headquarters being Nairobi and main headquarters in South Africa. It has presence in 14 African countries.
It offers specialist lab services to doctors and their patients directly or through clinics and hospitals, industrial sectors, corporates and insurances.
It also serves clinical trials and research groups, and has engagement with governmental and NGO agencies through public private- partnerships. It also offers veterinary and water testing.
Email: [email protected]