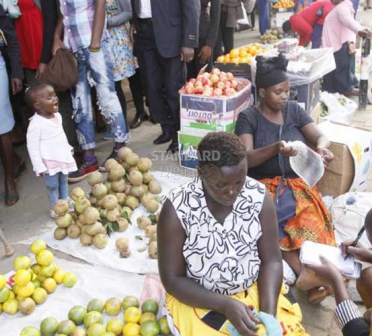 As Kenyans vote tomorrow, millions may be compelled to eat or drink from street vendors despite a yet-to-be-resolved cholera outbreak.
Health Cabinet Secretary Cleopa Mailu has blamed the recent outbreak on a shortage of safe water and unhygienic handling of food, especially at public gatherings.
With almost 20 million voters, polling attendants, security officials, observers, media and party agents, Tuesday may be the single biggest public outing in Kenya's history.
On Saturday, we found Benny and his gang of seven street boys from Mukuru kwa Njenga slums gathering used water bottles for a client in Nairobi's Pipeline estate.
"If on Tuesday the weather is hot, our client says water will be gold and he does not intend to miss out," said Benny.
The client is one of the many briefcase bottled water merchants in most urban areas who refill discarded bottles from the tap or some suspect sources.
Dr Mailu said the Government had distributed more than 500,000 chlorine tablets and four drums of chlorine for water treatment at household level and at all water sources.
"I have not seen a single one of those tablets," said a sub-chief at Pipeline, where more than 260,000 residents buy suspect water from handcart vendors.
On Friday, we visited what is possibly the biggest egg retail and wholesale market in Kenya, located in Wangige, Kiambu County.
"We have seen a spike in orders, especially from Nairobi distributors specifically asking for indigenous or 'kienyenji' eggs," said Jane Waithera, a trader in Wangige.
Tomato, pepper, dhania and fruit traders in Wangige, Limuru and Nairobi's Wakulima markets also told of higher than usual orders leading to Monday.
"Eggs and sausages are not the major problem," says Kenneth Wameyo, an honorary secretary of the Kenya Veterinary Association.
Portable water
Dr Wameyo, a staunch defender of food animals, said lack of portable water, and not animal protein, was the primary source of the current cholera outbreak.
A recent study by the Ministry of Health and Kenya Medical Research Institute showed high contamination of all types of street foods with human waste called fecal coliforms.
The studies in Gikomba, Githurai and the central business district showed 'kachumbari' and salads to be the most contaminated foods in Nairobi.
Our inquiries showed the informal food and water vendors geared up and ready to service the heavy demand on election day tomorrow.
However, at four polling stations we visited in Nairobi, there was no evidence that any efforts had been made to provide portable water or extra toilets.
James Osanyo, a public health officer in Kayole, said in the past weeks, they had ensured that all food handlers in the area had been tested and re-licensed.
"But come Tuesday, we have no clear instructions on how to deal with what could be hordes of food hawkers near polling stations," he said.
But the unspoken command, he says, is that no health inspector is going to win a medal by triggering any disturbance that could cause chaos. [Gatonye Gathura]