Home
/
Health & Science
Kenya's real growth doomed if we can't retain our best talent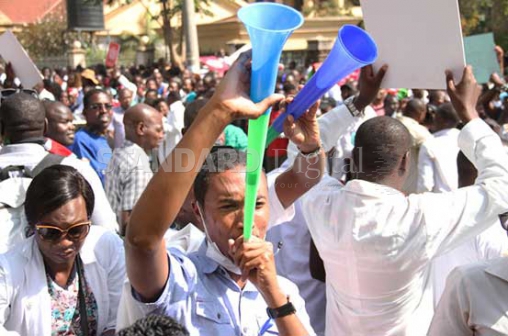 According to the President of Mauritius, Ameenah Gurib-Fakim, a top-notch skilled labour force is not just a fundamental driver for divergent parts of the economy. It has the capacity to address a wide range of the United Nation's Sustainable Development Goals aimed at ending extreme poverty, fighting inequality and injustice, as well as, tackling effects of climate change.
But while other countries globally have been in a fierce battle for training, attracting, poaching and retaining highly-skilled workers, the fight for talent and brains means nothing to most governments in Sub-Saharan Africa, even when there is urgent need to pay special attention.
Kenya is not an exception and it is at risk of slowing its development agenda.
Benchmarking on the medicine profession alone, Kenya stands on the same platform with the rest of Sub-Saharan African countries, where shortage of highly skilled workers has the capacity to continue putting a brake on socio-economic progress.
Doctors' shortage
Even discounting the current problem of doctors' strike, most Kenyans, especially in rural areas are unable to access quality health care because of shortage of doctors in public health care system.
According to statistical information gleaned from the Kenya Medical Practitioners and Dentists Board's (KMPDB) registration data-sets, as of November last year, the country had 10,638 registered doctors. But of these, only 6,359 were active within the entire public and private health care system in Kenya.
Similarly, during the same period, the medical board's register had 1,227 dentists, but only 651 of them were active. In a nutshell, this meant that 4,279 doctors and 576 dentists duly licenced and authorised to practice in Kenya were offering their services outside the country.
However, the board had indicated that at the end of last year, there was only one doctor for every 6,605 persons in the population and one dentist for over 64,516 persons. This was in sharp contrast to the World Health Organisation's recommendations that indicates there should be one doctor for 1,000 persons, a figure that should decrease gradually to one doctor for every 600 persons in the population by 2020.
In real terms, Kenya has only 14 per cent of what WHO has recommended on availability of medical doctors in the population. This is just the tip of the iceberg -- the country's deficit of health professionals is also expressed in low numbers of available medical specialists holding postgraduate degrees in specialised fields in medicine.
According to the board's register, there are 2,620 medical specialists, but only 2,416 are active in the country. The most serious aspect, however, is that more than 50 per cent of Kenya's specialist medical doctors are studded mainly in four specialist areas, notably, obstetrics and gynaecology, general surgery, internal medicine and paediatrics. Whereas the government has gazetted 24 specialities with a wide range of sub-speciality segments, most of them have only single-digit human resource representation or nothing at all.
For instance, a brief paper on Kenya's healthcare workforce presented by Daniel Yumbya , the chief executive officer of the KMPDB, in a regional health meeting in Maputo, Mozambique, in November last year showed that the country had single digit workforce among cancer specialists, plastic surgeons, neurosurgeons, diabetic specialists and kidney disease experts. The country also suffers acute shortage of specialists in arthritis, immunology, haematology, digestive disorders and other key areas.
Subsequently, the perception that there are doctors in the country patiently awaiting to take over from striking counterparts is not backed by fact. The Council of Governors and the government should not spend public funds advertising for doctors locally. The correct situation is that 40 per cent of Kenyan doctors and 47 per cent of dentists have been lost in the ongoing global war on talent.
Commenting on the issue, a senior health official at the Ministry of Health noted that Kenya, as most other countries in Sub-Saharan Africa, is experiencing a double jeopardy: a high burden of disease and a low number of doctors, especially in rural areas.
"A large number of sick people in rural areas and urban slums only see a doctor when things are terribly wrong," said the official. He argued that the ability of street herbalists that attract large crowds in Nairobi and other urban areas is a reflection of an inadequate and poor public health system. Unfortunately, even when granted that migration of varied professionals has in recent times become global in nature, failure of retention of medical doctors in Kenya has squarely posed risks and threats towards provision of a quality public health service in the country.
Although Kenya and other countries in Africa are deemed to be low exporters of the highly-skilled manpower, their losses are immense, taking into account that hunters for migrant talent are not merely interested in academic prowess but experienced heroes in their fields. The crux of the matter is that developed countries and their companies have over the last three decades or so adopted a roadmap, progressing towards establishment of meritocratic societies that aggressively hunt for the best talents outside their borders.
In Kenya's context, successive governments since independence have never adequately responded to the poaching and raiding of the country's highly-skilled manpower, either by offering local experts generous employment package, further training, structured career mobility, suitable working environment or encourage continuous learning and motivation.
War on talent
According to Phillip Brown, a professor of educational sociology, economy and social change at Cardiff University and an expert on war on talent, there is a direct correlation between skills, productivity and employment: "The emerging scenario, all over the world is that employees are behaving as consumers, able to pick and choose whom they wish to work for."
In such circumstances, governments in developing countries, and in Sub-Saharan Africa in particular, would have to change their tack in order to close their country's professional deficits. For now, Sara Serem's Salaries and Remuneration Commission (SRC) should realise that it holds the key to the country's future development, which is linked to reducing professional deficits not just in health care sector but in all areas that require services of highly skilled persons.
As Ameenah, a biodiversity scientist, is quick to say, Sub-Saharan Africa's future development agenda is in doubt unless the region starts to look to itself for answers that surely lie in support of science and technology.
- The writer is an education analyst. [email protected]
Related Topics