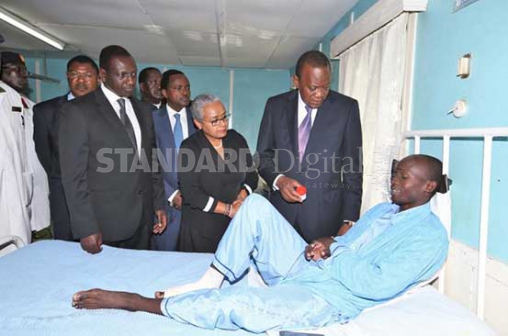 President Uhuru Kenyatta and Deputy President William Ruto yesterday led a delegation of leaders in visiting soldiers who survived the El Adde attack in Somalia at the Defence Forces Memorial Hospital in Nairobi.
CORD principals, Raila Odinga, Kalonzo Musyoka and Moses Wetang'ula joined Jubilee leaders in honouring the gallant soldiers.
The leaders had come to deliver one message: that they were united against the enemy and to remind the families of the slain soldiers that even in the midst of tragedy, their sons, brothers, fathers and friends had died heroes.
After the delegation visited the wounded soldiers in the wards (journalists were not allowed in), a brief ceremony was held on the hospital grounds.
For an outdoor ceremony filled with politicians and soldiers, it was uncharacteristically quiet when the military band stopped playing. People barely moved. Families sat next to rows of soldiers, who were still all through the function. Christian and Muslim leaders led prayers for the fallen heroes.
"Our soldiers were killed, others were injured and had to fight to survive. I commend the courage you showed," said President Kenyatta adding saying that as the Commander-in-Chief, he could not be more proud. "I commend the fellowship and common loyalty that you men and women of the Kenya Defence Forces including the gallant soldiers lost at El Adde continue to display."
Referring to the soldiers as people of character and patriotism, the President assured the injured soldiers that the entire country stood with them, and the government would ensure they receive the best care available so that they can return to duty.
One by one, the leaders praised the heroism of the soldiers with the DP saying it was a ceremony to "celebrate the courage and sacrifice of those who paid the ultimate sacrifice in the pursuit of peace."
"As a country, we refuse to cry. We are here to celebrate the heroism of our soldiers. We want you to believe with us in these three words... 'We Shall Overcome," said Raila. "The fire they withstood, the fire they returned, the lives they lost and the wounds they endured on that dawn to keep us safe remain unparalleled in our history. It must remain in our history today and forever," he added.
He said the country immensely owed the military and their families for their patriotism.
Defence Cabinet Secretary Raychelle Omamo, thanked the soldiers for their courage, tenacity and sacrifice. "The KDF is a strong force. Because you are strong, the nation of Kenya is strong," she said adding that "Because you stand, we stand."