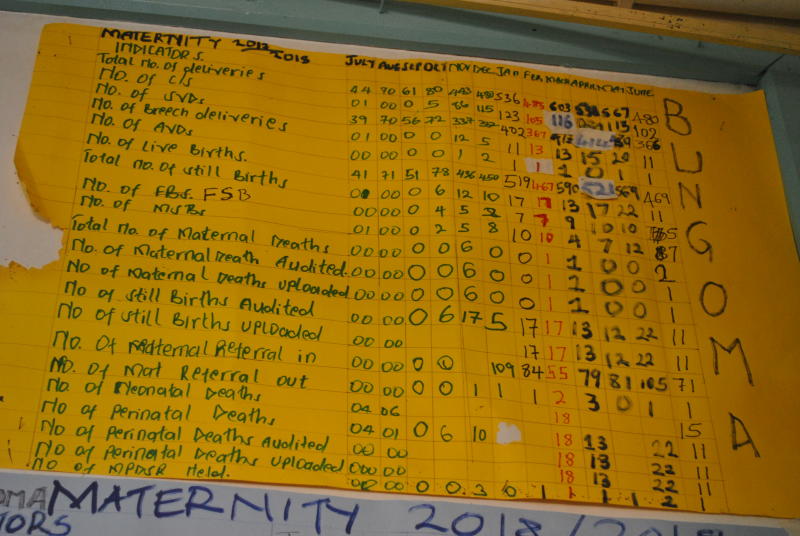 Purity Mwangi was rushed to Bungoma County Referral Hospital a few minutes to midnight in May 2016. She was due for delivery any minute by the time she was ushered into the crowded maternity wing.
Just like her two previous deliveries, Ms Mwangi expected this to also be a normal delivery and that she would be in and out of the hospital without any complications.
"I arrived at the hospital before midnight when my water had already broken," she says.
But she noticed that the bleeding that accompanied her contractions was unusual.
"I could tell something was not right since this was my third delivery. I was bleeding too much. My gynaecologist had advised me that I should ask for help if I noticed I was bleeding excessively. Afterbleeding for three hours or so, I decided to ask for help," she says.
But the hospital, which is the biggest referral facility in the county, was, as is the case most nights, overwhelmed.
Doctors and nurses on duty had already been stretched to their limit. The hospital, which witnesses in excess of 600 births every month, was just recovering from an incident where a nurse had been captured slapping a patient. Ms Mwangi did not want to go through that nightmare.
But she also knew that if she did not act fast, she would lose her child. So she asked to be reviewed and considered for Caesarean Section after another five-hour wait.
To get help, she says she had to part with a Sh500 bribe given that she had not booked for a caesarean section in advance. "I was asked by my minder if I had any money on me. I only had Sh500 and she took it and handed it to some medic on duty. It was after that that I got an ear. A few minutes after I had given the cash, the nurse brought me the consent forms to sign before I was wheeled into theater for the operation," she said.
Poor care
When she woke up next to her newborn son hours later, she was told she would not have delivered the child through normal delivery.
"He was 4.5 kilogrammes. The doctor who attended to me told me I was lucky to have been operated on time," she adds.
Ms Mwangi's story illustrates just why most women who lose their children in Kenya do so after 5pm, having stared at the prospect of losing her third born due to her labour coming at 'the wrong time'.
The first Confidential Report into Maternal Deaths in Kenya released this year found that 7 out of 10 maternal deaths in the country occur after office hours.
The report suggests that mothers are likely to lose their children between 5pm and 8am on weekdays, weekends and public holidays.
Most of the women, 91 per cent, who died of obstetric hemorrhage received poor care, where different management would have resulted in a different outcome.
This means that the country's referral system is still weak, where pregnant women arrive either too late or the hospital referring makes the decision when nothing can be done to rescue the child.
The Kenya Population Situation Analysis ranked Mandera as the most dangerous for infants. The report said in Mandera, 3,795 infants die in every 100,000 live births compared to Wajir County's 1,683.
In Bungoma, less than 50 per cent of women were delivering in health facilities in 2016, when Ms Mwangi was admitted.
"Last year, it rose to 52 per cent," says Dr Antony Walela, the Bungoma County Health executive.
The county expects to improve this year given that in the first eight months of the year, over 59 per cent of women are giving birth at the hospitals. The number of births is expected to rise to 68,000 this year from 66,000 last year.
Delivering at home
"Only 31 per cent are delivering at home. We know the problems of those delivering at home in that when they start bleeding, it can't be controlled by the traditional birth attendants. They will also not know if one is hypertensive which can lead to death," Walela says.
He acknowledges that most of the mothers still keeping off hospitals cite ill treatment by nurses, but adds that the county has recruited 1,000 community health volunteers to encourage mothers to use the facilities.
"Mothers who deliver at home say the traditional birth attendants have better attitude and are more caring. We have now trained our healthcare workers, that they may have the right attitude," Dr Walela says.
He says the county has also reduced the distance to health centres to 5km on average.
Besides the referral hospital, there is a county hospital, eight sub-county hospitals, 35 health centres and 140 dispensaries.
However, the county has the poorest indicators of family planning in the country.
"Here people give birth into their late 40s and some families have more than seven children," he says.
Related Topics