Home
/
Health & Science
Health initiative launched to help fight 'silent killer' diseases
Health & ScienceBy James Omoro | Mon,Nov 01 2021 14:05:23 UTC | 2 min read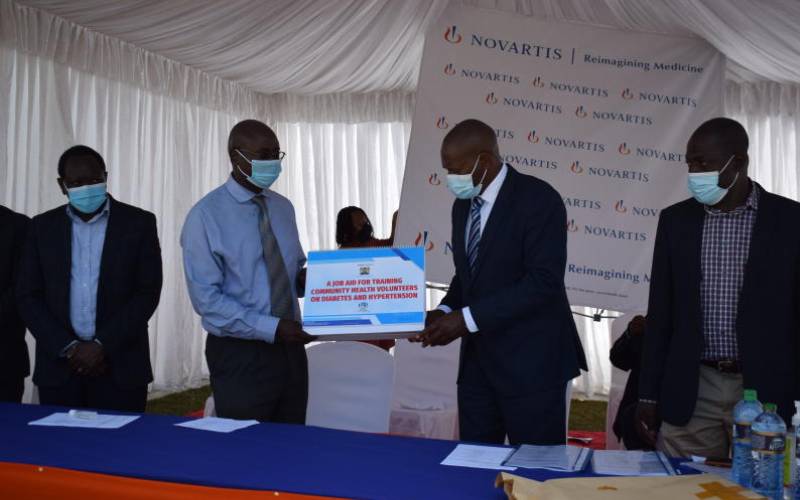 Non-Governmental Organisations (NGOs) have launched an integrated health programme to fight nine non-communicable diseases in Homa Bay County.
The programme dubbed Integrated Health Family Programme (Familia Nawiri) involves the fight against sickle cell anaemia, breast cancer, diabetes, heart failure, epilepsy, hypertension, pneumonia, malaria and eye diseases.
The Christian Association of Kenya (CHAK) and Novartis, in partnership with Kendu Adventist Mission Hospital, started the programme to ensure early diagnosis and treatment of the diseases.
CHAK General Secretary Samuel Mwenda, Novartis Cluster Head Anthony Mwangi, Kendu Adventist Mission Hospital CEO George Opundo and Homa Bay County government health officer in charge of referrals, George Bola, launched the programme at Kendu Adventist Mission Hospital in Rachuonyo North Sub-county yesterday.
The programme will involve diagnosing and sensitising residents, who have been affected by the diseases, to seek health services at Kendu Adventist Mission Hospital.
Opundo said they had made arrangements with community health workers to conduct an diagnoses for residents.
He expressed a concern that the diseases had killed many people in the area because residents seek treatment when it is too late.
"Early diagnosis of non-communicable diseases is the only solution to save lives. We are going to work with community health workers to ensure patients, who are suffering in villages, are brought for early treatment," Opundo said.
Mwangi said the programme targets thousands of people living in villages.
"We don't want patients to be travelling from upcountry to hospitals in major towns in search of treatment, which could worsen their condition," he said.
Mwenda said the programme will give the hospital the requisite equipment and drugs, which are affordable.
He said they plan to take medical services to the grassroots level.
"The purpose of this programme is to give people living in villages access medical services," said Mwenda.
He said the programme will be undertaken in 12 mission hospitals. Bola said the programme will enable the county government to reduce the burden of diseases.
"For example, Gendia is known for the proper medication of sickle cell anaemia. This programme is going to help us in the referral of patients," said Bola.
Other hospitals where the programme will be implemented include Tenwek in Bomet County, AIC Kijabe in Kiambu, Maua Methodist in Meru, PCEA Chogoria in Tharaka Nithi, PCEA Tumutumu in Nyeri, Sabatia Eye in Vihiga, AIC Litein in Kericho, Lugulu Friends in Bungoma, PCEA Kikuyu in Kiambu, Sagam in Siaya and Jumuia Kaimosi in Vihiga.
Related Topics